2015 Arctic Cat ZR 6000 RR Review + Video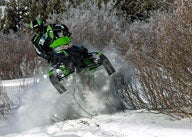 The "look" and features of a racer, but the civility of a superior trail sled.
Once upon a time Arctic Cat's replica race sleds seemed to only satisfy riders with extra thick spinal discs. These were rough riding, virtual racers, barely removed from the ones Team Arctic raced. Of course, when it came to offering replica race sleds, Cat was not alone. Every sled maker, well, not so much Yamaha, listed a replica racer in its annual new model inventory.
Over time, Arctic Cat and the others recognized that despite their claims, most replica race sled buyers didn't have the capabilities of a Tucker Hibbert or Levi Lavallee. These buyers liked the idea of owning a race sled replica, but they really wanted less racer and more replica.
In model year 2015, Arctic Cat moves to a tremendous compromise where its latest race replica (RR) models come with a top line set of performance components, but with dialed back settings. If you are a serious racer or want the real thing, check out the 2015 ZR 6000 R XC, which is available on a limited basis.
Over the years we've taken pride in being able to ride and enjoy virtually any snowmobile — or, in a Pollyanna-ish way, at least, try to find the best points of even sleds that we didn't particularly like. We do like Cat's RR models, especially the 6000 and 7000 versions. They simply work well for aggressive trail riding. Racing? That's where the new "XC" versions come in.
Arctic Cat's ZR 6000 RR takes the best of the Cat parts bin, pieces them together with racing-style components and blends it all together for serious trail riding. One key component has to be the ProCross chassis. Designed for rider-forward control and evolved from Cat's successful Tucker Hibbert race sled, the two-piece tapered aluminum platform provides stiff support for the added components. The tunnel fits to a triangulated and rigid powertrain housing that allows the new dual-stage electronic fuel- injected 599cc Arctic Cat-engineered two-stroke to sit low and centered behind the ski centerline. When you pull the clutch side cover, you will be impressed at how low the Cat engineers mounted the drive system. It is one of those unheralded achievements that directly accounts for the RR's excellent handling.
But, let's not dismiss the Arctic Race Suspension, again evolved racing technology and immediately recognizable due to its tall spindle design. Through its racing efforts, Cat engineers discovered the value of spacing out the A-arms to increase both torsional rigidity and overall front-end strength. Cat's suspension engineers felt that mounting the shock angles toward the rider's centered mass would provide optimal caster and camber. The result is a more controlled and comfortable ride.
Of course, this being the Race Replica, the sled had to have top of the line shocks. Fox Float X Evol shocks with both compression and rebound adjustability were specified to control the sled's 10-inches of front travel. These are incredibly flexible shocks that can be fine-tuned once or every mile, depending whether shock tuning is your hobby or not. We'd find a couple of best all-around settings, keep note of that and go riding.
At the back end, Arctic Cat seems to get little respect for its very fine and well-rounded rear "Slide-Action" suspension. We like it. It's extremely effective. It's easy to set up. It works well with getting the grip of the 1.25-inch lugged Ripsaw rubber track's 129-inch length to the trail.
Cat's Slide-Action system doesn't have a cool set of runningboard-mounted knobs to adjust. It doesn't have a Lego-look rear shock sticking up at the back of the saddle. It simply has a sliding action with a coupling block, torsion spring adjustments and a torque-sensing linkage to counter front to rear weight transfer. If you want to play suspension mechanic, the RR offers adjustable damping control on the RR-specific Fox Zero X Pro piggyback gas shocks.
In past seasons, we've been critical of Cat's rear suspension designs because they were too aggressive with front-to-rear weight balance. Hitting the throttle hard in a tree-lined corner and having the front skis rise up nearly cost us a written off sled and a serious embrace with an oak. The slide-action eliminates that worry, unless you want to dial it in.
We've found that the RR's suspensions are as good as any on the snow, they just aren't as celebrated. We also found that you can dial back the ride settings to maximize the shock travel, which you should be doing anyway. This amplifies the sled's overall ride comfort and, we feel, gives you greater on trail control.
We recognize that the RR is meant to mimic racer styling, but that standard micro-windshield is brutal on a way below zero day. Looks great, but we'd opt for a larger and more effective wind diverter.
The 2015 ZR 6000 RR tops the ZR trail performance line of Sno Pro and LXR where the LXR defines speed cruising, the Sno Pro adds a firmer ride and the RR provides a stiffer, trail aggressive feel.
The 6000 C-TEC2 two-stroke twin is an all-Cat engine — engineered and manufactured by the Thief River Falls, MN snowmobile pioneer. Introduced on a very limited basis last season, the C-TEC2 features a unique dual-stage injection that positions an injector on the boost port side of each cylinder, minimizing the distance that the fuel charge travels and allowing for a more complete burn for better overall performance, cleaner emissions and improved economy. With production ramped up after a successful introduction Arctic Cat featured C-TEC2 in more models for 2015.
Although a new two-stoke design, the engine works well with proven Cat drive and driven clutches that work with Cat's unique Torque Control Link. This piece helps maintain clutch alignment on the ZR 6000 RR when you are on and off wide open throttle crushing the moguls. You'll find improved underhood cooling for the drive system as Cat engineers added a specific clutch-side panel vent to help reduce drive belt temperatures.
You'll be able to keep tabs on engine performance with a quick glance of the easily readable deluxe digital gauge. The dual LCD screen gives you all the instant info you need, plus you can customize the gauge to your own needs. Fitted with bold graphics — when isn't a Cat sled fitted with a bold, stand apart style? — the RR makes quite a statement with the bright green color, piggyback shocks, styled aluminum riser bar, tall spindle front end and dramatically low racer micro-screen.
This is a race replica that you'll enjoy riding. It has all the racer-tweaks without the racing twerks. It's a handsome sled that's loaded with top features, including the latest C-TEC2 twin. Cat understands this trail-racer thing and the ZR 6000 RR proves it.
2015 Arctic Cat ZR 6000 RRSpecs
Engine
Arctic Cat 599cc, liquid-cooled, 2-stroke 6000 C-TEC2 twin; dual stage electronic fuel injection
Horsepower
125 (Claimed)
Drive
Arctic Cat 6-post rpm sensing drive with 10.75-inch diameter Arctic roller cam driven
Front Suspension
Arctic Race Suspension (ARS) with Fox Float Evol shocks; compression and rebound adjustability; 10-in maximum travel
Rear Suspension
Arctic Cat parallel rail "slide-action" suspension with tri-hub rear axle system; adjustable torsion springs; coupling blocks; Fox Zero Pro piggyback style front and rear arm shocks; up to 13.5-inches of travel
Length
121.0 in
Width
47.75 in
Ski Stance
Adjustable 42 to 43 inches with dual skag 6-inch width trail ski
Track
15 x 129 x 1.25 Ripsaw track
Weight
NA
Brake
Hydraulic race-type radial master cylinder with lightweight disc
Fuel Capacity
11.7 US Gal
Features
Standard: Push button reverse; deluxe multi-function digital gauge; accessory outlet; belt bag; race-style low windshield
Optional: 2-up seat; additional gear and storage bag options; electric start; front sport bumper; mirrors; windshield options for up to three persons;
MSRP
US$12,749