2009 Polaris 800 Assault RMK 146 Review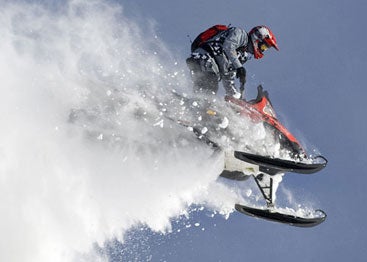 A new breed of backcountry snowmobile
No matter what brand you ride, you have to admire the no holds barred approach Polaris takes with its 2009 800 Assault RMK 146. It's basic. It's no nonsense. It's lean. It's what Polaris deep snow machines would be if deep snow riders were to build a sled. Because that's exactly who did build this new for 2009 Polaris.
Fast Facts
Engine Type:Horizontal In-line
Cylinders:2
Engine Stroke:2-Stroke
Valve Configuration:Reed Valve
Displacement:795 / 48.5
Starter:Pull
Turbocharged:No
View Full Spec
For those of you unfamiliar with Polaris history, understand that Polaris' experience is not limited to flat land racing success. This is a company that puts sleds over the top at the prestigious — and tough — Jackson Hole, Wyo. Hill Climbs with enough frequency to claim major stock and modified stock classes every year. In 2008 Polaris rider Keith Curtis claimed four stock titles outright and earned the title 'King of Kings' for his efforts. Just in case you weren't aware, that three-letter appendage in the Polaris Assault RMK nomenclature stands for Rocky Mountain King.
Deep Snow Knowledge
In the steep and deep snow areas of the world, Polaris holds a hard won reputation for performance. Some of that performance can be traced back to snowmobile product development managers who actually grew up riding in deep powder and assaulting steep mountainsides. To Polaris' credit, engineers learned to not only listen to riders with powder-rich knowledge but sought them out. Even during the Polaris Fusion debacle, the company's RMK mountain version had the basic underpinnings of a successful powder sled.
The 2009 Assault is the result of listening to powder hounds, boosting power, increasing on-snow efficiency and essentially producing a stock sled that comes with many of the features that serious snow riders add as accessories. The Assault is an all-around backcountry snowmobile, designed specifically for riders who know how to get into and out of the deepest snows and track their way up the backside of remote peaks. Poseurs need not apply.
Raw Attitude
Right away the Assault smacks you with attitude. The hood is matte red with sassy graphics bold enough to illustrate a Manga graphic novel. It sits high like other deep powder sleds, but showcases an action-ready 'Freestyle' seat that is narrow at the front and tapers out to the rear. The handlebars sit almost bolt upright. The tunnel is spare, naked except for the seat and 11.5 US gallon fuel tank. The minimalist matte black windshield flows off the headlight pod to offer cover for the Cyclops multi-function gauge. Polaris refers to this style as 'raw'.
The Assault comes with an all-new Competition track that measures 146-inches in overall length. Fifteen inches wide, the track features an aggressive lug pattern that reaches 2.125 inches into the snow. With jagged profile lug tips and a stiff composition, the new track also features ports to throw snow and minimize snow packing the suspension.
Walker Evans Equipped
While the rear suspension offers up to 14.5-inches of travel, the real meat in its design is its evolution, which results from years of hill climb competition. Quick action and an ability to keep the lugs in the snow for grip means more to a hill climber than overall suspension travel. Absorbing the action is a set of Walker Evans shocks, specifically tuned for the Assault. The front and rear suspension arms are controlled by Walker Evans shocks. The rear suspension arm relies on a completely adjustable high-pressure gas shock with remote reservoir setting. Reinforced suspension rails are used to match the expected rugged usage of the Assault.
Up front, the Assault's IQ-based A-arm suspension relies on adjustable Walker Evans Air shocks with 'piggyback' reservoir to modulate up to 10-inches of travel. Like the RMK series, the Assault shares an adjustable ski stance that lets a rider go from a relatively narrow 41.5-inches center-to-center stance to 43.5-inches. To help reduced overall weight, the Assault comes with a set of lightened weight ski spindles.
Ride Control
Providing ample rider control was a goal in the Assault's design. That's why there's a narrow seat combined with wide, perforated footboards with boot gripping edges. The Pro Taper handlebar sits tall, but provides easy access for the rider as he stands to make his way through the powder or maneuver out of a steep ravine. The bar is wide for leverage and includes hooked ends for positive grip.
As a minimalist design, the Assault still provides for the occasional rider error with a new bumper design that bolts directly to the sled's bulkhead and presents ample grip for getting unstuck.
Liberty Twin
Weighing in at a claimed 487 pounds, the Assault packs 3.17 pounds for each of the 154 horsepower churned out of the Polaris-built Liberty 800 twin. The liquid-cooled 795cc motor represents the latest in Polaris' Cleanfire technology. It uses four fuel injectors with fuel fired into both individual cylinders as well as the crankcase to not only maximize the power charge but also to make the burn cleaner for minimal fuel emissions. The electronically controlled fuel system features a knock sensor to protect against low-grade fuel.
With ample power on tap, Polaris engineers tuned the driveline for efficient performance from low end to top end. Expect stout midrange performance from this Polaris twin as power flows smoothly from the legendary Polaris-designed P-85 driven into the P2 driven. As with other Polaris models using the Liberty 800 Cleanfire-4 and Polaris clutches, the Assault gets its own special calibration tweaks to give back country riders the most performance.
Knowing that there's a new breed of powder rider that looks less at high marking and more at adventure riding in the equivalent of skiing's Double Black Diamond trails. Riding off the grid requires a snowmobile that can be counted on to get out and back reliably. The 2009 Polaris Assault does that with enough track, enough power and enough extra features. An offshoot of the famed RMK line, the Assault goes beyond those limits specifically for the rider who goes beyond the limits. The 2009 Polaris Assault RMK provides unlimited experiences for the most experienced riders.
2009 Polaris Assault RMK Specs
Engine
Polaris Liberty 795cc, two-stroke, liquid-cooled, twin; Cleanfire-4 quad fuel injection
Horsepower
154
Drive
Polaris P-85 with Polaris P2 secondary
Front Suspension
IQ dual A-arm suspension; Walker Evans Air piggyback gas shocks; 10.0-inches of travel
Rear Suspension
Polaris lightweight IQ parallel rail with Walker Evans shocks; up to 14.0-inches of travel
Length
126.0 in
Width
48.0 in
Height
49.5 in
Ski Stance
41.5 in to 42.5 in to 43.5 in
Track
15 x 146 x 2.125 Competition
Weight
487
Fuel Capacity
11.5 US Gal
MSRP
$10,599
Related Reading:
Polaris rider wins big in Jackson Hole
2009 Polaris 600 Dragon SP Review