2009 Polaris WideTrak LX Review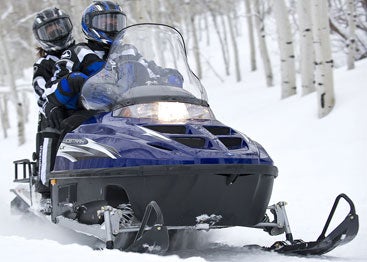 The classic choice for hard working snowmobilers
More than likely Polaris' WideTrak LX is on its last trailing arm as the Minnesota-based snowmobile manufacturer brands the future with the new for 2009 WideTrak IQ and its 4-stroke powerplant and evolved rider-forward IQ platform. But for this season, at least, you can still get one of the hardest working sleds to ever cruise the tundra — the 2009 Polaris WideTrak LX.
Fast Facts
Engine Type:Horizontal In-line
Cylinders:2
Engine Stroke:2-Stroke
Valve Configuration:Reed Valve
Displacement:488 / 29.8
Starter:Electric
Turbocharged:No
View Full Spec
As far as utility snowmobiles go — and this model has traveled extensively in areas where trails are more concepts than realities — the WideTrak LX enters the new season as one of the most proven reliable sleds around. Call it classic or whatever, but the WideTrak LX descended directly from the original Indy chassis and works over bumps with a heritage independent front suspension. This throwback to the Polaris Indy is one of the final remnants still using Polaris' IFS front suspension. It is the key feature that took Polaris from also-ran to decade-long sales leader. And, guess what? Polaris IFS remains hugely effective, especially in areas where durability and availability of parts count.
Most likely you won't find the WideTrak LX leading any trail rides, unless it's pulling a small trail groomer on a narrow feeder trail. Snowmobile clubs learned long ago that sleds like the WideTrak LX excel in maintaining areas too costly or too small for full-size groomers. Plus, the WideTrak LX can cart supplies and people out to club work sites.
Thinking It Through
What makes the WideTrak LX so valuable is the thinking that went into the sled years ago. With Indy sales leading the industry, Polaris engineers looked at establishing a work sled based on the best of the Indy features. We've already mentioned the Indy front suspension. The current version of the trailing arm design puts a relatively narrow 38-inch ski stance on the trail and offers up to 7.25-inches of travel for roughing it. Basic and durable Nitrex tubular shocks handle the Indy suspension action.
You'll recognize the WideTrak LX as a worker sled the instant you spy the rear suspension. It seems to stretch a mile back from the handlebars, but reality is quite a bit less as the track measures 156-inches in overall length. It's wide, too, at 20-inches, a seeming reversion to the old rear-engineered models of Polaris history. But this is a modern composition Shockwave track with a one-inch profile lug, excellent for moving on concrete-hard stretches of wilderness snow. The track spins around a Polaris stretched parallel rail suspension with plentiful bogie wheels to maintain efficient lubrication even on windswept river ice.
Hauling The Goods
Remember this sled is not designed to be coddled. It is designed to haul the goods. That's why you'll find a big transmission lever poking tall through the right side of the LX console. The WideTrak LX tranny features three-speeds: high range, low range and reverse. There's also a neutral position should you need it.
The Polaris transmission mates to one of the most durable 2-stroke engines ever to power a Polaris snowmobile. The 488cc liquid-cooled twin now may be used to motivate this work sled, but it was once the heart of Polaris racing models and enjoys a checkered flag past. Tuned to a torque-laden 60-horsepower, the Polaris-spec motor pulls 9.43-pounds per pony. Compare that to the new 2009 WideTrak IQ's 80-hp, 4-stroke twin that manages 9.17 pounds per horsepower. When it comes to pulling its own weight, the heritage-based WideTrak LX is plenty potent.
The WideTrak LX won't be mistaken for a touring sled, but it can do that duty if you choose. The seat is long enough to sit two comfortably. Of course, to straddle a 20-inch track means the seat is wider than the norm. That's an advantage as this wide, two-up saddle hides a generous underseat storage area.
Think this through. Underseat stowage means the seat necessarily sits higher than a standard two-up touring seat. Think of this in the same way you view your SUV seating versus that of a sedan. You sit higher and can see the trail better. Don't worry about getting cold because you're up higher in the saddle. The WideTrak LX comes standard with a massive, 20-inch tall wind-deflecting windshield. This is the windshield you want to be seated behind on a truly cold day of test riding in the flat, open prairie surrounding Polaris headquarters in Roseau, Minnesota.
Standard Features
While the LX lacks the heated seat of an Arctic Cat touring model, you do enjoy multi-position hand and thumb warmers. To give the rear passenger some semblance of comfort, the standard backrest is adjustable. It even moves forward to give the driver some support when headed out on a solo run.
Because the LX is primarily a work sled, you'll find a tow hitch and a standard 12-volt DC outlet to power a GPS to keep you from being totally lost in the wild.
While we expect that the WideTrak LX, with its trailing arm front suspension and Indy-based chassis, will be phased out of the North American market, we suspect that this model may continue for a while longer in areas closer to the Arctic Circle. This has always been a tougher than tough snowmobile and you will find versions of this model being used to herd reindeer, carry loggers into the forests, work with ski patrols hauling injured skiers off double diamond runs, and carrying mining engineers searching for valuable minerals in the remotest and coldest of terrain.
We have a fondness for this sled. It's always been a simply dependable sled that we have used as a photo platform to get action shots at various snowmobile shoots. We've used it to haul in broken sports models and get ourselves back from improbable locations. We have to admit that we'll miss the WideTrak LX when its finally phased out of the Polaris line up, but for right now, you can own a piece of snowmobile history — that will probably outlast most of the 'hot' 2009 sleds by a decade — for a suggested retail price tag of US$8,399.00. This is not a sled to wax nostalgic about. It is a sled to be used hard and put away icy.
2009 Polaris WideTrak LX Specs
Engine
Polaris 488cc, 42-stroke, twin cylinder; liquid-cooled; 2xMikuni VM34 carbs
Horsepower
60
Drive
Polaris P-85 drive; Polaris 3-speed, Hi-Low-Reverse transmission
Front Suspension
Polaris IFS — 7.25-in maximum travel; Nitrex shocks
Rear Suspension
Polaris coupled parallel slide rail; 9.0-in of maximum travel; Nitrex shocks
Length
128.0 in
Width
43.5 in
Ski Stance
38.0 in
Track
20 x 156 x 1.0 Shockwave
Weight
613 (claimed)
Fuel Capacity
11.0 US Gal
MSRP
US $8,399