2012 Polaris 800 Switchback Pro-R Review [Video]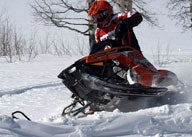 This is the Rush you've wanted all along
We've spent the past two winters with Polaris' outside the skidframe thinking. The first winter we rode the first production Rush, a 600cc model outfitted to our "touring-oriented specs." That sled made life quite easy for us as we ordered it with electric start, tallish windshield and a full complement of bags. And we followed Polaris engineering's suggestion by adding the heavy-duty "big boy" shock and spring for the Pro-Ride suspension. Last season we went with the 800cc Rush, also outfitted to modest touring specifications, but minus the heavy-duty shock and spring.
Assuming Polaris agrees with our current request, we should have what we consider to be the best of the Rush sleds to date. Of course, unlike us, who view things a bit more simply, our 2012 Polaris won't be a Rush. It will be a 2012 Polaris 800 Switchback Pro-R. We see it as a stretch track Rush.
We won't say we were disappointed with the previous Rush models we rode each of the past two seasons. But, we could never establish a comfortable relationship with that first year's version. We erred in agreeing to the "big boy" shock and spring setup. We spent many a ride manipulating that aspect of the suspension trying to get the right balance. We finally came to an acceptable setting, but that shock and spring setup was designed for a bigger boy than us. In subsequent rides of other Rush models, we found that the regular shock and spring could be adjusted to suit our riding comfort just fine.
We liked the ability to tinker and play with the very responsive Walker Evans shocks and made certain they came on our most recent winter long test review Rush. This 2011 800 Rush helped change our opinion of modern 800cc two-stroke twins. Our first Rush had the 600cc Cleanfire twin and very positive performance, ideally suited for our needs. Our latest Rush, the 800 version, offered all of that plus a nice thrill seeking extra "oomph" for lakes and long straightaways. You can get from a standstill to trail legal top speeds in a flash with the Polaris-built 800cc twin.
However, both Year One and Year Two of the all-new Polaris Rush left us perplexed. Yes, we've gotten older and maybe we're not the hotshot rider we once were, but really? Looking at and sitting on the Polaris Rush gets us to thinking Ski-Doo MXZ. Sitting aboard the Rush and looking down the trail gives us a solid impression of the MXZ. But, once underway, we just never got as comfortable aboard the Rush as we could on the MXZ.
Now comes 2012, Year Three of the Rush and Polaris gets it all right. The stretch track 136 Rush is exactly what we've been wanting all along. Sorry, Polaris, we meant to say Switchback! Even the 121-inch "short" track version is up to snuff as a result of a change to the Pro-Ride suspension's front arm and a total makeover of the front suspension, which is included on the stretch track Switchback models.
At our annual spring evaluation test ride in West Yellowstone, we spent as much time as we could running the Switchback Pro-Ride against various Ski-Doo MXZ models, including ones with Ski-Doo's new limited production suspension. Now when we throw a leg over a Polaris Pro-Ride sled's saddle, we know we can count on the Polaris to ride and handle exactly as we thought it should all along. In the past you could bang into a corner but the skis and steering might give you momentary concern as the inside ski could pop and lift up just when you were applying power. It didn't happen all the time, but enough, and it could be severe if you pushed really hard. That didn't happen with the 2012 versions. They gripped and held like… well, like what we expect of an MXZ. The short track Rush is now very predictable, or as Polaris likes to say. "Nimble and quick." Don't think that the 136-inch Pro-Ride set up is slow and unresponsive. No way!
When it comes to adding Polaris' 800 Cleanfire twin to a sled, we'll go with the all-new Switchback every time. You get 6 to 8 inches of added footprint to smack the 800's power to the snow and, conversely, added braking traction as well. We were absolutely amazed how much improved the Rush becomes by blending in seven extra inches of chassis and suspension length. We expected a smoother ride as the longer slide rail will bridge some trail chatter, but we were surprised at how the Pro-Ride seems to be a vastly improved suspension in virtually every way. The extra backbone length in the Pro-Ride seems to effectively slow down the shock action in a very positive way. That extra arm length outside the rear suspension nuances the action from front to rear and allows the rear shock and spring an ability to react more progressively than with the shorter version. The ride just isn't as busy, even in really bumpy or choppy sections. Polaris confirms this as the rear settings have a wider accommodation in the setup compared to the 120-inch rear unit.
Of course, another thing working in the Switchback is the use of a racing-derived front suspension that allows more turn in or sharper steering. The entire racing style front has been engineered to increase positive tracking for the skis. In addition to the revision of spindles, angles and A-arm geometry, Polaris utilizes over the engine steering that allows use of shorter length steering arms for quicker and more positive steering control. It's what racers want on the track and what you'll appreciate when charging down a tight trail.
While we will tell you that a standard Polaris Switchback without the Walker Evans is more than adequate, we will admit that we want the Switchback Pro-R precisely because of the Walker Evans shock package. These are incredibly responsive and extremely easy to adjust shocks that can be tuned right at trailside. We admit to being shock tuning impaired at times, but we've found that getting the Walker Evans units to give us a favorite ride setting has been easy and fun. If you read the Polaris owner's manual and count the clicks when making adjustments, you can tinker to a perfect personal setting every time.
For us the 800 Switchback Pro-R is the perfect Rush. In its third year, the Pro-Ride concept is spot on as to what the early promises were. If you are a serious on-trail rider, hard charger or long haul mile maker, this sled is ideal with its blend of rider-friendly ergonomics, serious idle to wide open throttle power capabilities, and smooth riding performance. If you like to challenge fresh snow off trail, the extended 136-inch Pro-Ride suspension will feed grip and flotation in just the right proportion. The smooth fuel injected 800 twin can spoon feed power for tight maneuvers or force feed torque to spit out a plume of snow to blast off a berm. Docile. Ferocious. The Cleanfire 800cc twin gives you control to ride as you choose.
You might choose the Pro-R if you like the option of gripping snow on and off trail as this Switchback model includes an aggressive Cobra track with the 1.352-inch lug profile.
You'll find that the 2012 Polaris 800 Switchback Pro-R isn't simply performance at the expense of comfort. It features what Polaris calls its "Comfort Seat," which is wide and plush in the middle and narrows down as you slip forward to attack corners. Styling-wise the added length of the Switchback tends to embrace the unique look of the Pro-Ride outside the skid frame design.
Overall, let's give Polaris a lot of credit for continually updating the Rush and the Pro-Ride concept. Yes, we know the Switchback is not the Rush, but to us it is an evolutionary step of that design. The 800 Switchback Pro-R is the best of the Rush designs to date. It rides, handles, is adept on or off trail, and is one great sled to ride anywhere. Polaris gets it.
2012 Polaris 800 Switchback Pro-R Specs
Engine
Polaris Liberty Cleanfire 795cc twin cylinder 2-stroke; liquid-cooled; Cleanfire fuel injection
Horsepower
150
Drive
Polaris P-85 drive; Team LWT Driven
Front Suspension
Polaris Pro-Ride (race-inspired & new for 2012); 9-in maximum travel; Walker Evans adjustable gas shocks
Rear Suspension
Polaris Pro-Ride slide rail 136-in; Walker Evans compression adjustable gas shock on front and rear arm; 14-inch maximum travel
Length
115.0 in
Width
48.0 in
Height
46.0 in
Ski Stance
42.5 in
Track
15 x 136 x 1.352 Cobra
Brake
Polaris Phantom hydraulic
Weight
484 (claimed)
Fuel Capacity
11.0 US Gal
MSRP
$11,999
Related Reading
2012 Polaris Switchback Adventure 600 Review [Video]
2011 Polaris 800 Switchback Assault 144 Review: Mountain Test
2011 Polaris 800 Rush Review
2010 Polaris Rush Final Impressions