2014 Polaris 550 Indy 144 Review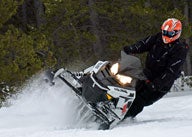 Meet Polaris' lightweight, long tracked, high flotation value sled
The snowmobile manufacturers have become very adept at bringing "new" models to market that offer unique personalities despite sharing very similar components. Just look at the various iterations of the 2014 Polaris Indy stretch track family.
The true value model, the 550 Indy 144 carries the lowest price. But off that model, you can go adventure touring aboard a 550 Indy Adventure, complete with bags and nice-to-have electric start. The 550 Indy Voyageur with its narrow and adjustable ski stance front end can get you into the snowy boondocks. By utilizing similar chassis lengths, rear suspensions and a common 550cc fan-cooled power package, Polaris manages to keep production costs in line to provide real value to a variety of snowmobile riders. Yet, each of these three models comes with its own personality.
While many trail riders might opt for the lower priced, but sporty shorter tracked 550 Indy, the extra US$600 for the 550 Indy 144 could prove very useful if you (a) like to break trail down unplowed fire roads; (b) want to poke around the family farmstead; (c) head off to remote lakes for some ice fishing; or, (d) simply enjoy trail riding with the advantage of an extra length track/suspension that bridges bumps better than a short track.
We might expect some veteran riders to express concern that spinning a 144-inch length Cobra track versus the base 550 Indy's shorter 121-inch Shockwave makes the 550 Indy 144 slower. Yeah, most likely. But, really? How much performance are you really losing from one of the sport's last surviving fan-cooled powertrains? We're not talking Cleanfire 800. The base Fuji-developed and sourced 544cc two-stroker maxes out in the 50-horsepower range. While efficient and proven very durable, the CVTech Powerbloc 50 transmission is not a high-performance drive system like those on the top line 800 Indy.
What top speed you give up with the longer 144-inch track comes back to you when encountering deep, ungroomed snows. The 550 Indy 144 has both flotation and bite thanks to the Cobra track design's standard 1.35 lug profile. Do you really want to challenge fresh off-trail powder with the base Indy's 121-inch length and less than an inch lug grip? Probably not!
Plus, come on, if you were seriously looking for outright performance, you wouldn't be riding a 550 fan-cooled sled in the first place. That's not to say that any of the Indy 550s can't get you a speeding ticket. But top speed and 0-to-60 miles per hour acceleration won't compare well to the 600 Indy SP.
The key to the Indy series centers on value, especially the 550 versions. More than likely the 550 Indy 144 will see sales to rental operators where purchase price and long term reliability matter more than speed. It is those values that you should consider as well when looking at this value sled.
Look at what you get for your US$6,999 purchase price. The drive system is durable, if not overtly exciting. If you want to lessen the blow to your ego when your buddies tease you about riding a value sled, remind them that 550cc was once considered a large, potent engine and the Powerbloc clutch was actually designed to contain such top end power. Times change, of course. Or, think of this sled as the ultimate "throwback" to the vintage era, when most sleds were powered by fan-cooled two-strokes. This one just comes with modern upgrades such as digital ignition and the latest 34mm Mikuni slide carbs. But, if you sneak a peek at the 550's exhaust, you'll definitely think a bit retro.
The rest of this sled is purely modern and with the air-cooling drive system weight comes in at a claimed 429-pounds! That's not vintage weight, perhaps, but it does suggest a strong power-to-weight ratio for the Fuji twin. Polaris did a masterful job of engine placement, which is low and centered to maximize handling.
We figure that handling and on-trail personality are strengths for the 550 Indy 144. We expect the 121-inch 550 Indy can whip through tight corners quicker, but we did not feel excessive "push" when trying to corner quickly with the 144. On marginally groomed trails, we'll take the 144 and its slightly better 14.1-inches of available rear suspension travel. The longer rail rear suspension controls trail action via front and rear RydeFX MPV shocks, which work just fine to maintain stability off or on trail.
Up front the 550 Indy 144 shares the Pro-Ride front end and 7.1-inches of travel with other 550 Indys. Trail bounce is also mitigated via RydeFX MPV shocks and a sway bar. There is also a bit of flex built into the plasticized Polaris-designed Pro Steer skis, which were introduced last season. These features and commonality in the Indy line up allow Polaris to more efficiently and cost-effectively run models down the assembly line. It works for you as these sleds carry very good dollar value.
New to the increased models of Indys, the steering and handlebar designs exclusively fit the needs of the Indy rider. Polaris engineering gave the steering post a 15-degree flatter angle; enhancing comfort and flexibility for the Indy's ride position. Even the use of the Indy Pro-Ride seat serves both sit down and stand up positions. The seat offers a wider area for sit down comfort, yet includes a tapered front so you can transition into corners or more easily stand up for the "whoops."
When compared to older and previous fan-cooled Polaris models, the new 550 Indy series handles so much better and seems almost intuitive when heading into turns. You can thank the design and manufacture of this new and much stiffer Pro-Ride Indy chassis. When combined with the lightweight drive, the 550 Indy 144 reminds us of how much fun simple snowmobiling can be. It's light. It's nimble. And, best of all, it's very affordable.
2014 Polaris 550 Indy 144
Engine
Polaris/Fuji 544cc twin cylinder 2-stroke; fan-cooled; dual VM34 carbs
Horsepower
55-plus
Drive
CVTech Powerbloc 50 drive with CVTech Invance driven
Front Suspension
Polaris Pro-Ride; 7.1-in maximum travel; RydeFX MPV shocks
Rear Suspension
Polaris Indy slide rail; RydeFX MPV shocks; 14.1-inch maximum travel
Length
124.0 in
Width
48.0 in
Height
48.0 in
Ski Stance
Adjustable: 42.5 in
Track
15 x 144 x 1.35 Cobra
Brake
Polaris hydraulic
Weight
429 lbs (claimed)
Fuel Capacity
11.5 US Gal (Premium unleaded recommended)
Features
Standard: Pro Steer ski; electronic reverse; Indy handlebar and steering post; 12-volt DC outlet; Indy Pro-Ride seat
MSRP
US$6,999