2016 Polaris 800 Pro-RMK 155 Unveiled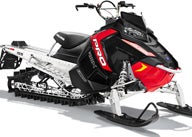 Polaris takes covers off new deep powder sled in West Yellowstone
Looking to generate excitement for its new 2016 snowmobile powder line-up, Polaris took the wraps off its new 2016 800 Pro-RMK 155 model. While you may want to know more, such as pricing and dealer availability, Polaris officials are making everyone wait until March 2, when you will be able to put money down on a Snow Check programmed model.
In the interim, what is known is simply that Polaris has unveiled limited information about its 2016 800 Pro-RMK 155. No other models were announced. But, the interesting thing with the showcased 800 Pro-RMK is the so-called AXYS platform upon which it is based. This is new. The 800cc Cleanfire two-stroke twin is new to the RMK series, but announced last season in the 2015 Rush and Switchback models and now proven over more than a 100,000 miles of consumer and field test miles. The engine will drive via the proven QuickDrive low inertia drive exclusive to Polaris.
Of interest to us is the patented raised AXYS RMK chassis. While it carries the AXYS name, it is not the same tunnel design as used in the Switchback and Rush trail models, but an all-new purpose-built design that mates up with the basic front structure pioneered on the AXYS trail models. The rear tunnel is a straight aluminum construction that increases clearance and reduces drag to keep you on top of the snow. The front suspension design features taller spindles to raise the front end up for less drag friction in powder. Polaris was not forthcoming with specific dimensions on its website.
Polaris claims an industry-first of one-piece aluminum forged A-Arms that are approximately 1.5 lbs lighter overall than the 2015 Pro-RMK pieces. As with the previous Pro-RMK models, weight is a serious consideration. The older versions were light at 417 pounds. The 2016 replacement is claimed to weigh in at 408 pounds!
The 2016 Pro-RMK 155 gets a redesign of its rear suspension that features revised geometry to control pitch, improve weight transfer, and provide better control and a more compliant ride. Polaris' thinking was to give RMK riders improved weight transfer while maintaining the approach angle in deep snow, while at the same time give the sled better on-trail ride and comfort. Polaris engineering feels that the new rear suspension with its new more durable, lightweight rail design should help lift the rear skid while driving it forward.
You'll noted that the Pro-RMK has been fitted with new Walker Evans Monotube Impact-Extruded Shocks, which are among the company's lightest weight shock option for on or off trail control.
Added control in flicking the sled from side to side in light powder comes from a newly engineered AXYS body panel design. Polaris claims this change helps give the sled the best lean angle in the industry, allowing it to hold even the steepest sidehill lines.
Spinning around the powder suspension is an all-new exclusive to Polaris Series 6 track with 2.6-inch lugs for improved deep snow and hard pack traction and better lift. Getting the power from the crank to the snow is a revised QuickDrive Low Inertia Drive System.
The power from the second-year 800cc Polaris built Cleanfire engine delivers increased power and quicker throttle response than last year's 800 motor. Benefitting from the new front construction and integrated engine mounting position, the sled now better positions the rider to optimize the balance of the chassis.
Just as 2015 Rush and Switchback owners learned, the newest 800cc high output Cleanfire twin provides improved running quality, crisper throttle response, smoother idle and improved fuel economy as a result of these engineering changes:
• Three-stage electronically-controlled exhaust valves for increased power and responsiveness
• Electronic oil pump for reduced throttle effort and improved durability
• Thermostat with bypass warms up to operating temperature 40 percent faster and improves durability
• High-efficiency intake and exhaust for improved breathability that increases power
• Exclusive VForce Reeds for more power and improved reed life
• A lighter weight crankshaft that's 2.5-lbs lighter with 25 percent less inertia
• Grooved piston for improved durability and engine life
Checking out the latest Pro-RMK reveals all-new features as well as updates of proven and popular ones. Pro-RMK riders who have come to appreciate the PowderTrac running boards will further appreciate revised ones that are constructed from extruded aluminum with bonded cast lugs. The 2016 version footboards boast an open area of more than 50 percent with integrated traction for sure footed performance. The runningboards revised on the newest Pro-RMK provide more open space at the back of the boards by the rear pad to further reduce snow build up.
Other expected features include:
• Pro-Lite seat that is shorter to allow quick leg and rider movement
• LED lights, the industry's first LED headlights packaged as standard equipment
• New lightweight brake with a fixed 2-piston opposed caliper design for improved and quicker response
With this new model announcement, Polaris leads mountain riders to expect more for model year 2016 in the coming weeks. You had to expect that the next generation of Polaris powder runners would get the upgraded 800cc engine once the company worked its way to mating up the model year 2015-style front AXYS design with the powder sled's back end. Since the latest 800 engine was designed in concert with the AXYS front, it was not a simple matter of dropping the new engine into the old platform. Polaris enthusiasts knew that they would get the latest 800, but had to wait for the pieces to come together, which they have with this newest version of Polaris' best selling snowmobile.
As of now, Polaris is playing it a bit coy, showing a new sled to spark interest, but saying very little about what options or variations you can expect. You know for now that there is a new body, new suspension, more aggressive 155-inch track, and improved power and response. What you don't know is the price, what other variants of this model may be available and so on. Polaris is holding that information for full release on March 2, 2015.