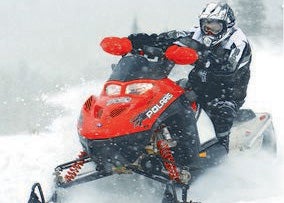 The Big Bump Sled for 2008
You like to ride the big bumps? Bigger the better? You like to fly? Higher the better? If this is you, meet your ride. The 2008 Polaris 600RR.
Fast Facts
Engine Type:Horizontal In-line
Cylinders:2
Engine Stroke:2-Stroke
Valve Configuration:Reed Valve
Displacement:599 / 36.6
Starter:Pull
Turbocharged:No
View Full Spec
Based on last year's snocross 440 IQ race sled, the 600RR is a civilized trail version of that successful racer. Saying successful doesn't say enough. Last season Polaris racers captured World Power Sports Association (WPSA) titles in Pro Open, Pro Stock and Pro Women. They also took four of six top positions in Pro Open points and three of the top five places in Pro Stock points. All this is merely a continuation of a Polaris racing heritage that began in the 1950s when Polaris founder David Johnson raced sled dogs and motor toboggans at The Pas in northern Manitoba, Canada.
For 2008, you can ride a slice of Polaris history in the guise of the 600RR, a sled at home in deep moguls and in rutted out ditches. Unlike many previous 'wannabe' race-like sleds, this one is a tremendous blend of racer and trail machine. Not being snocross racers, we can state only that the sled sits and feels like what we imagine a first-rate snocross sled would feel like if we were waiting for a starter's flag. The handlebars sit upright, drawing you forward to attack the bumps. The seat keeps you in a flexed and ready position to react immediately to terrain. The footboards are wide and steady, leaving room for you to dance around in your snow boots as you work through a field of small to big bumps. The 600RR looks almost exactly like the race sleds Team Polaris ran in the WPSA events. It looks ready to rock.
More Than Appearance
Polaris engineering gives you more than an appearance of performance. Engineers managed to blend this racer's personality into a trail rider's treat. Where racers demand extremes, trail riders insist on a certain amount of trail civility. After all, where a racer pounds hard for 18-minutes of a snocross heat, a trail rider wants to play for all of a day's sunlit hours. That means, in some ways, the 600RR must be more durable and reliable than a racer. A trail rider can't pull into a race paddock and have a team of mechanics swap out a clutch, rebuild a front suspension or change a track. The trail rider wants to load his sled and trailer to the trails for a day's ride. A full day's ride.
The 600RR shines on trails, especially ungroomed ones. Unlike the 440 IQ race sled, the 600RR features the rambunctious power of a 599cc trail-tested, Liberty liquid-cooled twin. Rated at 120-horsepower this Polaris engineered and built motor provides steady torque from idle to wide-open throttle. Unlike the race sled that relies on a high-strung 440cc twin, the 600RR has no peaks or valleys in its performance chart. Steady and reliable the 600RR's power is repeatable bump after bump. You can crest a berm, grab a handful of throttle and launch to the peak of the next mogul. The engine has the power to do that and the 600RR IQ chassis has the ruggedness and supple suspension to make you smile wider and wider the harder you work this sled.
We expected little when we took the 600RR out on the high mountain trails of Colorado's Rockies this past March. We'd seen race replicas before. They could be placed in one of two camps: gussied up trail sled with racer graphics or race-stiff sled with suspensions and handling that prove unusable on the trails for even the most avid racer 'wannabe.' Yeah, the sled felt very good when we sat on it. Yes, when we stood up through the first series of moderate bumps, we found the handlebar at a comfortable height and the steering extremely responsive. The Liberty engine was as expected. After all, this twin powers the most successful of modern Polaris models and can be compared favorably to the Rotax 600 twin used in Ski-Doo's MXZ.
What wasn't expected was how docile the 600RR feels. When launching the sled off a mogul, it flies like an Indy. That's a compliment as the Indy was one of the most consistently dependable rough trail sleds ever conceived. The RR gives you a constant feeling of being in charge, even when you may not be. The IQ chassis is stiff, yet the IQ suspensions flex and absorb the terrain, doing exactly what they are supposed to do. But, when you tire of pounding bumps, big and small, the RR is quite at home on groomed trails allowing you to carve tight turns in the twisties or simply carrying you back home. Polaris got this sled right. Very right!
A premium model, the 2008 600RR was said to be a limited build, meaning that not everyone who wants one will necessarily be able to get one. That should mean that most dealers will hold tight to the manufacturer's suggested retail price of US$10,299/C$13,299.
Suspension 'Goodies'
The price includes a good list of race sled styled premium 'goodies.' The racer-style, double A-arm front IQ suspension positions the shocks upright for full shock rod utilization. Those shocks, by the way, are high-performance Walker Evans brand shocks with a remote 'piggyback' reservoir to keep shock oil cool and provide extra capacity to reduce shock fade. Completely rebuildable, the aluminum body shocks can be adjusted to one of 16 positions to suit your personal riding style. Front travel maxes out at 11.5-inches. That's 1.5-inches more than you get with a 600 Dragon IQ.
The rear suspension is also based on the snocross racer's skid frame and features a similar 16-position Walker Evans brand shock to control rear arm movement. You'll find an aluminum bodied Walker Evans 'springless' shock on the front rail arm. Suspension travel peaks at 13.9 inches.
We found the suspension calibrations very comfortable for attacking moguls, yet nicely compromised for riding on groomed trail sections. Give Polaris suspension engineers an A-plus here. They were smart enough to create a successful blend between racer "wannabe" action and the needs of everyday aggressive trail riders.
When the 121-inch Ripsaw track hits the snow, it grips with 1.25-inch high lugs and the same pattern found on Dragon models. Power from the Liberty twin comes from Polaris' own P-85 drive clutch and a Team-built secondary. Again the drive is similar to the Dragon setup with specific calibrations established to match the unique demands of the 600RR. Stopping that drive system is the job of a very effective dual piston caliper hydraulic brake carried over from the race sled.
This race replicant provides styling and handling like the real world racer, but to meet the demands of trail riders, the 600RR is fitted with a 9 US gallon fuel tank and oil injection for the engine. Racers may mix race fuel and special two-stroke oil, but trail riders expect to fuel at normal trail pit stops.
About the only add-ons you should consider would be a set of wind deflectors for the hooked-end handlebars and maybe an upgraded windshield with flared edges to further deflect some cold air. Other than that, this race replica is trail ready, rather big bump ready.
Redefining Race Replica
Let's say that Polaris not only exceeded expectations with the 600RR, but redefined what a race replica should be. That new definition states a race replica needs to look like a racer, have a ready-for-action cockpit of a full-on racer, but suit a much bigger audience with its trail-ready performance. Polaris gets it and modern race replicas don't get better than the '08 Polaris 600RR.