2010 Ski-Doo Expedition 1200 4-Tec Review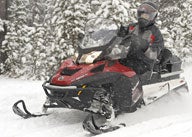 A capable cargo hauler and two-up tourer
There's a unique appeal to the 2010 Ski-Doo Expedition that comes from this sled's ability to easily lug gear on marginally groomed trails and then carry two for a weekend of trail touring. Whether base model or goodies-laden early season only "SE" version, the Expedition is a special snowmobile.
Fast Facts
Engine Type:Horizontal In-line
Cylinders:3
Engine Stroke:4-Stroke
Valve Configuration:DOHC
Displacement:1170.7 / 46.9
Starter:Electric
Turbocharged:No
View Full Spec
What makes this Ski-Doo stand out so? After all, competing sled makers also offer utility models. So why does the Ski-Doo stand out? For one thing the 2010 Expedition combines the widened aluminum REV platform with an ability to accommodate the nifty Rotax 1200 4-TEC triple. This smooth running 4-stroke successfully mimics the best features of Yamaha's 4-stroke Genesis 120FI with about the same horsepower. There's little to choose from between the Rotax and the Yamaha powerplants as both enjoy precise electronic fuel monitoring which translates into very smooth on and off-trail performance.
You can count on the Rotax 4-TEC transitioning very smoothly from drive-off to top speed running. The Rotax 4-stroke uses bountiful torque to provide standard grunt through its dual speed synchromesh transmission. Should you get intimidated by deep snowdrifts, slow down a tad, shift into first (or low range) and throttle up to power through virtually any snow conditions.
The Expedition packages this wonderfully torquey motor with a widened front end that's designed to float well over snow. Adding to the sled's snow-ability is 20-inch wide track measuring 154-inches in overall length. Of course, as with any hunky sport-utility sled, don't get it stuck, as it will be a hefty package to get unstuck. The base model powered by the Rotax 600cc 2-stroke twin weighs in at 630 pounds while the 4-stroke triple adds another 60 pounds of heft. If you ordered early and opted for the SE version, you gained the benefit of a standard equipment WARN winch with 1500-lb capacity, a remote control with 10-foot lead and 40-ft of synthetic rope. That makes getting unstuck much easier to deal with.
We wouldn't worry about getting bogged down. As we mentioned the capability of shifting into low with the dual-speed synchromesh tranny minimizes the chance of getting into serious trouble. With its wide skis and good attack angle of the track to the snow, this sled is a virtual "jeep" on and off trail. It is designed to be an extremely versatile snowmobile. That's what makes this 2010 Expedition such a treat. Now, if you could find one of those early season SE versions, you'll really have a special all-around sled.
The Expedition SE added to the base package with a stylish Regal and Black color package to set it apart from the all black base model. While you can opt for either a 2-stroke 600 or the 4-TEC triple, we'd go for the 4-stroke and its greater grunt. Based on the utility REV-XU chassis, either Expedition allows both power sources to propel the package down the trail in a sporty way. This is not a bulky, hard to handle cargo carrier. In fact, depending on your snow life, the Expedition can be a very nice touring sled. The SE version would be a great choice for snowmobilers living in heavy snow areas where the groomers have a hard time keeping up with the snowfall. With 4-stroke power and a wide track, the Expedition makes a snow safari adventure something to anticipate. If it's snowing hard, the Expedition will handle it. There's a huge windscreen to divert windblown flakes. You can set yourself comfortably and adjust the four-position tilt steering to maximize on or off trail control of the skis.
The Expedition's modular seat offers ample passenger room as well as underseat cargo area. The handlebar and passenger grips are heated for touring comfort. Then, of course, there are the latest refinements in the rear suspension, which features an articulated rear rail to accommodate reversing on the trail. The suspension's front arm uses a hydraulic shock with a high-pressure gas shock controlling the rear arm and 13.4-inches of overall travel. If you want a versatile touring mount, the Expedition satisfies two-up distance riding as easily as it accommodates the needs of a serious ice fisherman who searches out remote lakes to catch the really "big" ones.
The front suspension blends on-trail comfort with long travel A-arms that react smoothly to provide a good on-trail ride or work slowly to conquer off-trail obstacles as you search for the best boondoocking route. Base hydraulic shocks control 8.26-inches of travel while a front anti-roll bar controls side-to-side action.
We tried the Expedition in various conditions last winter and came away impressed. In off-trail riding we established a comfort with this sled that surprised us. It is definitely a hunky unit and looks the part. But we discovered that it handles ungroomed snow incredibly well thanks to the excellent drive train, high flotation wide track, and overall REV-XU chassis design. Its tranny is very unique and you can, indeed, slip from second to first on the fly. We found that in deeper snow, you can run as fast as most of the long track sport models in first gear. On groomed trails, of course, you want to shift up to second to maximize the higher gearing, which taps out early as this sled is geared toward lugging power and not speed.
Overall, Ski-Doo's 2010 Expedition, especially the 1200 4-TEC version, blends touring ability with utility. It is a very good "crossover" snowmobile that should prove to be a very strong runner that is also extremely rider friendly with nice-to-have features like a grab strap on the handlebar, J-hook bar ends, tilt steering, multi-function gauge package, and unique synchromesh transmission.
2010 Ski-Doo Expedition 1200 4-TEC Specs
Engine
Rotax 1170.7cc, 4-TEC; liquid-cooled 4-stroke triple with electronic injection
Horsepower
130 (Estimated)
Drive
Ski-Doo TRA IV drive system with QRS secondary and Synchromesh High/Low range with reverse transmission
Front Suspension
Ski-Doo double A-arm suspension; hydraulic shocks; 8.26-inches of travel
Rear Suspension
Ski-Doo RCG-A parallel rail slide with hydraulic shock on front arm and HPG shock on rear arms; up to 13.4-inches of travel
Length
154.5 in
Width
47.9 in
Height
52.3 in
Ski Stance
40.1
Track
20 x 156 x 1.25
Brake System
Hydraulic disc
Weight
630 lbs (claimed)
Fuel Capacity
12.0 US Gal
Special Features
Modular 2-up seat with underseat storage; multi-function gauge; 12 Volt power outlet; tilt steering; rearview mirrors; hitch; cargo rack
MSRP
US$11,799 ($10,499 for base)
Related Reading
2010 Ski-Doo GSX LE 1200 4-TEC Review
2009 Ski-Doo Expedition TUV Rev-XU 600 Review
2009 Ski-Doo Legend Touring Review