2010 Ski-Doo GSX LE 1200 4-TEC Review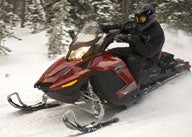 Limited edition personal luxury model targets high-mileage riders
Take a close look at the specifications for Ski-Doo's GSX LE. What you'll discover in the spec sheet is a solo performance trail touring de force for 2010. What the Quebec-based snowmobile pioneer uses to target high-mileage trail riders is essentially a one-up version of its features-laden Grand Touring LE model.
Apparently all of the sled makers feel that serious trail riding consumers want longer tracked trail mounts as Polaris outfits its latest solo touring LX series with a 136-inch stretch track and Ski-Doo follows suit by equipping its GSX LE with a one-inch longer 137-inch track. If you look at the specifications, what you'll conclude is that Ski-Doo has maximized its stretch REV-XR chassis. In addition to its usage in the 2010 GSX LE, there is a series of Renegade and Grand Touring models on essentially the same platform. Not a bad practice, especially when Ski-Doo designers can make each model appear completely unique.
Grand Touring Heritage
The GSX LE most closely resembles the Grand Touring LE, another limited edition model using the 15×137 inch track and 4-TEC engine. In fact, if you want a snowmobile with the creature comforts and drivability of an automobile, either of these two sleds would be perfect. The Grand Touring LE would be a touring sedan, while the GSX LE can be described best as a luxurious open-air roadster. It's kind of the Bentley GTC of snowmobiles. Okay, that's a stretch, perhaps, but the 2010 Ski-Doo GSX LE is darn nice and the most car-like sled we've ever ridden, or, is that driven?
In its second season as a full production power source for Ski-Doo snowmobiles, the Rotax-built and engineered 4-TEC motor really reaches star level. Indeed, Yamaha hits back with its fuel-injected Vector GT engine, but for pure drivability, we rate the Ski-Doo 4-TEC triple as the best for now. That's saying something as the new Vector GT triple proved even better than we expected.
Car-Like
For total car-like "feel" on the trail the GSX LE drive train is first rate. The 1,171cc 4-stroke provides strong drive-off torque and builds from there with smooth mid-range power and adequate top end. Ski-Doo spokesmen claim that the drive system is designed to engage smoothly at about 2,500 revs. In the high altitude of the Colorado mountains, we saw compensatory higher engagement speeds, but it was still smooth. Our experience with the GSX LE and Grand Touring models in Quebec earlier this year make us confident that you'll get the same smooth drive offs from the production versions as we did from the prototypes. After all, consider that this is not really an all-new model, but an evolutionary design.
The power train consists of the fuel-injected triple and a clutch pairing that puts the Ski-Doo/Rotax engineered TRA IV drive clutch with Ski-Doo's latest QRS driven. Because these models are designed to appeal to high-mileage riders, the system kicks in easily and ramps up smoothly. The Renegade and MXZ models with the Rotax 1200 4-TEC may be a bit more aggressively clutched.
The automobile "feel" comes through as soon as you press the starter. The 4-TEC tends to purr loudly at idle as opposed to snarling. It's quietly deceptive as the power plant can toss snow out the back as easily as any other 130-hp snowmobile motor. Don't underestimate the performance quotient of this sled. It may be designed for high-mileage travels, but it can make those miles at a good rate of speed, something long distance Quebec snowmobilers know something about! This is a serious sports sled for the touring set.
Air Ride
Power aside, the 2010 Ski-Doo GSX LE comes loaded with comfort features. Its key ingredient is the rear suspension. This Air Controlled Suspension (ACS) features cockpit controlled electronic adjustment so you can make changes on the fly. Play with the handlebar-mounted rocker switch to make changes in the rear shock's five preload settings. This system appeared last season and has become one of the sport's best-kept secrets. A test rider using this system over some heavily traveled Colorado mountain trails was all smiles when our group stopped to rotate sleds. He stayed with the ACS-equipped sled for another turn.
This is Ski-Doo's latest design for an air shock on its top line "comfort" models. When you activate the rocker switch, the current version sets itself more quickly than previous designs. Of course, the added length of the 137-inch track helps you bridge small bumps on the trails as well.
Plush seating adds a third comfort factor for the GSX LE. It puts you comfortably in position to see the trail ahead and react to serious moguls. We don't care for the new tactile feel of the seat covering. It grips too well, but we're sure there are plenty of riders who will think this is a plus. It's also supposed to be more weatherproof than previous seat materials, but we found it annoying. When you went to sweep away falling snow, the snow became more embedded in the fabric. Of course, since this seat features an electrical heating element, we suppose you simply melt the snow. Whine, whine, whine!
Trail Manners
We won't whine about the sled's on trail manners. If you put on 250 miles or more per day, this sled is darn near perfect. On groomed trails it eats up mileage. Quebec-style riders want fast and comfortable. The GSX LE supplies all of that. It has an effective mid-height windscreen, rearview mirrors, plush ride, and an adjustable handlebar with 4-way tilt steering. You can plug your heated helmet shield into the console mounted DC-outlet. Or use it for a GPS unit — or, radar detector! You can really boogie with this sled, so it might be a consideration.
Like Polaris' LX, the Ski-Doo GSX LE comes with a standard tunnel bag that mounts aft of its three-colored seat. Of course, Ski-Doo will be more than happy to sell you a complete assortment of touring luggage if you need more storage.
You expect a luxury sports sled to offer benefits. The GSX LE features Ski-Doo's multi-function digital gauge, the latest Brembo hydraulic brake, reverse, electric start and smart styling. These folks have style down. The GSX LE comes in a rich red with a black painted aluminum tunnel. It will turn heads, or get distant looks as you power past the general trail riding populace on your way to a distant overnight destination. That's what this sled is all about. Traveling to a distant destination at a quick pace in maximum comfort. The 2010 GSX LE demonstrates that Ski-Doo fully understands this riding niche.
2010 Ski-Doo GSX SE 1200 4-TEC Specs
Engine
Rotax 1171cc 4-TEC 4-stroke; liquid-cooled; triple with 52mm single plenum throttle body injection
Horsepower
130 @ 7800 rpm
Drive
Ski-Doo TRA IV drive system with QRS secondary; drive-off engagement at 2500 rpm (approx)
Front Suspension
Ski-Doo double A-arm suspension; Kayaba HPG shocks; 9-inches of travel
Rear Suspension
Ski-Doo SC-5 parallel rail slide with Kayaba HPG shocks on front arm and electronically adjustable air-spring; up to 16-inches of travel
Length
122.4 in
Width
47.9 in
Height
52.0
Ski Stance
42.4
Track
15 x 137 x 1.25 Lightweight Rip Saw
Weight
549 lbs (claimed)
Fuel Capacity
10.6 US Gal
MSRP
$11,849
Related Reading
2010 Ski-Doo Lineup Preview
2009 Ski-Doo Legend Touring Review
2008 Ski-Doo GSX Limited Touring