2016 Timbersled Snowbike Conversion Kits Unveiled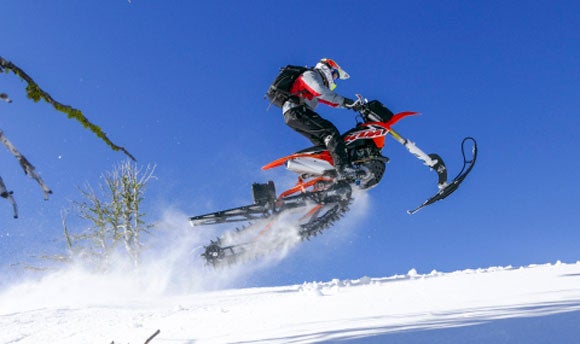 Timbersled Products, Inc., a division of Polaris Industries Inc., has announced its 2016 lineup of four new Timbersled snow bike conversion systems. The kits are available at nearly 200 Timbersled dealerships across the U.S. and Canada.
"A Timbersled system consists of proven, reliable components that transform a dirt bike into a snow bike that can effortlessly be ridden through deep powder snow, up and down mountains, across snow-covered meadows, through ravines and more," Timbersled says in a release.
A Timbersled system includes a front ski, rear suspension and track that fits most dirt bikes. Timbersled says the system can be installed or removed in less than three hours.
"It's exciting for us to announce the North American availability of our industry-leading 2016 family of Timbersleds just as riders across the country gear up for a new snow season," says Chris Wolf, Polaris Vice President – Snowmobiles. "The sport of Timbersledding is growing rapidly as riders discover the unique fun this style of riding offers, and as a result, retail sales of Timbersled conversion systems continue to accelerate every year."
Polaris acquired Timbersled in April 2015 and Wolf said "the companies' combined resources will be used to advance the Timbersled product line and expand the sport of Timbersledding."
2016 Timbersled Lineup
Timbersled Short Track [ST] Conversion Kit ($5,300 USD)
Timbersled calls its ST kit "a true jack-of-all-trades kit." It works with 250F 4-strokes, 250cc or 300cc 2-strokes, and big HP turbo bikes. "It is extremely impressive on a deep powder day, and handles hard pack or firm snow like a champ," says Timbersled.
Timbersled Long Track [LT] Conversion Kit ($6,000 USD)
The LT is for the rider focused on riding in deep snow. The LT is also recommended for riders weighing over 220 lbs and offers enhanced floatation and traction.
Timbersled Snow Cross SX120 ($5,800 USD) and SX137 ($6,500 USD) Conversion Kits
Originally developed as purpose-built race machines, Timbersled says the Snow Cross (SX) kits deliver great riding in the steep and deep and on the trails. "SX kits create the most responsive, longest-travel Timbersleds on the snow," says Timbersled. SX kits use a 2-inch narrower track and chassis than the ST or LT kits, along with a high-performance, race-ready frame and suspension geometries.
Visit Timbersled.com for more information.