2010 Ski-Doo Renegade Adrenaline 1200 4-TEC Review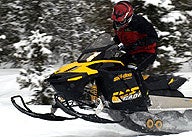 Smooth 4-TEC power with off-trail riding features
Originally Ski-Doo placed its new Renegade series in the Summit family of mountain and deep snow sleds. But when marketing experts decided the model should appeal to Midwestern "flatlanders", the Renegade moved over to the MXZ sport sled category. Confusion reigned until this season when BRP/Ski-Doo gave the Renegade greater "sled cred" by making it a separate category — kind of what it has always been as far as snowmobilers were concerned.
Fast Facts
Engine Type:Horizontal In-line
Cylinders:3
Engine Stroke:4-Stroke
Valve Configuration:DOHC
Displacement:1170.7 / 46.9
Starter:Electric
Turbocharged:No
View Full Spec
The Renegade refuses to fit neatly into a category. Yes, it is a sporty model. Yes, it has a longish track and handles powder well enough. But it appeals to many other aspects of riding.
Sport sled owners like this "crossover" or hybrid type category for a variety of reasons. Outfitted with a 137-inch length track, the Renegade can bridge some trail bumps and provide a smoother ride than shorter tracked sport sleds like the TNT. Coming from the powder side, the Renegade sported a 16-inch wide track, but coming off the MXZ model side, the same sled was fitted with a 15-inch wide track. Which is better? All of them!
Class Of Its Own
In its identity as a full model of its own, Ski-Doo engineers decided to make versions of the base model. There is the Adrenaline with choices of 600cc, 800cc or 4stroke 1200cc powertrains and then there is the more extreme Renegade Backcountry with a wider 16-inch track. Since Ski-Doo marketing envisions Adrenaline riders being more MXZ-ish and most apt to venture off-trail only occasionally, the 15×137 track with 1.25-inch lug profile should be adequate. The Backcountry is for the more extreme rider who works outside the normal boundaries. Unlike the more trail-oriented Adrenaline series, the Backcountry feature lower gearing and more powder-oriented pieces.
With its 1200cc, 4-stroke triple, the 2010 Renegade Adrenaline might have ample torque for backcountry work, but it's more ample weight would create extra work for an extreme rider. And that lower gearing thing? Trail-oriented Renegade riders want top speed for long lakes and straight corridor trail running. Adrenaline riders don't want no stinking low gears. And they don't need the extra flotation of the 16-inch wide track. The normal float of the 137-inch track allows them to break trail just fine.
The Renegade Adrenaline 4-stroke will suit riders in the lake effect snow areas around the Great Lakes like Michigan's Upper Peninsula or Ontario's lake bordering regions. These sleds are designed to be out ahead of trail grooming equipment, but are well suited to enjoying a groomer's day of work.
4-TEC Smooth
The Rotax 1200 4-TEC comes into 2010 with a year's worth of fine-tuning that makes it immensely pleasant on the trail. We found the 4-stroke triple pleasant as a touring car. In sport-tuned versions like the Renegade Adrenaline, the 4-TEC gives off a throaty growl. Not as notable as Yamaha's Genesis 130 triple, but still mean enough. We feel that Ski-Doo's second-year 4-TEC actually works better overall than Yamaha's 4-stroke triple. There is nothing but smoothness of torque pulling you along under full throttle. We didn't notice any rapid power spikes like you get with the Yamaha Nytro triple. We figure this has to be an intentional difference in how Ski-Doo and Yamaha view their sporty crossover models.
While Ski-Doo marketers made the Renegade Adrenaline more trail rider friendly, it has more than enough sport to suit MXZ riders looking for occasional off-trail thrill. The suspensions front and rear identify closely with the MXZ designs and provide up to 9-inches of front action with an available16-inches of rear travel. The base dual A-arm front suspension common to the MXZ and seen on the Renegade series features lightweight aluminum construction in its high-pressure gas shocks. These Kayaba-built HPG Plus shocks are rebuildable so they can be fine-tuned to suit a demanding rider. You'll find HPG style shocks on both the center and rear shock arms of the SC-5 rear slide rail suspension.
Refinements
To help you finesse your way when breaking trail, the 2010 Renegade models offer an easier to steer front end thanks to the racing-inspired steering ratio. Although the Renegade comes standard with integrated J-hooks at the end of the aluminum handlebar, we'd still prefer a better design – more like what Arctic Cat and Yamaha have to offer. Still, the Renegade handlebar is coming along and the design works okay for making your way in and out of the trees.
Obviously the Renegade offers the most refined ride-forward position in the business. The REV-XR platform encourages its rider to move around and make the sled dance side-to-side as it breaks fresh powder. The Renegade and its REV-XR design maintains Ski-Doo's return to being the "light-footed" sled of yore. To keep snow from packing in, the tunnel's runningboards are perforated into a boot-gripping floor. The narrow seat sits high enough to keep the rider in a ready for action position as he encounters on-trail moguls or off-trail obstructions like downed tree limbs.
Near Perfect?
The standard Renegade 4-TEC motored Ski-Doo is darn near perfect for the serious trail rider who likes to get out early and ride through the freshest powder. The windshield actually functions to divert snow away from the rider. That's a nice-to-have feature that MXZ riders can appreciate after sitting behind their "showroom cute" mini-windshields. And while Ski-Doo 2-stroke powertrains offer electronic engine reversing, the 4-TEC mechanical reverse system operates just as reliably.
We found the Renegade Adrenaline equipped with the 1200cc 4-TEC triple to be an extremely good riding sled with power delivery to rival any automobile. This sled is smooth operating, smooth riding and smooth at the throttle. Let's not forget that the 4-TEC power plant with its electronic fuel injection claims a steady 18-plus miles per gallon from a 10.6 gallon fuel load. This makes the 2010 Ski-Doo Renegade Adrenaline 1200 a serious option for on and off trail riders.
Specifications:
2010 Ski-Doo Renegade Adrenaline 1200 4-TEC Specs
Engine
Rotax 1200 4-TEC; 1170.7, liquid-cooled, 4-stroke triple with electronically controlled fuel injected throttle body
Horsepower
130
Drive
Ski-Doo TRA IV drive system with QRS secondary
Front Suspension
Ski-Doo double A-arm suspension; Kayaba HPG Plus shocks; 9-inches of travel
Rear Suspension
Ski-Doo SC-5 parallel rail slide with Kayaba HPG shocks on front and rear arms; up to 16-inches of travel
Brake
Brembo hydraulic brake
Ski Stance
42.4
Track
15 x 137 x 1.25 Lightweight Rip Saw
Weight
529 (claimed)
Fuel Capacity
10.6 US Gal
MSRP
US$10,849
Related Reading 2009 Ski-Doo MX Z Renegade 1200 4-TEC Review 2010 Ski-Doo TNT 550 vs Yamaha Phazer RTX