2010 Ski-Doo Summit 600 Review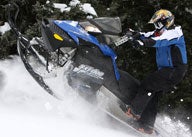 Fitting in the Summit 600 series for powder riders
Ski-Doo's 600 Summit, Everest and Sport are built on the ultra-light XP chassis allowing the two 600 motor variants (electronic direct fuel injection and carb) for this model line to slam some serious powder. Their sub 450-pound weight (dry) truly makes the 600 Summit, Everest and Sport viable snowmobiles in an under-appreciated class.
Fast Facts
Engine Type:Horizontal In-line
Cylinders:2
Engine Stroke:2-Stroke
Valve Configuration:Reed Valve
Displacement:597 / 36.4
Starter:Pull
Turbocharged:No
View Full Spec
Let's first take a peek under the hood of the Summit and Everest and look at their high-tech twin-cylinder two-stroke E-Tec motor.
E-Tec 600 – The Motor
According to Ski-Doo, the Rotax 594.4cc Electronic Direct fuel-injected motor, known as E-Tec, is a more economical motor than its current carburetor-based 600 H.O. motor, by as much as 15-percent. And it uses 50-percent less oil than the aforementioned H.O. Part of the E-Tec motor's efficiency comes from a computer that processes 8,000 calculations per second. Einstein would be proud.
The E-Tec computer is master to the fuel and oil system, the 3-D Rotax Adjustable Variable Exhaust (R.A.V.E), and the fuel injectors. Ski-Doo's E-Tec technology is based on BRP's Evinrude outboard boat motors in which fuel gets directly injected into each cylinder under extremely high pressures. This technology, BRP claims, makes this motor as fuel efficient — and as clean — as a four-stroke motor, making this two-stroke "green."
Ski-Doo 600 E-Tec Summit X / Summit Everest
When we rode the E-Tec Summit, we were impressed with how quiet the motor operated. Furthermore, its exhaust does not have the typical two-stroke aroma; its aroma is more like diesel or kerosene mixed with the familiar two-stroke scent.
Understand though, when buying "green" technology, dig deeper into your pocket, the E-Tec Summit X 600 will set you back. Its cost is not too far behind that of BRP's 800 Summit / Everest.
The Spring-buy Summit X 600 E-Tec comes with all the amenities of its big bro 800 Summit X: tall and narrow seat; Brembo racing brake; HPG Plus shocks; PowerMax 16-inch wide track stretched to 154-inches; handlebar riser block; multi-function instrument gauge with digital readout; and Pilot 6.9 skis. Colors are deep black or deep with orange.
The "in-season" version 600 E-Tec Summit Everest is slightly pared down from the "X", available only in a 146 and lacking the X-package amenities, such as the multi-function instrument pod, low windshield and chromoly lower A-arms. Its shocks get notched down as it comes standard with HPGs. The color choice is blue on black.
When it comes to the drive train, the Summit X and Everest use BRP's dependable and solid TRA-III drive clutch paired with the QRS driven.
We found the E-Tec Summit X 600 and E-Tec 600 Summit Everest to be economical, green (today's buzz word), and excellent powder surfers. But we'll offer more in our conclusion.
600 Summit Sport
The Summit 600 Sport deletes the E-Tec in favor of Doo's early generation 597cc motor with RAVE and two Mikuni TM-40 flatslide carbs. This sled is light, agile, ready to accept mods, and guess what? This ride comes in with a US MSRP of just under eight grand. This 428 pound (dry) little rocket is well worth a dozen of your payroll checks. When we rode the Sport, we thought it behaved more like a 700 with superb power-to-weight and brandishing 800-like snap. We also noticed it pitched itself out of a hole quicker than its high-tech twin, the 600 E-Tec.
The "budget" 600 Summit Sport comes in a 146-inch track length with its waffle cut down to 15-inches. Lug height on this PowderMax is two-inches. Its shock package, ergos, seat, front suspension, instrument pod and rear skid (SC-5M) are exactly the same as the 600 E-Tec Everest, which means Motion Control shocks in the front suspension and rear skid front rail, and HPG shock controlling the rear skid's back yard. Drivetrain is first rate: TRA-III drive clutch and QRS driven.
With this budget 600 Summit Sport, we found its personality and performance to be anything but "budget." Its motor snapped the sled to attention and kept it crisp and positive. With a narrow tread under the tunnel, the Sport Summit churned the track with exceptional speed, making it a faster 600 than the E-Tec 600. Plus, with the narrower track, the 600 Sport was easier to handle when unstitching a mountain with a knife's edge.
In Conclusion
There is no question among the Snowmobile.com mountain staff that BRP's E-Tec is a marvel motor. Its technology is truly needed to prove to two-stroke naysayers that two-stroke motors can run clean and green.
Four-stroke motors are great motors for snowmobiling; Yamaha has proved that. There is ample room for both. Two-stroke motors need four-stroke motors and vice versa; competition breeds ingenuity. All of us snowmobilers should be grateful for what BRP is doing for the off-road motorized recreation industry. E-Tec technology is wanted and needed.
The 600 Summit, Everest and Sport are great sleds for any beginner or for that matter, any experienced mountain rider. They are light, solidly built, have great reliability and are wicked looking.
To the bun, shoulders and hands, a Summit / Everest / Sport feels natural and positive. Its ergos are not tiring. Its tall, anti-slip seat, with narrow shape provides quick shifting from sitting to standing. The Summits' SC-5M rear skid and Dual A-arm front suspension keep the 600s obedient on the trail. Like the 800 Summit, the 600s are smartly styled, oozing go-fast appeal.
If you are a rider who wants the lightweight wonder-sled on the snow, this is your ride. It is brawny and willing to take a punch while delivering knockout blows to a tall peak.
However, the Summit XP chassis is a flat running chassis. It wants to seek ground zero with both skis firmly planted on snow — it fights sidehilling with its over-the-motor steering post. Handlebar twist from right-to-left and vice versa forces the driver to be off-camber. But, as written earlier, the 600 Sport, with its narrower track cancels some of the Summit's tendency to run flat.
Lastly, power-to-weight is king in the mountains. If you are seeking the lightest 600s to honk a mountain's nose, then visit your local BRP dealer. And if you are a light gal or guy take your 6 and go mix it up with a 7 or 8.
| | | |
| --- | --- | --- |
| | 2010 Summit Sport 600 | 2010 Summit Everest 600 |
| Engine | Rotax 597cc, liquid-cooled twin; dual Mikuni TM40 carbs; single exhaust with RAVE valves | Rotax 594.4cc, E-Tec, liquid-cooled twin; Electronic direct injection; 3-D RAVE; single exhaust |
| Horsepower | 120-estimated | 120-estimated |
| Drive | TRA III with QRS secondary | TRA III with QRS secondary |
| Front Suspension | Dual A-arm; Motion Control shocks with coil over springs; 9-in travel | Dual A-arm; HPG gas shocks with coil over springs; 9-in travel |
| Rear Suspension | SC-5M parallel rail; Motion Control shocks with up to 14-in travel | SC-5M parallel rail; HPG Gas shocks with up to 14-in travel |
| Length | 126.0 in | 126.0 in |
| Height | 47.4 in | 47.4 in |
| Width | 47.2 in | 47.2 in |
| Ski Stance | 38-40.1 in | 38-40.1 in |
| Track | 15x146x2.0 Lightweight PowderMax | 16x146x2.25 Lightweight PowderMax (optional track lengths: 154 & 163) |
| Weight | 428 lb (claimed) | 447 lb (claimed) |
| Fuel Capacity | 10.6 US Gal | 10.6 US Gal (Premium Unleaded) |
| MSRP | $8,099 | $9,599 |
Related Reading
2010 Ski-Doo 800 Summit and Everest Review