2014 Ski-Doo Expedition Sport ACE 900 Review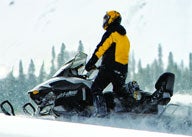 Extra long tracked touring-utility sled adds a fuel efficient powertrain
Fast Facts
Engine Type:Horizontal In-line
Cylinders:3
Engine Stroke:4-Stroke
Valve Configuration:DOHC
Displacement:899 / 54.9
Starter:Electric
Turbocharged:No
View Full Spec
Ski-Doo marketers ferret out every conceivable snowmobile niche and seek to fill it. Sometimes the niche may seem rather obscure to us trail pounders, but this Quebec-based snowmobiling pioneer leaves few ice chunks unturned in its search to add sales and retain overall market share.
At first glimpse the Ski-Doo Expedition series of snowmobiles seems tenuous at best. Obviously Ski-Doo doesn't see it that way as the company offers three specific models: SE, LE and Sport. Within those three designations, you'll find two versions of the top of the line SE. Now, adding in two configurations of the LE and another three for the Sport gives you a total of seven different Expedition versions for model year 2014.
The top model Expedition SE with the 1200 4-TEC powerplant sets you back US$13,599. You can purchase an Expedition Sport with a 550cc fan-cooled two-stroke twin for just under US$8000. Unless you're a rental operator looking to save bucks on initial purchase, we wouldn't recommend it. If your needs tend toward a nicely featured two-up part touring, part utility type snowmobile, we would suggest the Expedition Sport with the all-new ACE 900 four-stroke triple.
What makes us suggest the ACE 900 option for the Expedition Sport? That ACE 900 drive system is best prepared to satisfactorily haul the sled's basic 558 pounds of weight, plus the addition of two passengers and cargo. The application of the ACE 900 in this platform makes great sense as the new engine offers very strong low and midrange power, both of which you'll need. Plus, Ski-Doo has done you a favor by keeping the sled's pricing very palatable when you consider what it has to offer.
While we can't get overly excited about the ACE 900 triple in sport sled guise, we can fully appreciate what it offers for touring and utility needs. We expect that the ACE 900, being based off the already proven 60-horsepower ACE 600 twin, will be reliable and durable. Those are qualities you want in a sled that you may take off into the uncharted tundra or Steppes of frigid Europe.
The Expedition Sport ACE 900 packs punch in its torque as well as with its electrics. You get a standard 420-watt magneto to deliver juice for heated mitts, shields or whatever you want. The engine's torque reaches the extra-long 154-inch Charger track via Ski-Doo's own eDrive2. This is a new drive system evolved from the original eDrive that debuted in 2011 and appeared on the four-stroke ACE 600.
Ski-Doo used the eDrive2 for its 4TEC 1200 triple as a replacement for the TRA driver. Think of the eDrive2 as a substantive upgrade that can better handle the torque requirements of more powerful engines like the 130 hp 1200 and the 90 hp needs of the ACE 900. The eDrive2 achieves better use of the four-strokes' capabilities, especially the more linear power delivery versus a Rotax two-cycle engine.
The Expedition Sport ACE 900 benefits from the eDrive2 with longer belt life, a 1.5-pound reduction in rotating mass over the TRA design and improved heat transfer. The eDrive2 effectively doubles the number of ramps and rollers compared to the TRA design. This use of six ramps and rollers as well as 12 sliders on the eDrive2 spreads out load forces for crisper shifts and better use of the engine's torque characteristics.
The ACE 900 triple represents a continuation of Rotax' Advanced Combustion Efficiency series of motors. While the ACE 600, which was the first of the ACE models to appear, represents a twin cylinder configuration, the ACE 900 essentially adds one more cylinder, thereby adding 300cc of displacement and 30 more horsepower.
What makes the ACE 900 truly unique is its use of throttle by wire, an electronic throttle system more often seen in automobiles. Ski-Doo calls this electronic system Intelligent Throttle Control (ITC). Since ITC represents a computerization of throttle commands, the system allows Ski-Doo to incorporate three individual driving modes that can be accessed by simply pushing a console-mounted button. According to Ski-Doo the system offers three distinctive performance modes of operation: Standard, Sport and ECO. The Standard mode provides smooth drive-off, linear acceleration and limited torque above certain speeds. Switching to Sport mode leaves you with no performance limitations and full acceleration. The ECO mode is programmed to limit torque, top speed and acceleration rates so you can achieve maximum fuel efficiency.
Ski-Doo also adds a "learning key," which was borrowed from its Sea-Doo watercraft group. As with the personal watercraft, the sled's learning key replaces the standard key's programming and can be set to limit top speeds. This concept fits well with the new engine as it also is being used to power Sea-Doo's all-new 2014 Spark watercraft.
The Expedition Sport ACE 900 would be our favored choice of all the Expedition models simply because it tends to offer what you need at a very reasonable price point. Obviously any sled that puts down 2,464 square inches of track to the snow and weighs in at 558 pounds isn't going to be a speed machine. But its Sasquatch-like footprint from the 16-inch wide by 154-inch overall length Charger track makes it suitable for serious adventuring on or off trail. Plus, with standard gear like the hitch and rack, the sled comes ready for work. That'll be where the ACE 900 will be a significant benefit versus either the base 550cc fan-cooled twin or the 60 hp ACE 600 four-stroke.
Things that we really appreciate with the Expedition Sport ACE 900 include the mounting of the new four-stroke triple in the newer and more nimble REV-XS chassis. We also like the fact that the rear suspension not only articulates, making off-trail boondocking easier, but that it features a tool-less locking mechanism. Add in an adjustable ski stance and you have a very versatile sled.
Admittedly, during our test drive of the Expedition ACE 900 last March in the foothills of West Yellowstone, we recognized that we'd never own such a sled, simply because it's more sled than we'd want to handle. It's long at 131.6 inches. It's designed for more rugged use than we could envision. But, the Expedition series is a nice blend of sled that fits a magic niche between full-on touring and full-on boonie whacking work sled.
We suspect that this sled will find its place outside the North American market in areas where trails exist more as a concept than a reality. If we were to live there, then we would rethink our bias and look to the Expedition Sport ACE 900 for our winter needs. Or, if we were a rental operator looking for a snowmobile that any dang newbie could take out for a day's adventure with little risk of getting into serious trouble, this is it. It's got traction, flotation, good fuel economy and, with the learning key, an ability to set performance to the abilities of the riders.
Ski-Doo sees niches where others don't. The Expedition series exemplifies that reality as it adds sales to the Ski-Doo portfolio. And increased sales mean increased market share, which keeps Ski-Doo ahead in today's sled biz.
2014 Ski-Doo Expedition Sport ACE 900 Specs
Engine
Rotax 899cc, liquid-cooled three-cylinder 4-stroke; Advanced Combustion Engine with EFI 46mm throttle body; triple engine mapping modes (standard, sport or ECO)
Horsepower
90 (claimed)
Drive
Ski-Doo/Rotax eDrive2 with QRS
Brake
Brembo hydraulic brake system with braided stainless steel line
Front Suspension
Dual A-arm with Motion Control gas shocks; up to 8.3 inches of travel
Rear Suspension
SC-5U parallel slide rail with Motion Control center shock and HPG rear shock; up to 13.4-inches of travel
Length
131.6 in
Width
47.4 in (maximum)
Height
50.2 in
Ski Stance
Adjustable from 38.4 to 40.1 in
Track
16 x 154 x 1.5 Charger
Weight
558 lbs (claimed)
Fuel Capacity
10.6 US Gal
Features
Articulating rear suspension; 2-up seating; electric start; reverse; Analog gauge; three engine performance modes; learning key; rack and hitch; backrest
MSRP
US$10,549