2020 Ski-Doo Lineup Preview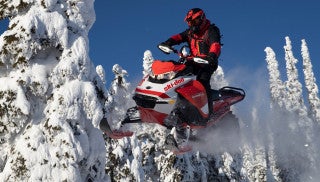 REV Gen4 Expedition models and Summit X Expert Package highlight lineup
The 2020 Ski-Doo lineup has been unveiled and the Expedition family of snowmobiles sees the biggest benefit thanks to the adoption of the REV Gen4 platform.
Of course, Ski-Doo has much more to offer for 2020, including the new Summit X Expert Package, Backcountry X-RS with new 154-inch track length option, and new digital gauge cluster.
2020 Ski-Doo Expedition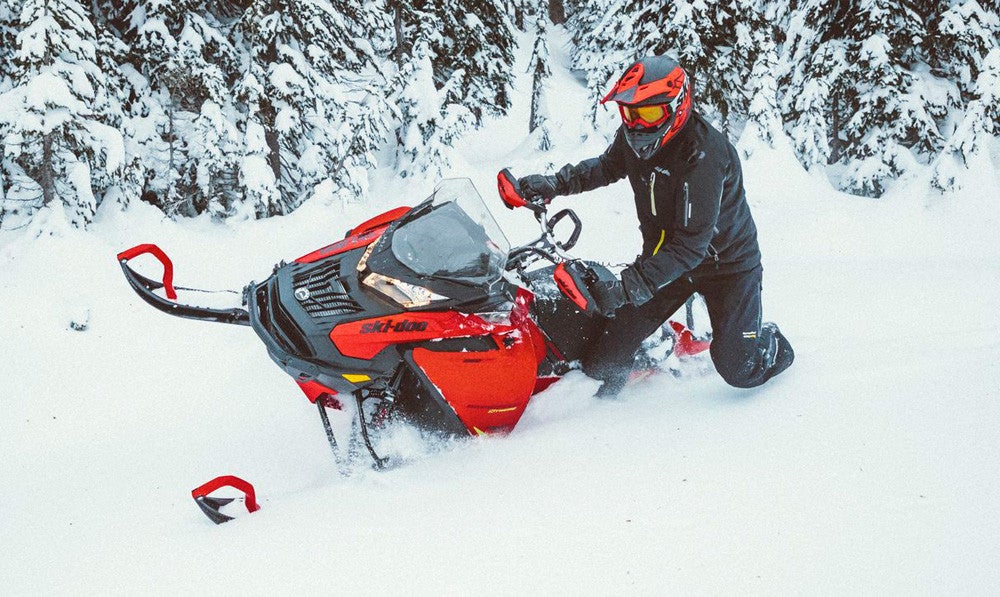 Ski-Doo attempts to further blur the line between Sport and Utility with the revamped Expedition lineup, which now boasts the REV Gen4 platform seen on other premium Ski-Doo sleds – this time with the ability to accommodate 20-inch wide tracks.
"This latest proliferation of the 4th generation of the REV platform drives function, comfort and versatility to a new level in the growing subcategories of the utility market," Ski-Doo says in a release. "Drawing on inspiration from Ski-Doo's performance oriented lineup of Renegade sleds, the open cockpit lets a rider instantly react as they interpret the terrain."
Beyond the new chassis, Expedition sleds are equipped with six different engine options: the 850 E-TEC, 600R E-TEC, and 550 Fan 2-stroke engines, along with 900 ACT Turbo, 900 ACE naturally aspirated, and 600 ACE 4-stroke engines.
Along with the six engine options, Ski-Doo is offering a variety of different Expedition packages for 2020
Expedition Xtreme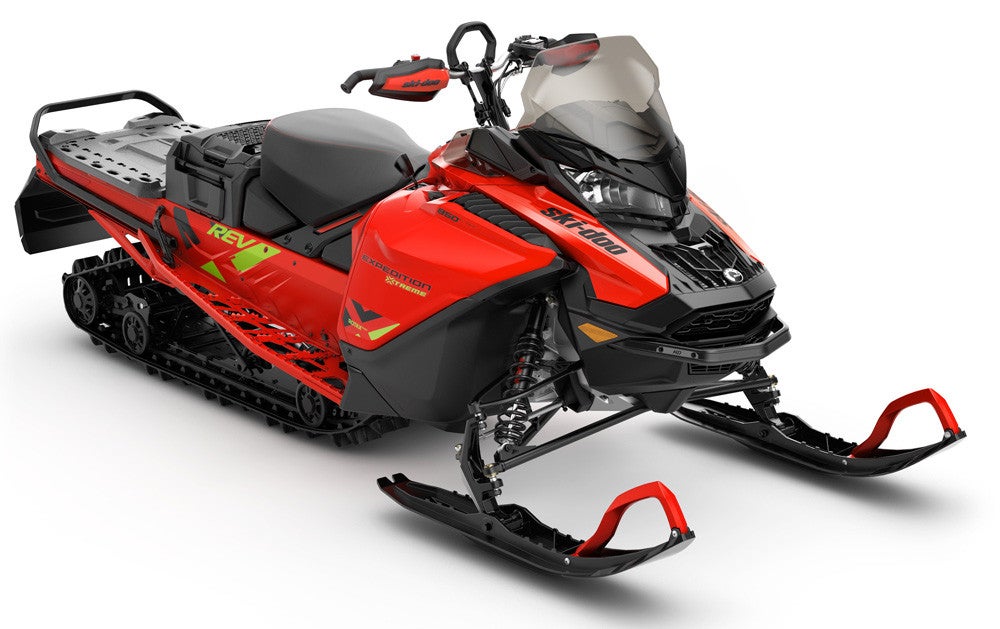 Featuring the REV Gen4 platform, Ski-Doo calls the Expedition Xtreme the ultimate performance sport-utility vehicle. It boasts a large 20x154x1.8-inch Cobra WT track, RAS 3 front suspension, Pilot DS 3 skis, adjustable ski stance (38.4-40.1"), SC-5U rear suspension built for deep snow, KYB HPG Plus front and center shocks, and KYB Pro 36 R rear shock. As for power, the Expedition Xtreme is equipped with the 165-horsepower 850 E-TEC engine.
Expedition SE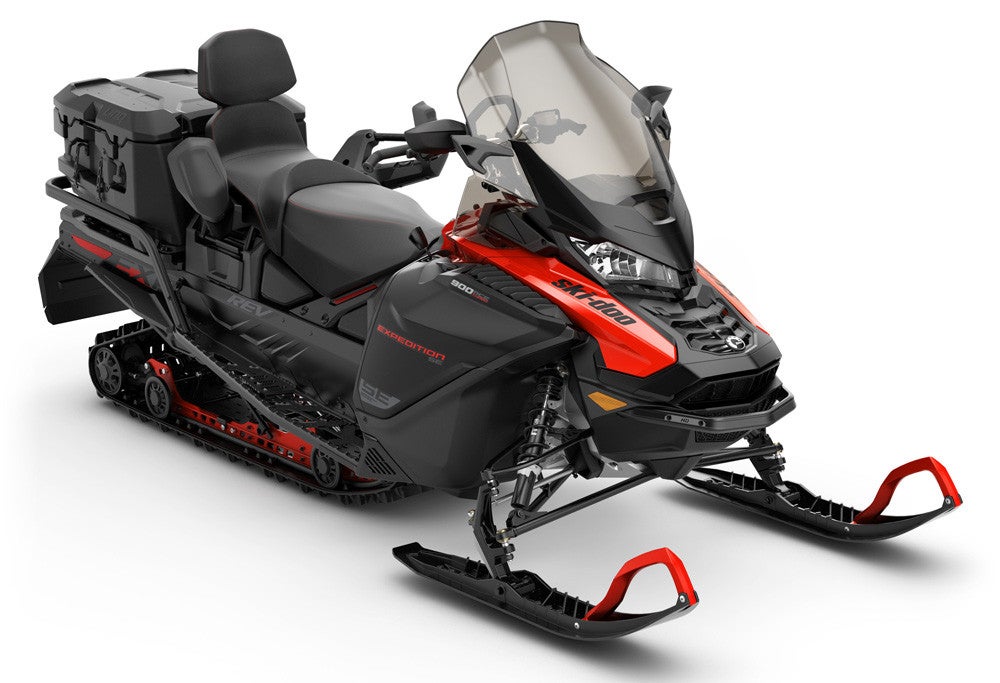 Available only as a spring order model, this touring-focused Sport-Utility sled also features the REV Gen4 platform and boasts a huge list of luxury features like a 20x154x1.8-inch Cobra track, LinQ Utility Cargo Box, Multi-LinQ Plate, hitch receiver cable of 1,500-pound loads, adjustable riser, adjustable ski-stance, new H-L-N multi-gear ratio, removable 2-up seat, RAS 3 front suspension, SC-5U rear suspension, and motion control HPG shocks. Buyers can choose between three engines (600R E-TEC, 900 ACE, 900 ACE Turbo).
Expedition LE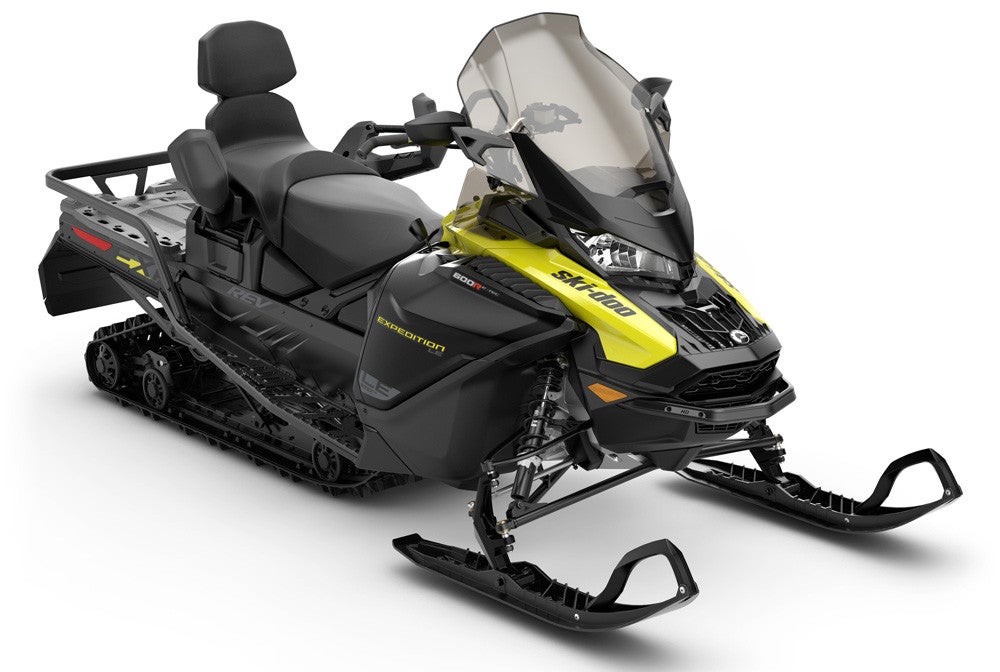 Ski-Doo calls this a hybrid Touring-Utility snowmobile. Features include the REV Gen4 platform, Multi-LinQ plate, standard rear cargo rack, RAS 3 front suspension, SC-5U rear suspension, Motion Control HPG shocks, 20x154x1.5-inch Silent Cobra WT track, and 2-up removable seat. Engine options include Rotax 600 E-TEC, ACE 900, and ACE 900 Turbo.
Expedition SWT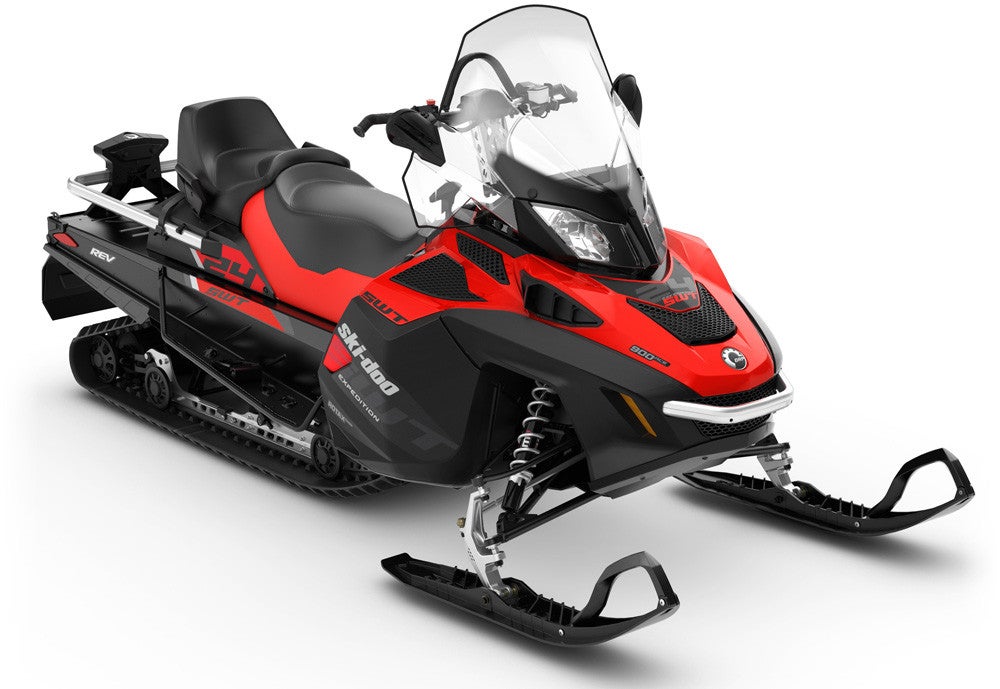 Ski-Doo's deep snow Utility vehicle, the SWT offers "unmatched floatation" and a host of Utility-specific features based on the REV XU platform. Features include a massive 24x156x1.25-inch track, RAS 2 front suspension, SC-5U rear suspension, Motion Control front and center shocks, KYB high pressure gas rear shock, straight handlebar with grab strap, Pilot DS 2 skis, and 1,100-pound hitch. The only available engine is the naturally aspirated Rotax 900 ACE.
Expedition Sport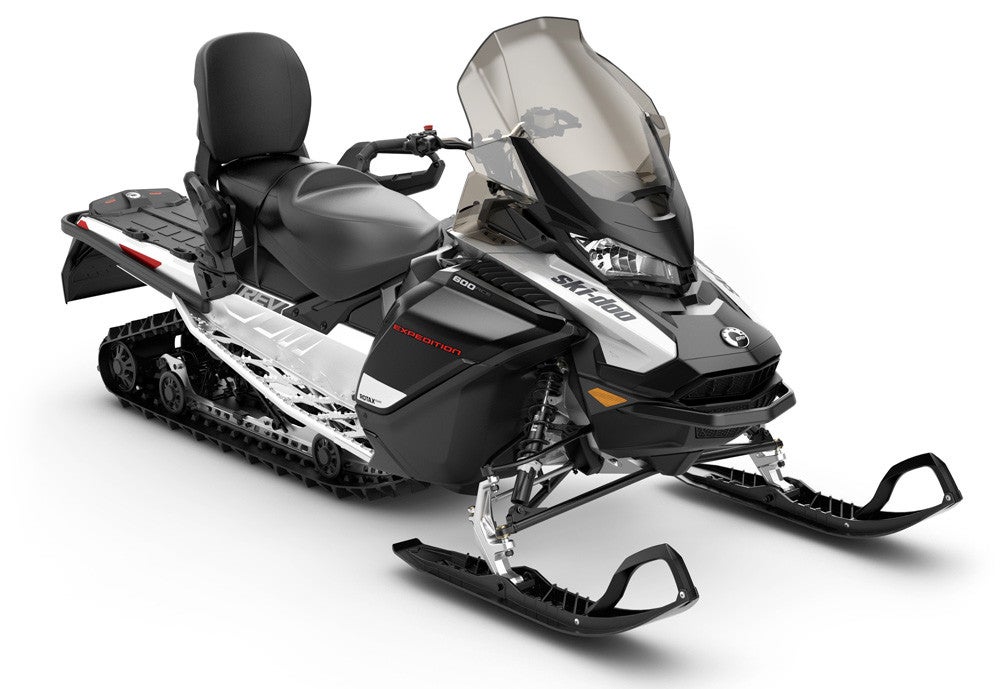 The Sport is actually two different packages. One has the REV Gen4 platform and is ready for 1- or 2-up trail rides. The second uses the REV-XP platform. Should you opt for the REV Gen4 option, you can choose between the Rotax 900 ACE and 600 ACE engines, while the REV-XP houses the 2-stroke 550 fan-cooled engine.
2020 Ski-Doo Summit X Expert Package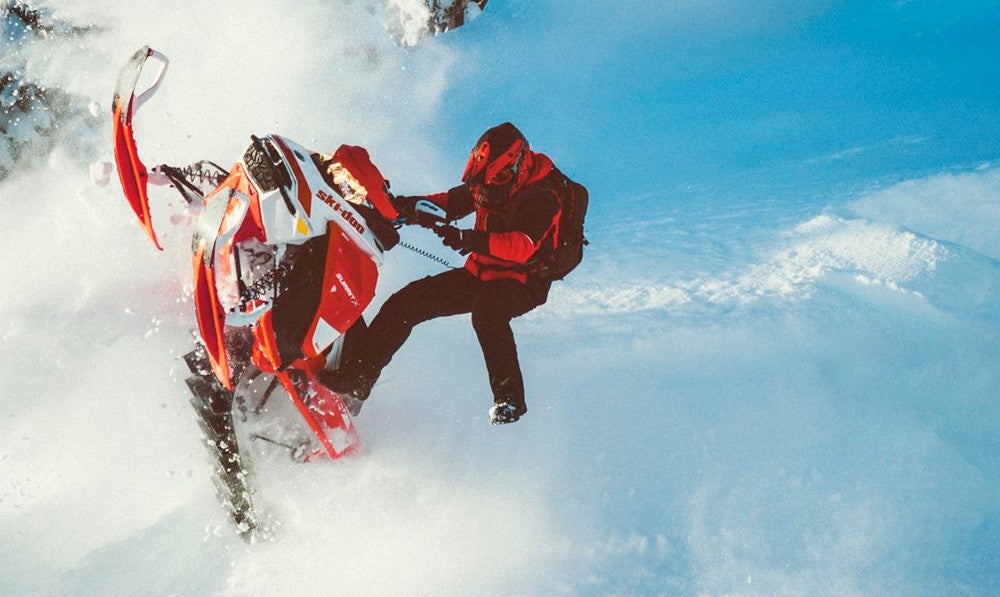 Available only as a spring order, the Summit X Expert Package was created largely from the feedback of Ski-Doo's brand ambassadors and backcountry riders.
Features specific to the Expert Package include stiffer KYB shocks with lightweight springs on the tMotion rear and RAS 3 front suspensions. The front KYB HPG Plus shocks also boast Kashima coating. The front end also benefits from a revised lightweight ski spindle with a new ski stopper for what Ski-Doo calls "improved handling in technical terrain."
In the rear, the tMotion gets the exclusive Adjustable Limiter Strap, which allows riders to adjust the limiter strap length by flipping a lever to tweak the sled's dynamic behavior.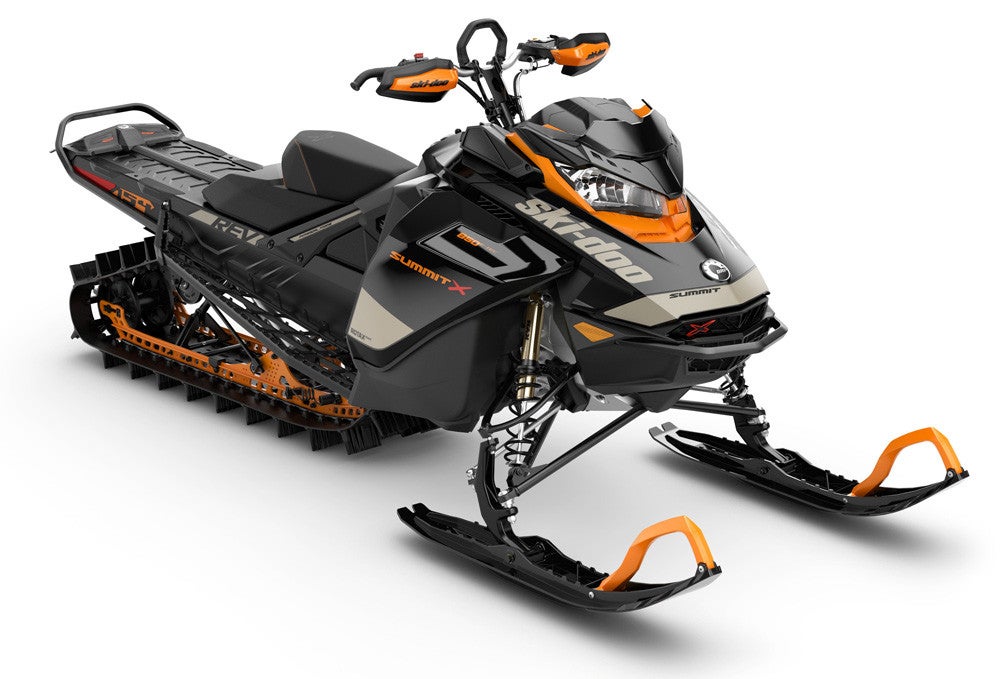 Other Expert Package features include a lightweight fender (in place of a snow flap), tapered and smaller diameter handlebar, new grips, and flexible handguards.
Of course, this sled is equipped with the Rotax 850 E-TEC engine and is available with either the 154 or 165-inch tracks with 3.0-inch lugs, high-altitude or sea-level calibration and the awesome SHOT starter system.
The Summit family will also include the regular Summit X (Spring order only), Summit SP and Summit Sport.
2020 Ski-Doo Backcountry X-RS 154
Ski-Doo's 50/50 crossover, the Backcountry X-RS (REV Gen4 and Rotax 850 E-TEC), returns for 2020 with a new track option. The 15x146x1.6-inch Cobra track is still available, but brand new to this sled is a 15x154x2.0-inch PowderMax track for better performance in deep snow.
If you opt for the PowderMax track, the Backcountry X-RS will come with a new drive belt that is designed with a new PBO material for enhanced durability in deep snow.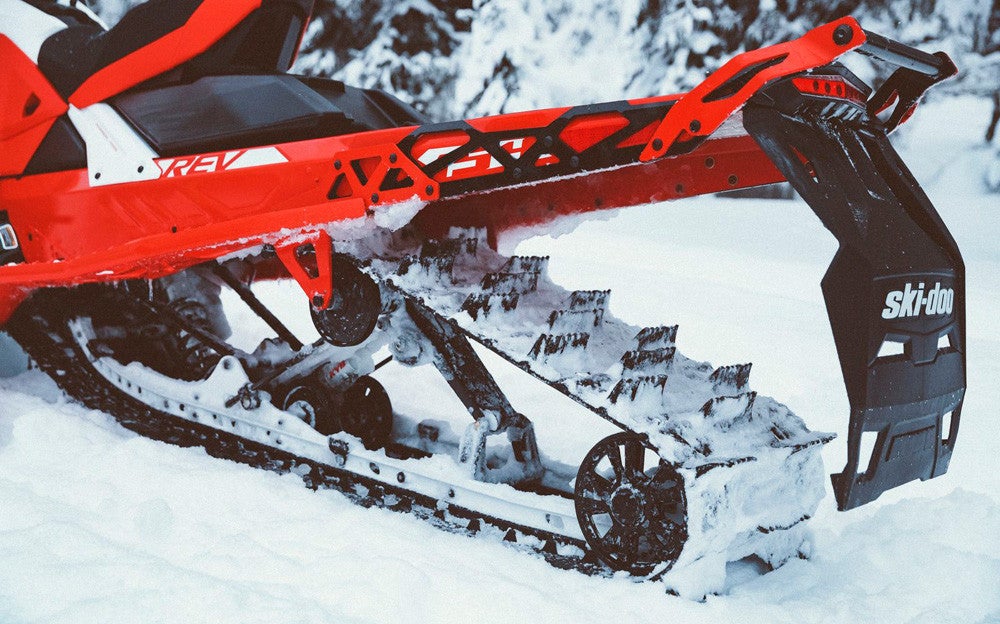 You can pick up the Backcountry X-RS in two different color options. Black, and the sexy looking Ultimate Lava Red/White.
Other Backcountry options for 2020 include the Backcountry X with the Rotax 850 E-TEC engine (Spring order only) and the base Backcountry with either the 850 E-TEC or 600R E-TEC engine options.
New Digital Gauges

Ski-Doo has a pair of new digital gauge clusters available for REV Gen4 trail, crossover, touring and utility snowmobiles.
The new 4.5-inch and 7.2-inch wide gauges benefit from a fully backlit display. Sleds with the 7.2-inch version have the added benefit of a display that automatically adjusts to ambient light. Both offer a flatter viewing angle and are fully customizable so riders can select the information that is important to them.