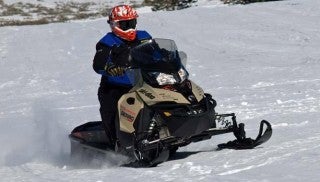 Polaris 800 Switchback Adventure vs. Ski-Doo Renegade Enduro 800R E-TEC vs. Arctic Cat XF 8000 CrossTrek
Polaris offered a challenge when it dressed up a 2012 600 Switchback, turning it into an "adventure" bagger. At the time we rather unkindly noted that Polaris officially had taken the next step in sport snowmobiling by essentially extending the track and suspension on its base Rush 600 and adding a nifty new rack on which to hang a set of poly plastic storage bags. Electric start had to be standard as was a tall windshield, mirrors and other nice-to-have "cruiser" amenities. With that move, Polaris defined a new category of snowmobiling, adventure snowmobiling.
Ski-Doo, of course, with its GSX series had already established a segment that was part trail sport and solo touring. Unfortunately, the sleds appealed primarily to the AARP generation and not the "adventure" rider. Though if you looked closely, Polaris' Adventure series was similar in content to the GSX, but the marketing approach was trail miles ahead. Polaris put the emphasis on sport and downplayed the touring aspect. Ski-Doo's GSX seemed more comfort touring and less sport. It was all semantics, but Polaris must have won as now for model year 2016 Ski-Doo transformed its GSX into an "enduro" version and Arctic Cat has its own high plains drift runner in the XF 8000 CrossTrek.
But, what are these three sleds, really? Are they comfort cruisers? Trail sports? Off-trail adventure sleds? What?
From our point of view, they are actually all of the above, depending on what or how you look at your snowmobiling lifestyle. We would rate the Ski-Doo Renegade Enduro as the most trail compliant of the three. Being based on the 137-inch tracked Renegade on or off-trail sport sled, the Enduro has a true pedigree for getting off the beaten — or, groomed — track. But, with its air-ride rear suspension, the sled is tuned a bit more for solo sport riding than serious off-trail adventures. Still, as we explained earlier in our review of the 1200 4TEC Enduro, Ski-Doo manages to hit a sweet spot between cruiser comfort and performance. Opting for the sweet 800 ETEC two-stroke version adds to the performance quotient. With its seemingly instantaneous direct injection throttle response, this Enduro is both amazingly quick and powerful whether you're powering though a long sweeper or shredding the ungroomed snows of a deep forest fire road. Plus, thanks to some clever Ski-Doo innovation, the Enduro offers up incredible built-in tuning options. For front-end grip, you can screw in more or less ski runner grip thanks to the unique Pilot TS skis and their half-inch of available dagger depth.
For years we harped that Ski-Doo should make its GSX series more MXZ or Renegade and less blatant Grand Touring. Now that the company has dumped the GSX line and incorporated it into other model lines like the Renegade brand, we figure it has to have broader appeal. The 800 Enduro is a serious big adventure sled that gives you all the benefits of the newest Ski-Doo technologies — and more!
The top of the line 800R ETEC twin is the equal of any other 800 two-stroke offered by any manufacturer. This sled comes with the latest front and rear suspensions — RAS2 up front and rMotion with Air ride shock at the rear. Creature comforts? Yes, the tall windshield, electric start and adjust on the fly air-controlled rear shock count here. Still, though, when compared to the completion, the base Enduro is more bare bones than either the Polaris or Arctic Cat. So, while the base 800 Enduro will look like a better-priced sled than the Polaris, when you add options to match the "base" Polaris feature for feature, the Ski-Doo's price goes up.
The Arctic Cat comes away from this three-way comparison looking like a bargain at a base price of US$13,699. Plus, in our view, the Arctic Cat XF 8000 CrossTrek is the most serious all-around adventure sled offered for model year 2016. Where both Ski-Doo and Polaris proclaim off trail capabilities for their adventure rides, Arctic Cat goes all in, seemingly adding a few creature comforts that a serious all-day drift buster might add to the sled anyway. First of all, the CrossTrek is a proven performer with its Suzuki-built 800cc two-stroke twin powering through a new-for-2016 TEAM drivetrain. Arctic Cat must have swallowed hard to drop its own clutch in favor of the TEAM, but based on recent clutching inconsistencies it was the right thing to do and instantly adds sled cred to the 2016 model line. Also working for off-trail credibility is the proven ability of the XF extended track chassis that brings some mountain Cat expertise to the off-trail rider. Of course, blending in the 1.5-inch lugged Cobra track helps, too. The Cat has the most bite for off-trail snow ripping of these three big adventure 800 sleds.
Still, whether you view them as comfort features or nice-to-have everyday "wants," the CrossTrek comes with electric start, although the Suzuki twin is pretty easy to pull over even when cold. The windshield sits up 11-inches to deflect ample amounts of snow and cold. There is a pair of windshield-mounted rear view mirrors. The inclusion of collapsible rear saddlebags and a goggle holder counts as creature comforts.
Even though that's all standard, Arctic Cat makes no concession for a softened ride. The ARS front end comes with full-on Fox FLOAT 3 air-adjustable shocks. The Slide-Action rear suspension works with Arctic Cat internal floating piston shocks and sliding transfer movement that help keep the skis planted on and off throttle. The CrossTrek is an adventure sled engineered in the Cat tradition of performance first.
Trending between the overt comfort of the Ski-Doo Enduro and the performance first engineering of the Arctic Cat CrossTrek is the 2016 Polaris 800 Switchback Adventure. In its fourth season as a full-fledged Polaris model, the 2016 800 Adventure offers all the benefits of the new Switchback combined with ride tuning simplicity, on trail versatility and the most rider-friendly persona of the three.
Under that high windshield, rearview mirrors and full bagger styling lays one of our favorite sleds for 2016 — the Polaris 800 Switchback Pro-S. The main difference in this "kitted" Switchback Pro-S comes with the addition of easy-to-tune Fox QS3 front shocks. Depending on where the engineers started with the initial setting, and we suspect a tendency to softer, than you can readily upgrade to a more moderate setting or go to the shock's stiffest setting. That's the benefit of the QS3, simply adjust the lever to one of three settings. The rear track shock on the Adventure's Pro-XC rear suspension features a Fox coil-over air spring. This is a change from the Walker Evans' piggyback adjustable shock found on the Pro-S version. This set up permits greater latitude in tune-ability and allows you to compensate for adding a passenger — with the extra seat option — or carrying extra gear for a weekend cruise.
Power-wise Polaris 800 Adventure riders get all the updates made last year in the heavily upgraded 800 Cleanfire semi-direct injection two-stroke twin. Combined with the AXYS chassis, which was introduced last season, and a 137-inch Cobra track with 1.352 lug profile, the Polaris twin can pop the skis up for straight line acceleration or grip off-trail snow for serious berm roosts. Remember, there is a full-fledged Switchback Pro-S under the Adventure styling.
As with the other competing "adventure" models, the Polaris brings nice-to-have features to performance snowmobiling. The Adventure's standard cargo system includes Lock & Ride simplicity with saddlebags and rack. The innovative Polaris interactive digital display comes standard with a 4.3-inch high resolution, color screen. There's a tall windshield and rearview mirrors. You get electric start and electronic push button reverse standard.
If you are considering an upgrade to your performance ride for this coming season, take a peek at these three big adventure models. With powerful 800cc twins and nice-to-have amenities the three add convenience and style to your on and off trail riding. All three will give you the ability to lead the pack off trail, but they will do it with their own individual personality. Considering that difference in persona, this is how we see the three: the Arctic Cat XF 8000 CrossTrek is the most off-trail ready; Ski-Doo's Renegade Enduro 800 is the most trail-friendly; and Polaris' 800 Switchback Adventure is the best all-around blend for on and off trail riding.
Specifications

2016 Polaris 800 Switchback Adventure (Cobra Track)
2016 Ski-Doo Renegade Enduro 800R E-TEC
2016 Arctic Cat XF 8000 CrossTrek
Engine
Polaris Liberty 795cc twin cylinder 2-stroke; liquid-cooled; Polaris Cleanfire two injector electronic fuel injection; two-into-one exhaust with 3-stage variable exhaust valve; CD ignition
Rotax 799.5cc, liquid-cooled two-cylinder 2-stroke; Rotax electronic direct injection
Suzuki 794cc twin cylinder liquid-cooled 2-stroke; electronic fuel injection; Arctic power valve exhaust
HP
160+ (estimate)
150+ (estimate)
160+ (estimate)
Drive
Polaris P85 drive with Team LWT driven clutch
Ski-Doo/Rotax TRA III with QRS; engagement @ 3800 rpm; maximum engine rpm @ 7900
TEAM Rapid Response drive with Team BOSS driven clutch
Suspension:
Front
AXYS dual A-arm with Fox piggyback compression adjustable shocks; 9.3-inches of travel; Polaris Pro-Steer skis standard
RAS2 double A-arm with HPG Plus aluminum bodied rebuildable gas shocks; up to 9.0 inches of travel; Pilot TS adjustable ski
Arctic Race Suspension dual A-arm with Fox FKLOAT 3 adjustable shocks; 10-inches of travel; ProCross skis
Rear
Pro-XC parallel rail slide suspension with Fox QS3 flip-lever coil-over adjustable shock; 13.4-inches of travel
rMotion parallel slide rail with aluminum body HPG center shock, Air Ride rear shock; up to 16-inches of travel
Arctic Slide-Action parallel rail slide suspension with shocks; 13.5-inches of travel
Dimensions: Length Width Height Ski Stance Track:
121.0 in 47.0 49.0 42.5

15 x 137 x 1.35 Cobra

122.4 in 47.9 47.6 42.4

15 x 137 x 1.25 Ice Ripper XT

125.75 in 47.75 NA 42-43 inches adjustable width

15 x 137 x 1.5 Cobra

Weight
491 (claimed)
501 (claimed)
NA
Brake
Polaris AXYS radial disc system
Brembo hydraulic brake system with braided stainless steel line
Arctic "Race" radial hydraulic disc system
Fuel Tank
12.0 US Gal
10.6 US Gal (91 Octane)
11.7 US Gal (91 Octane)
Features
STANDARD: electric key start; Pro-Steer skis; electronic reverse; AXYS performance seat; Polaris interactive digital display; tall "smoke" windshield; Extreme front bumper; Lock & Ride Adventure cargo system; OPTION: electric start, Lock & Ride storage
STANDARD: Pilot TS adjustable skis; electronic reverse; electric start; multi-function gauge; 15-inch windshield; XC front bumper; REV-XP X seat with storage; OPTION: LinQ cargo box US$359.99); LinQ saddlebags (US$249.99); panel mount rearview mirrors (US$79.99)
STANDARD: ProCross skis; electric start; electronic reverse; high performance seat; multifunction gauge/display; goggle holder; collapsible rear saddlebags; tunnel bag; 11-inch mid-height windshield; mirrors OPTION: side panel wind deflectors; rear rack; visor plug ins
PRICE US$
US $14,999.00
US $14,199.00
US $13,699.00