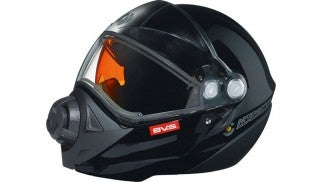 Comfort and convenience for cruising groomed trails
Used to be that flatland snowmobiling drove the sled market. Sled sales in the flatlands were three to four times greater than sales in the mountainous, deep snow West. Annually more sleds are still sold to flatland snowmobilers throughout the eastern and central North American snowbelt than in the West, but recent developments in sled technologies reflect the snowmobile industry's desire to cater to that demanding market. Entirely new mountain-specific sled lines and associated gear have been created to entice greater sales volume in both the sleds and the gear used by powder hounds. With this emphasis on lightweight gear designed and suited to backcountry riders comes a desire by us flatlanders to share in the technologies.
Flatland sleds have become influenced by powder models, especially in the crossover segment where a growing contingent of flatlanders seek to ride off-trail and want some of the features found on mountain sleds. Power-to-weight is important to crossover riders as are items like handlebar-mounted grab straps and taller riser bars. Deeper lugged and longer tracks for powering through ungroomed back roads and more powerful and efficient power systems have made this new crop of stretch-tracked off-trail sports sled more popular than ever.
This season, however, we see that greater attention to the needs and wants of groomed trail riders may be coming. Arctic Cat has offered trail sport sleds with 129-inch tracks, which get shared with some of Yamaha's Cat-built Viper models. A definite boost to trail riders is the appearance of Ski-Doo's 2016 MXZ Blizzard that uses a longer 129-inch track to get more length and inherent stability to the trail than the MXZ TNT with its traditional 120-inch track length.
There is a new emphasis on "adventure" cruisers that are designed for serious long haul riders, although each manufacturer views the market slightly different. Like Ski-Doo's all-new Enduro model, these sleds generally feature 137-inch length tracks, which tend to "bridge" tightly spaced trail ripples and boost ride quality. From Arctic Cat's CrossTrek to Polaris' Switchback Adventure series, these sleds offer enhanced suitability for extending weekend mileage by accommodating carry-on gear.
With the sleds representing change, we find that trail cruisers need to look a bit more seriously to their riding gear. Just as flatland sleds signal change, so does the gear. You might think that apparel and gear suitable for deep snow and high elevation play would be appropriate for flatland use. However, think about the riding style of groomed trail sport riders versus deep snow riders. They are apt to be much more active and lighter weight gear that breathes easily to prevent overheating in the mountains is very important. On groomed trails a rider's gear must constantly deflect serious wind and offer cold protection to battle air leaks that can lead to frostbite and cause the loss of body warmth. Placement, amounts, and types of insulating materials may differ. Many serious trail riders find full face helmets and electric shields preferable to lightweight open face helmets favored by powder riders.
There are riding differences that require different apparel. A high mileage trail rider may travel up to 300 miles in a day of riding at high speeds that can turn minus 20-degree wind chills to more than 60 degrees below zero at 60 miles per hour. Although wind chill is a factor on or off trail, flatland trail riders deal with it differently. Instead of the low sporty windshield common to powder-specific sleds, flatland sleds feature serious wind-deflecting ones that are wide and tall to create a "warm" air pocket for the rider. With all of this as a consideration, there are benefits we've found in the latest gear and apparel offered to us flatlanders. Recent developments in jackets, bibs, gloves, helmets and quick-lacing boots enhance our trail riding enjoyment. We offer a selection of new for 2016 gear to make our point.
Jackets & Bibs
Arctiva brand trail-ready apparel includes a complete selection of "Mech" gear that features a waterproof, breathable garment constructed of Invista Cordura nylon. To prevent wind leaks, the seams are sealed and renowned YKK zippers are used. This garment includes a removable liner that uses lightweight 3M Thinsulate in varying weights to offer both warmth and the flexibility a snowmobiler needs to wrangle a sled through the corners.
The Mech outfit includes a matching bib pant with 3M Thinsulate for warmth, while inner thigh and side leg zipper vents modulate the rider's temperature. Full length side zippers allow easy on or off even while wearing snow boots.
The jacket and bib work together to thwart cold. There are bib connectors to join the pant and jacket and boot gaiters to keep snow from blowing up the pant leg.
Available from Arctiva starting at US$325 for the jacket and US$295 for the bibs, the Mech outfit also includes matching insulated gauntlet-style gloves with a silicon goggle wiper on the left index finger. For more information about styles, colors and sizing, visit http://www.arctiva.com/.
While based on the needs of powder riders, FXR Racing offers its popular Tactic X three-in-one jacket that features FXR's exclusive Dry Vent system with venting at the chest, biceps and back. The garment consists of a four-way stretch nylon/spandex shell that uses a special HydrX Pro laminate and Cordura reinforced shoulder and elbow areas. With pricing starting at US$500, the Tactic X mates with a matching Tactic X pant starting at US$340.
Although many riders like low cut snow pants like the Tactic X, FXR also offers the higher cut Fuel Bib pant. Retailing for US$160 and up, the Fuel Bib offers 225 grams of Thermal Flex insulation, plus pre-curved knees as well as thermal and dry seat inserts for on-trail comfort and warmth. For more information about FXR gear check out http://www.fxrracing.com/.
Thanks to Divas SnowGear, female riders can find gender-specific apparel sized and styled for their needs. Designed around Polartec's NeoShell materials, Divas SnowGear adds its Avid Technical Jacket and Pants for this winter. The combination presents 16 mix and match color selections. Polartec NeoShell offers wearers instant breathability in a durable, windproof/waterproof shell. Available for about US$380, this jacket and other gear can be viewed at http://www.divassnowgear.com/.
With Divas SnowGear setting the tone for technology that appeals to women riders, Rigby, Idaho based KLIM Technical Riding Gear counters by offering updated Allure garments to satisfy the demands of today's female riders.
The popular collection's Allure jacket features 200 Grams of 3M Thinsulate insulation inside a top-performing GORE-TEX fabrics. The jacket's protective snow-skirt helps keep out snow and drafts. There are new updated color options that include custom embossed patterning, accented logos and zipper treatments. The jacket retails for US$380.
You can match the jacket with the redesigned fully insulated Allure Bib that features a tank-top-cut upper that incorporates stretch and insulation fabrics for reduced bulk and maximum under-jacket comfort and mobility. The bib features a convenient drop-seat and KLIM's recognized durability. Visit http://www.klim.com/ for more information.
Head to Foot
Regardless of gender, you want warm boots and if they lace quickly and securely, all the better.
KLIM claims its Adrenaline Boot started a revolution in technical sled-based footwear. Combining the latest in GORE-TEX and 3M Thinsulate Insulation technology, the boat uses 600 Grams of 3M Thinsulate Insulation for optimum warmth. KLIM notes that its Adrenaline GTX boot, which retails for US$240, was specifically created "to keep feet dry, comfortable and secure across a wide range of conditions without impeding their freedom of movement."
The Fantasy Snowmobile Racer's Look
Oregon-based HMK developed a snow boot that is warm, dry and quick lacing. The new HMK Voyager BOA boot uses a SympaTex waterproof membrane in conjunction with closed cell foam insulation in a boot that is comfort rated to minus 40 degrees Celsius. The key to the boot is its innovative BOA closure system that offers a glove-like fit and has been a fixture on the feet of modern snowboarders. This proprietary closure system allows a perfect fit literally at the turn of a knob. A popular boot style with powder riders, this boot system is now finding a welcoming audience among trail riders who appreciate its easy adjustability, precise fit and durability. The HMK Voyager BOA boot retails for about US$260, but to learn more about this boot visit hmkusa.com and to explore how the BOA closure system works check out http://www.boatechnology.com/.
Just as Ski-Doo added track length to some REV models, the company created one of the most clever and high tech sport helmets you can buy. The BV2S Electric SE Helmet (limited availability at MSRP US$529.99) is, as Ski-Doo claims, "Simply the highest tech snowmobile helmet available." Constructed of a polycarbonate composite, the BV2S comes with a heated visor, especially handy for serious trail cruisers. It also offers expansive vision from its dual lens visor that features Clear Vision Technology. The unit features a unique fog-resistant mask system with soft surgical rubber seal and an easy adjust knob. Having used an early version of this design, we can attest to its quality and capabilities for cruising groomed trails.
As new gear appears on the trail, we are certain that high-mileage riders will gain greater comfort and enjoyment from both new sleds and new gear.