Youth Sleds Introduce Kids to the Sport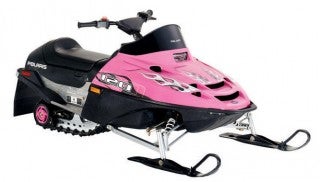 For starters, these mini-sleds bring snowmobiling to all members of the family
Snowmobiling first gained success by being a family sport. That meant everyone—from dad and mom down to sis and junior. While snowmobile manufacturers currently cater to Dad more—with hotter than hot high-performance models, they invite the young'uns along, too, with beginner sleds that look like the hot sleds their dad rides.
Although sled makers say that the little machines are designed for kids up to 8 years old, the truth is that most kids really outgrow these mini-sleds quite quickly and want a bigger machine. Of course, makers such as Ski-Doo are right there with the low-horsepower Freestyle to help the kids step up a notch. In the beginning, for kids who want to charge around the backyard on something that looks like their dad's sled, all but Yamaha offer mini-machines ready to provide kids an entry into snowmobiling on their own.
Simple Singles
For the sake of simplicity all of these sleds feature quite basic, air-cooled, 4stroke, single cylinder motors that will run a long time on a couple quarts of regular gasoline. You'll find that these mini-sled drivetrains are less complicated than your average riding lawnmower. Rather than using a drive and driven clutch setup, the sled manufacturers opt for a simple toothed centrifugal drive clutch to turn the driveshaft. Little Billy Bobby hits the throttle, revs the engine and it kicks into drive. To keep speeds under control, there are a few safety features. You should be able to modulate the throttle opening to keep engine speeds low. There is also a safety tether for your child—or you if you want to run alongside the vehicle. And, there is some kind of mechanical brake for junior to slow the sled. These devices are mindful of the early years in snowmobiling when some kind of mechanical pincher brake gripped a drum or caliper. The modern ones work about as well as the originals, so you'll want to check the play in the brake cable from time to time.
As these 120cc type mini-sleds come from offshore manufacturers (can we say China?) who build these models to meet the snowmobile manufacturers' specifications, you'll discover they are all quite similar. Arctic Cat specifies a Suzuki 4stroke and Polaris uses what it calls a 'Polaris' 4stroke. You'll note that the little 4stroke in the Ski-Doo Mini Z is not a Rotax. In fact, Ski-Doo makes no claim on engine manufacturer in its specs. But, regardless of manufacture, all three mini-sleds have similar engine specs. They range in displacement from Polaris' 121cc to Cat's 119cc to Ski-Doo's 118cc. Figure horsepower to be no more than five with maximum engine revs under four-grand. They are all air-cooled and demonstrably under stressed. Think basic long-lived lawnmower powerplant and you won't be far off.
Brightly Styled
The little sleds are designed to look like the sports sleds these kids would see on the trail, or in their family garage. They look sporty with bright graphics. Polaris has a 'girly-girl' choice in pink with white flames as contrast to the little guys black with white flames color option. Cat lets kids choose between Cat green or orange. Ski-Doo is yellow. Why not?
Steering is equally simple with all three. The handlebars are fixed and straight, although Polaris does provide optional hooks for little racer wannabes. Cat and Polaris give you either plastic or composite skis. Ski-Doo goes with basic steel. Interestingly, the ski stances vary quite a bit from sled to sled. The Cat ski stance measures 32-inches. Polaris comes in at 30-inches. Ski-Doo follows with a narrow 27-inch center-to-center stance. This is likely due to the choice of front suspension.
Suspension Choices
We found the suspension choices interesting. As you would expect from the sled manufacturer that pioneered double wishbone front suspension, the Cat mini-sled features a downsized AWS with hydraulic shock and three inches of suspension travel. Ski-Doo's Mini Z matches that travel with an A-arm setup of its own. Polaris retains the mini-Indy trailing arm front end and also offers three inches of travel.
The rear suspension setups are similar among the three sleds. Each has a simple slide rail design with torsion spring damping. Polaris gives riders seven inches of travel. Ski-Doo offers an inch less, but Arctic Cat trails with a mere 4.5-inches.
Rubber Track
Unlike kid sleds of the past which sometimes had steel grousers or cross-cleats, all these modern runners come with rubber tracks and moderate height lugs that max out at no more than the .79-inches found on the Polaris. Measuring 10-inches in width, these tracks pose little threat to a young one's foot if he should run over himself. Hey, it happens!
Mini-Values
You'll discover for your US$2,200-plus-purchase price that these sleds let you get your little snowmobiler off on the right track. For peace of mind, these sleds offer controlled speed, a safety tether cord, isolated motors and kid-friendly controls. It's up to you to teach them sled safety and trail etiquette.