Beginning Rider and Youth Snowmobiles for 2019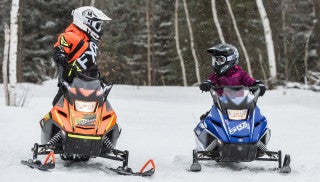 While high-powered snowmobiles get most of the attention, there are some innovative sleds for new riders and some worthy youth snowmobiles for the kids.
Getting new people out and on the trails means specific sleds tailor-made for kids, smaller-framed riders and absolute beginners. There are a few machines for 2019 that were made just for getting new people out and riding this winter.
With so much of the press coverage of new 2019 snowmobiles going to the extreme end of the spectrum with the fastest, most powerful sleds ever offered, it can be easy to forget our humble beginnings. We all had to start somewhere, and for most of us, this meant a smaller snowmobile. For 2019, there are a few snowmobile offerings for the youth and beginning rider market, and these are the best beginning sleds ever offered in terms of design and handling coupled with performance geared toward fun and skill building – exactly what a rider needs to prepare for a lifetime of riding excitement.
Youth Snowmobiles
The manufacturers have cut back their 2019 offerings, mostly at the request of the dealerships. After a couple of weird winters weather-wise, the market is stable, but down for snowmobiles. Still, the manufacturers know that getting new blood into the sport is vital. We all know about the partnership between Yamaha and Arctic Cat and what it has done for each companies' top-level performance sleds. The two brands have also partnered on youth snowmobiles and for 2019, that partnership continues.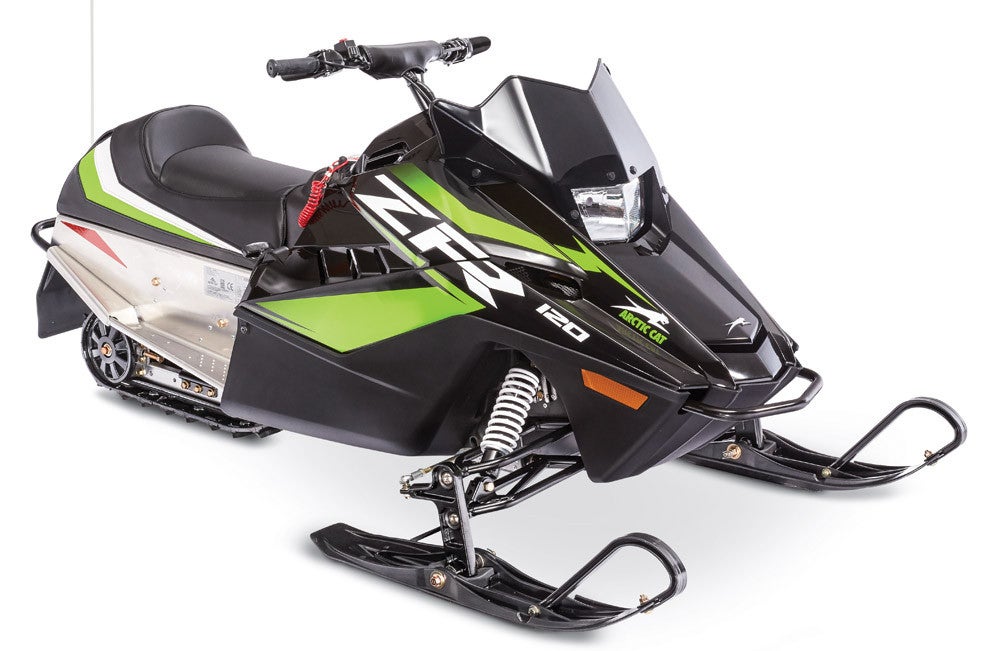 Yamaha SRX120R/Arctic Cat ZR 120
For the littlest rider, Yamaha and Arctic Cat made a sweet 123cc, four-stroke machine with electric start that has a look inspired by the bigger performance machines mom and dad ride. These machines have head and tail lights that come on when the machine comes on. They also come with a high-visibility whip flag and a tethered kill switch.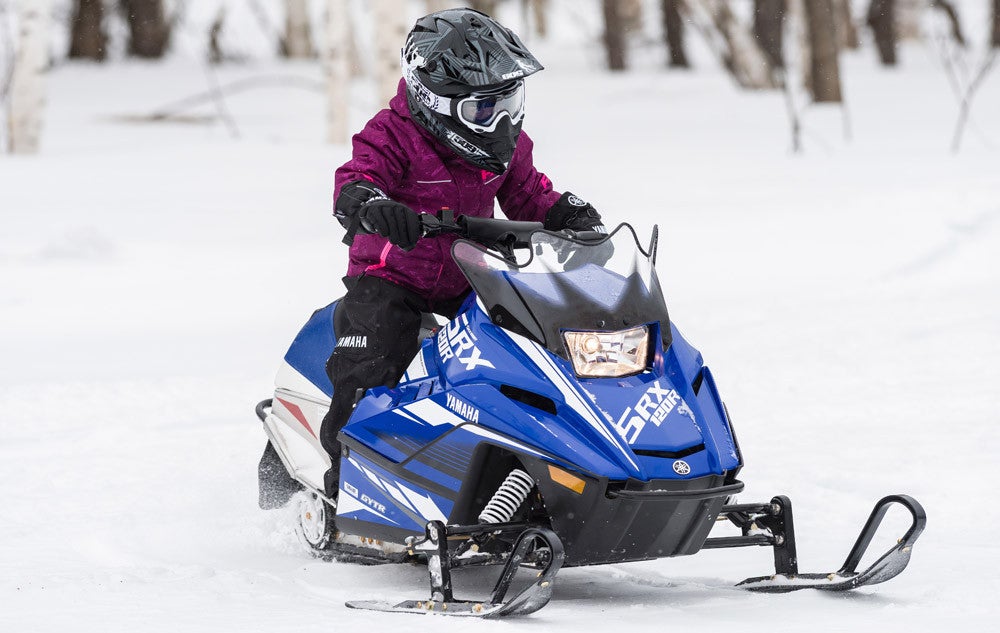 Arctic Cat's ZR 120 comes in black with cool AC green graphics. Yamaha SRX120R comes in Yamaha Racing Blue. Both machines cost $2,849 and can be found at a dealer near you.
Yamaha SnoScoot ES/Arctic Cat ZR 200 ES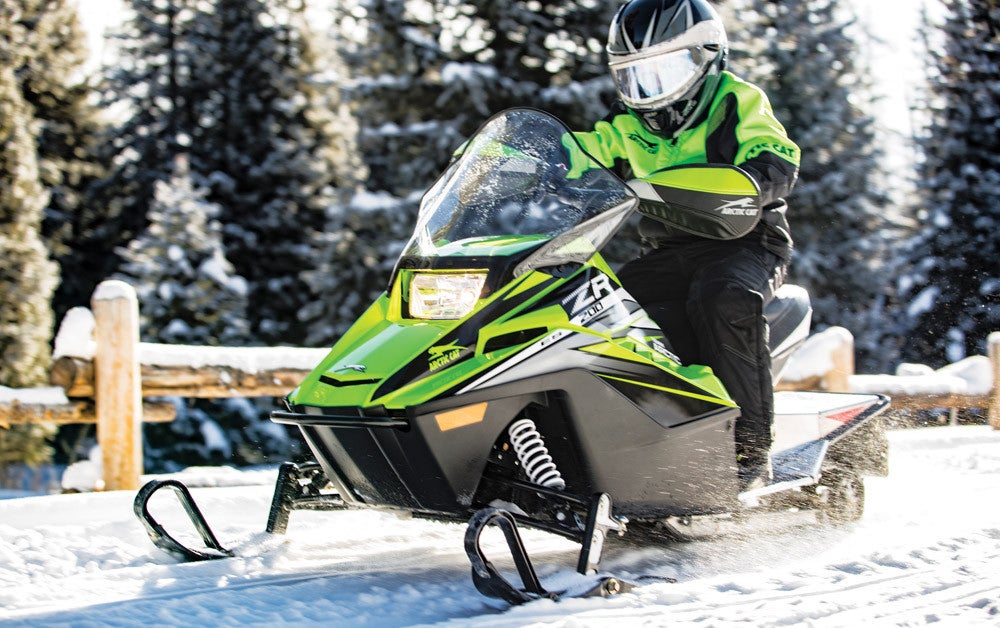 One of the most highly acclaimed sleds of 2018 returns for 2019 with the addition of electric start. Available as both a Yamaha and an Arctic Cat sled, this machine is perfect for younger riders. Powered by a fan-cooled 192cc four-stroke engine, this sled has a 93-inch track with a 10-inch wide Casmo Cobra track with one-inch tread. The machine has great power for youth-sized riders and can handle groomed trails and some mild off-trail excursions.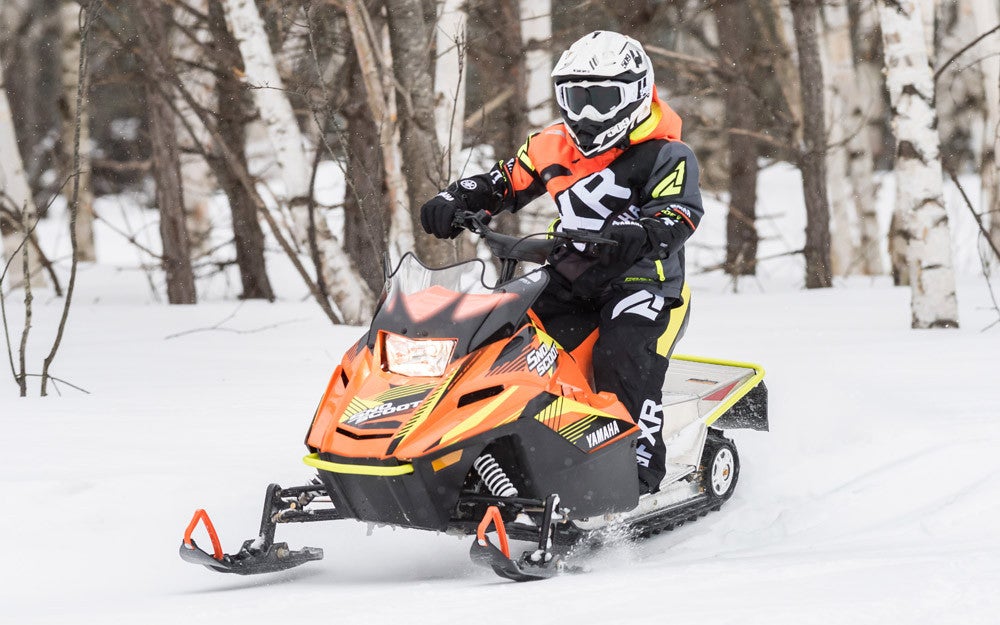 The design teams thought to add in trail-legal lighting and electric hand warmers so young riders can stay out on the trailer longer and be comfortable doing so. For 2019, this popular snowmobile gets the added benefit of electric start. The Yamaha version is available in Hi-Viz Orange and Racing Blue. Arctic Cat offers its version in AC Green and Purple colors. You can get one for less than $4,000.
Polaris Indy 120
The Polaris Indy 120 is also designed for the younger rider. It comes dressed in Sonic Blue and features a 120cc four-stroke engine, adjustable throttle, safety tether, and underseat storage. It retails for $2,999.
Polaris Indy EVO
Polaris knows that not every beginning rider is a child, but that the bigger, faster sleds can be intimidating. The Polaris Indy EVO is a sled designed specifically for the rider looking to get started in riding snowmobiles from a newcomer standpoint. This is a trail-ready snowmobile with a frame and ergonomics designed to fit a wide range of riders. It's a fun sled in that everything is compact for smaller riders, but not so much that it feels confining for bigger newbies, too.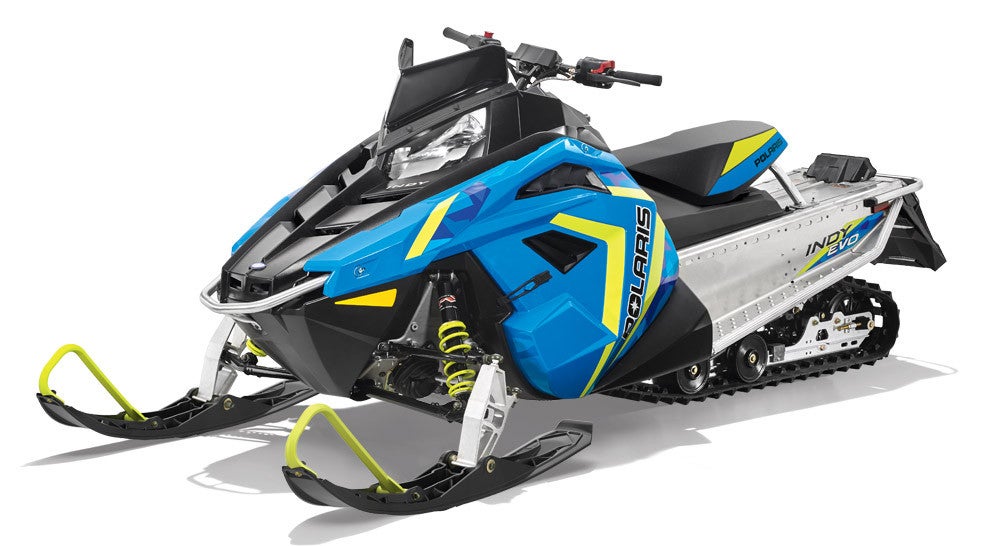 On the performance side, the EVO is powered by a fan-cooled, 544cc twin that is tuned to not be intimidating but still provide a thrill. Suspension is handled by RydeFX shocks front and rear. A 121-inch Shockwave track handle the traction duties. The Indy EVO is perfect for teenagers and other new riders. It comes in Indy Red and has styling to match other Polaris sleds. The best part is the $5,299 price tag. Find out more at your local Polaris dealership.