2009 Yamaha Vector LTX GT Review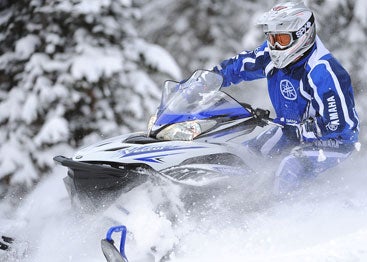 Stretch chassis Vector handles rough or groomed trails with equal ease
Yamaha divides its flatland snowmobile models into two basic categories: groomed trail or rough trail. There is a subculture below these two main headings to allow for high performance models, touring and what Yamaha calls "trail versatility." For lack of a better place to put it, the 2009 Yamaha Vector LTX GT falls there.
Fast Facts
Engine Type:Horizontal In-line
Cylinders:3
Engine Stroke:4-Stroke
Valve Configuration:DOHC
Displacement:973 / 59.4
Starter:Electric
Turbocharged:No
View Full Spec
Ironically the LTX GT is a bit of a hybrid, actually qualifying within Yamaha's definitions of both rough trail and groomed trail. For us that ride snowmobiles and don't have to worry about marketing them, let's call the LTX GT a very nice all-around sled. It will handle rough trails thanks to a stretched rider-forward chassis and the traction of a 136-inch long Camoplast Rip Saw track. Still, it is adept on groomed trails thanks to a corner-carving double wishbone front suspension equipped with Yamaha GYTR dual-clicker gas shocks. And, it is more than adequate wherever there's snow thanks to a very nice 120-horsepower Yamaha three-cylinder, 4-stroke engine.
Competition
Heading into the 2008-2009 snow season, Yamaha's Vector LTX GT faces some serious competition. The battle for best overall 'stretch chassis, 4-stroke powered snowmobile' is tough. Competitors include the 140-hp, turbocharged 4-stroke Polaris Switchback and Ski-Doo's brand new 130-hp, 4-stroke powered MXZ Renegade.
The Polaris Switchback borrows heavily from Polaris mountain powder models, while the Yamaha and Ski-Doo are more trail-oriented. The Yamaha and Polaris are both just under 600-pounds in weight. Ski-Doo's use of its latest REV-XR platform gives its Renegade model a claimed weight of 533-lbs.
The Yamaha Vector LTX GT faces another challenge as Ski-Doo's new fuel-injected, Rotax 4-stroke triple used Yamaha's Genesis 120 engine as its benchmark. Rotax did a very good job building its version of the next Yamaha 4-stroke triple. That's why we believe that future Vector models will come with the fuel-injected Genesis motor currently seen in the redesigned Venture GT.
For Consideration
For now though, what Yamaha has to offer is worthy of serious consideration. We readily admit that of all of Yamaha's snowmobile offerings, we like the Vector models best. Sure, the Apex, with a similar chassis and ergonomics to the Vector, has substantially more go-power thanks to a high-revving four-cylinder engine with 150-hp. Yamaha's Nytro models have both more power and superior rough trail handling versus the Vector. But, overall, for day-in, day-out riding, we'll take the Vectors.
This past season we had use of a top-of-the-line Apex GT. While we really enjoyed it, we realized that on most trail rides we were using way less than half-throttle much of the time. That was another thing; our riding experiences left us feeling that the Genesis 120, even with triple carbs, was as quick in the tight trails as the higher powered Apex. The rush you get from a wide-open Apex quad screaming across a lake can't be duplicated on a Vector but, where we ride, the Vector triple is more useful overall.
The Motor
As far as we're concerned the Genesis 120 triple is 'THE' 4-stroke motor. It was Yamaha's first true snowmobile-specific 4-stroke design. Yamaha's RX-1 four-cylinder engine came from motorcycling and was adapted to be a sled motor — and a PWC motor, as well. Yamaha engineers worked hard to create the Vector's Genesis 120 4-stroke triple. They succeeded in endowing it with a broad torque curve and made it competitive performance-wise with 2-stroke engines of the time. From Day One the Genesis 120 enjoyed a reputation for smooth, reliable operation. For an engine in its performance category, the Yamaha triple is strong at low end, maintaining exceptional torque through the midrange. Then, too, there's the issue of fuel efficiency. The Genesis 120 is one of the stingiest 120-hp motors when it comes to squeezing mileage out of $4 per gallon gasoline.
Housed in the Deltabox II chassis, the three-cylinder motor and its Yamaha YVXC clutching sits centered to maximize handling and minimize weight out over the skis. Yamaha's concept of centralizing the heaviest components — including the rider — to achieve ride comfort and sled handling was the design objective behind the Deltabox II platform.
As you look at the sled on a dealer's showroom floor, you'll note how the seat is raised and the handlebars are placed high and forward to let the rider sit easily for smooth trails or rise up quickly to post over rough sections. Second only to Arctic Cat's handlebar design, the Vector handlebars are both tall and wide with end hooks for grip. The handlebar warmers extend right to the bar ends to assure maximum hand warmth.
With drivetrain mass centered, there is less weight over the skis and you'll feel lighter than expected steering effort from a sled weighing in at a claimed 593 pounds. Part of the light steering feel comes from the design of the Vector's second-generation front suspension, which features short spindles and long upper and lower A-arms. Yamaha's independent front suspension maintains a spindle caster of 23 degrees to ensure steering consistency.
Clicker Shocks
The Yamaha front end offers nine inches of vertical travel that is controlled by GYTR dual-clicker shocks. These lightweight gas shocks unique to the GT version have 12 settings for compression and 20 'clicker' positions for rebound. Even better, you can make all clicker settings with a gloved hand as the shock's tuning knobs were designed specifically to be glove-friendly. To minimize shock fade, there's a remote-mounted piggyback shock oil reservoir for additional cooling.
Yamaha stays with its tried and true Mono Shock 136 rear suspension with a remote adjustment knob mounted on the port side of the tunnel. Twisting the knob places up to 20 settings of compression tuning on the single 46mm, aluminum-bodied, high-pressure gas shock. The adjustable KYB shock works with coil springs for overall suspension adjustability and control of the Mono Shock suspension's 11.7-inches of travel.
Ergonomics
Comfort on a modern sled starts with the suspensions, but extends to ergonomics like handlebars, seating, runningboards and more. The Vector LTX GT ergoes are terrific. Wide runningboards offer plentiful room for your feet. Star-punched traction holes provide added grip as well as serving to lighten the sled a bit. The seat is tall, lightweight and offers a storage compartment for light snacks, registration papers and the like.
As with all Yamaha 4-strokes, electric start is standard. Reverse comes standard as well on this top-of-the-line Vector extended chassis model.
The LTX GT instrumentation consists of a digital gauge with the expected readouts for engine revs, ground speed, and trip meters. You can access handlebar and thumb warmer settings from this gauge, too.
The Venture LTX GT comes with all the right equipment for the adventurous trail rider who likes to break trail or break away from the trail to explore ungroomed fire roads or make a path through the hills. The 136-inch long track, torquey triple and rider-forward ergonomics give the Vector LTX GT the right ingredients to maximize on-snow riding. Of course, as we stated earlier, this Vector has challengers and we expect to see some changes for model year 2010. Chief expectation is an engine switch to the Venture GT's newer fuel-injected Genesis 120 FI triple, which coincidentally should pretty much bolt into the existing Vector's Deltabox II engine bay. Still, all in all, the 2009 Vector LTX GT with the carbureted triple and all its handling goodies makes for a very versatile on or off-trail snowmobile.
2009 Yamaha Vector LTX GT Specs
Engine
Yamaha Genesis 120; liquid-cooled triple; 3x40mm Keihin carburetors
Horsepower
120
Drive
Yamaha YVXC variable ratio drive and driven
Front Suspension
Yamaha double wishbone with long arm, short spindle; 9-inches maximum travel; 40mm GYTR dual clicker aluminum-bodied gas shocks; 12 clicks compression /20 clicks rebound
Rear Suspension
Yamaha MonoShock RA 136; 11.7-inches maximum travel; 46mm KYB gas shock with remote adjustment knob and 12 settings of compression adjustability
Length
118.1 in
Width
48.2 in
Ski Stance
42.7 in
Track
15 x 136 x 1.25 Yamaha/Camoplast Rip Saw
Weight
593 (claimed)
Fuel Capacity
9.6 US Gal
MSRP
$9,899
Related Reading:
Ski-Doo GSX 1200 vs Yamaha Vector