2009 Yamaha Venture GT Review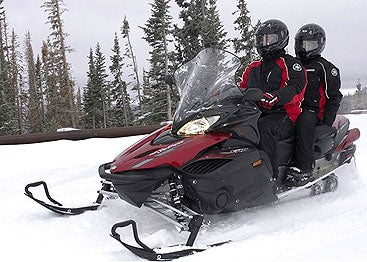 Enjoy more of everything from Yamaha's newest all-day touring sled
If you take a few minutes to think about what Yamaha offered in its model line for the past few seasons, it wouldn't be too difficult to predict where the Japanese-based snowmobile manufacturer might be headed for 2009 and beyond. After all, would it be all that difficult to imagine a fuel-injected version of the Vector's Genesis 120 triple? Doesn't the two-up Venture seem overdue for a complete makeover? Is this speculation thing all that hard?
Fast Facts
Engine Type:Horizontal In-line
Cylinders:3
Engine Stroke:4-Stroke
Valve Configuration:DOHC
Displacement:1049 / 64
Starter:Electric
Turbocharged:No
View Full Spec
Yes and no. For 2009 the Venture touring model does get a do-over in the form of the all-new Venture GT. But, Yamaha throws us a curve as the power under the hood is less Vector triple and more Nytro triple. Coyly, Yamaha refers to its new Venture GT engine as the Genesis 120FI. Based solely on its descriptive name, you'd expect the engine simply to be a fuel-injected version of the pre-existing carbureted Genesis 120. Think again.
Genesis Name, Nytro Heritage
The new Venture GT fuel-injected motor measures 1049cc in displacement (same as the Nytro triple) versus the 973cc of the Vector's Genesis 120 carbureted triple. This Venture GT triple appears to be a totally re-engineered version of the engine powering the sporty Nytro XTX. Don't get excited, just because the base components may come from the Nytro triple, there are substantial differences to make the engine specifically suited for the needs of an all-day, two-up touring machine.
Yamaha is adamant about the sled-specific nature of the Genesis 120FI, probably why the name reflects a Vector heritage instead of Nytro. Still, there is a power upgrade owing to the boost in displacement as well as the move to electronic fuel injection. The Genesis 120 features triple 40mm Keihin carbs whereas the new Venture GT's three-cylinders draw fuel from 41mm Mikuni fuel injectors. The result is an increase of four to six horsepower. It's quite useable as the nicely appointed 2009 Venture GT only goes up about seven pounds in overall weight versus the standard Venture. In fact, the newest motor is said to be 2.2 pounds lighter than the older one.
Make no mistake, the new Genesis 120FI engine was not only designed with the 2009 Venture GT in mind but for overall durability and efficiency, too. The intake and exhaust aspects of the Genesis 120FI differ completely from the similar displacement Nytro motor. Where that engine is designed for maximum performance, the Venture GT requires strong low end and mid-range performance. The intake and exhaust work to provide low rev, high torque potential for smooth driveaway and exceptionally smooth trail cruising. Revised camshafts and exhaust reflect trail-tuning for carrying two riders in smooth comfort.
Fuel Injection
Adding computer-assisted precision to the fuel injection not only boosts power but also makes throttle response crisper and, Yamaha claims, leads to as much as a five percent increase in fuel economy versus the base Venture model. Since the Genesis 120FI was developed for the moderate performance of a trail cruiser and reflects low maximum revs to achieve its power peak, it doesn't need the gear reduction used in Yamaha's motorcycle-derived, high-revving four-cylinder Apex and twin-cylinder Phaser motors. The Genesis 120FI started out on the drawing board as a snowmobile-specific engine, meaning it was designed to work with Yamaha's latest YVXC clutch attached directly to the crankshaft, eliminating gear reduction's complexity and extra parts.
Maybe because Arctic Cat successfully brought the feel of freewheeling 2-stroke performance to its line of 4-stroke equipped snowmobiles, Yamaha felt it necessary to reduce the effects of engine braking from its latest 4-stroke powered sleds. We don't know the real 'why', but Yamaha equipped the Venture GT with EBRS (engine braking reduction system) that passes a small circuit of air through the fuel injection upon release of the throttle to minimize engine-braking pressure and maximize freewheeling.
Arctic Cat has offered this free coasting aspect in its 4-strokes right along. Apparently the Thief River Falls, Minn. company felt it provided its 4-strokes with the feel of a two-stroke so that its customers wouldn't need to get used to a new sensation — 4-stroke engine braking. Yamaha seems to have bought into this idea and exploits it with the new Venture GT. Frankly, once you get used to it, we prefer engine braking, especially on performance sleds where we feel you can ride deeper into turns before needing to tap the brake.
If you do need to tap the Venture GT braking, rest assured there is plenty of stopping power from the lightweight, ventilated disc system. Two hydraulically actuated pistons grip the disc for positive stopping.
Rider-Forward Ergos
Of course, the upgrade to an all-new for 2009 triple cylinder motor is not the whole story of the Venture GT. Yamaha brings its latest rider-forward ergonomics to two-up touring. If you ride the base Vector and then switch to the new ergonomically improved Venture GT, you won't want to switch back. It's like moving from a low-sitting sports car seat to an SUV chair. The riding position is totally different. While new to the Venture model line, Yamaha's Deltabox II platform isn't all that different from the Apex or Vector models, except for the extra passenger room.
As the rider, you get improvements in overall comfort. Moving the rider forward and closer to the center of the sled allows you to either sit for long cruising miles or quickly stand to work your way through serious moguls in the ditches. Adding to your ability to control this touring sled is use of Yamaha's second-generation front suspension. The double A-arms work on short spindles to provide ease in steering effort while maintaining flat cornering capabilities. In keeping with its GT status, the new Venture model comes with clicker adjustable shocks so you can preset the front end. The lightweight aluminum shocks feature 12 settings for compression and 20 adjustment settings for rebound damping. There's even a piggyback reservoir for shock oil to help keep the shocks from overheating.
Comfort
Under the two-up seat is Yamaha's familiar Comfort CK 144 rear suspension. The suspension works with Yamaha's 15-inch wide by 144-inch long RipSaw track. Rear arm motion is controlled with a high-pressure gas clicker shock. You'll note a new spoke design to the suspension's support wheels, but you may miss the fact that they now come with replaceable ball bearings for extended wear protection.
Overall suspension travel is up to nine inches up front and 12.4 inches in the rear slide rail suspension. Yamaha adds in extra comfort touches along with its smooth riding suspensions. There is a fully adjustable backrest with rotational adjust on the two-up seat, passenger grips with adjustability, and convenient storage in a rear rack.
The top of the line Venture GT includes standard reverse gear for ease in loading on (and off) a trailer, electric start, a couple of DC outlets for a GPS unit or whatever, and a truly nifty digital information gauge that allows you to access different kinds of data. There are the standard informational readouts for speed, engine revs, dual trip meters and a clock. In addition the Venture GT gives you data like how far you've gone since the fuel light last came on or when its time for an oil change. Of course, that light may never come on, as you needn't change oil but every 2,500 miles or once a season after your initial break-in oil change.
New Venture
Yes, indeed, you could have seen the Venture GT coming as it was time for Yamaha to upgrade its touring sled to the latest ride-forward ergonomics and it was about time the Genesis triple was upgraded to fuel injection. Getting ahead of ourselves a bit, we can see the Venture GT for 2010 getting upgraded a tad to keep it a premium version. We expect the current standard Venture to disappear and be replaced with a more basic version of the Venture GT. You know, no clicker shocks, more basic instrumentation, etc. And that nifty new Genesis 120FI triple? We'd really like to see that under the hood of the next generation Vectors. That would be about perfect.
2009 Yamaha Venture GT Specs
Engine
Yamaha Genesis 1120FI; liquid-cooled triple; Mikuni fuel injection
Horsepower
125 (estimated)
Drive
Yamaha YVXC variable ratio drive and driven
Front Suspension
Yamaha double wishbone with long arm, short spindle; 9-inches maximum travel; 40mm GYTR dual clicker gas shocks; 12 clicks compression /20 clicks rebound
Rear Suspension
Yamaha ProComfort CK 144; 12.4-inches maximum travel; 40mm gas shock with compression adjustability on rear arm
Length
125.4 in
Width
48.2 in
Ski Stance
42.7 in
Track
15 x 141 x 1.25 Yamaha/Camoplast RipSaw
Weight
652 lbs (claimed)
Fuel Capacity
9.4 US Gal
MSRP
US $10,799