Yamaha Unveils Electronic Power Steering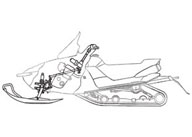 We test rode the 2011 Yamaha Apex with power assist steering... or, did we?
For two days we dashed and hammered a pre-production 2011 Yamaha "something or other" through the woods and over the trails of northern Wisconsin and Michigan's western Upper Peninsula. Don't ask us what we were riding, because Yamaha marketing types refused to tell us. "Guess what it is," they said. "Tell us your impressions and what you think of it."
This had to be the most unique product introduction — snowmobile, motorcycle or ATV — that we've attended. Marketing types ordinarily gush over their latest prod intro's. You can't keep them quiet. Although, the retinue of Yamaha marketing and technical types servicing our group of snowmobile editors did smile and smirk a lot while they steadfastly refused to give up any technical information.
Once seated aboard the new sled and shortly after flicking the key on the fuel-injected "whatever it was" motor, one thing became very clear. Yamaha not only has a patent for an electronic power steering system (EPS) for snowmobiles, it now brings it to production. Check back to a November 15, 2007 column written for Snowmobile.com by this not-so-modest writer and you'll have the background you'll need to understand the initial premise of Yamaha's power-assisted steering.
At that time we wrote… "In the contents of the patent, references cite power steering as reducing the effort a rider uses to steer the vehicle, especially when the sled is front heavy and traveling at high speeds. That might suggest the Apex could be the harbinger of EPS."
We can report simply, mission accomplished — and then some!
Seated aboard what we surmise is the next generation Apex, we came to the conclusion that while we may have nailed Yamaha's addition of EPS, we valiantly stumbled when recently we wrote "…we would guess that the Yamaha Apex in all its forms has probably neared the end of its product life cycle." Guess again, word-boy!
Seated aboard what we surmise is the next generation Apex, we felt an immediate free play in the handlebars and watched bemused as the steering moved lightly from lock to lock. Upon closer examination, you'll notice beefy spindles in a suspension similar to the standard Apex/Vector design. The skis are new and the way they attack the trail differ too. There is a new wearbar design and the front of the ski looks more jon-boat prow than v-bow cruiser.
But, as Yamaha marketeers desired, we needed to ride and feel the system. Full specifications on the entire sled will follow within a week to 10 days. For our two-day nearly 300-mile test ride, we were to "experience" the sled, contrasting this new pre-production model against various current year Vectors and Apex, which were brought along to impress on us the differences power-assisted steering makes.
Being among our peers, the ride evolved as such rides tend to do. The throttle flipper found its way tight against the handlebar for most miles. After a day of that, and being by far the most senior of snowmobile editors on the tour, we admit to late in the day fatigue and almost total disinterest in having to be the fastest. We were young once. And faster then. Less aware of mortality. So, we hung back. As we did, we learned something else about this newest Yamaha. It is extremely versatile.
On Day One of the ride we stayed up with the group and rode moderately hard. For practical purposes let's just call this new sled the 2011 Apex EPS. At quick paced trail speeds the power-assisted steering changes the handling dynamic of the sled. Where the current Apex feels heavy as you power in and out of turns, the 2011 Apex EPS is light. This new assisted steering system negates the Apex' well-known and obvious weight disadvantages. Until we get the in-depth technical specifications and "official" marketing briefing in a few days, we have to guess how this is done.
We can't imagine that power steering is the only way this sled gains a lightness of being. We suspect that once Yamaha suspension and chassis engineers were freed from conventional limits, they beefed up the shocks, springs and other front-end pieces to give this sled improved action through the bumps. On a current year Apex, its front end weight wears on you as you literally pound — and get pounded — running through rutted out power line trails with their swift ups and equally swift downward thrusts into dirt-bottomed ruts. With the 2011 Apex EPS you still had to manage the ruts, but the constant impact was more like what you'd get with a lightweight 600cc two-stroke sport sled.
On Day Two we hung with the crowd for a time but chose to fight hard another day and decided to see how this new 2011 Apex EPS reacted at low to normal trail speeds. We dropped our top speed to 45 miles per hour and ran the twisted forest route at 20 to 35 mph for a number of miles. With a standard Apex we would be asking for shoulder fatigue. Whether on a current year Apex or aboard Polaris' or Arctic Cat's turbo models, wending your way through tight woods will add muscle to forearms and shoulders. Aboard the 2011 Apex EPS we had a small epiphany.
By adding power-assisted steering, Yamaha has broadened the market for the Apex. We figure that there are a number of riders who would like the power and features of this unique performance sled, but feel it is too heavy steering for slow cruiser rides. Power steering makes the 2011 Apex EPS light and as easy to turn as a fan-cooled sport sled.
Heck, we haven't mentioned the power train. On Day One, before lunch, we charged across a long, long lake and opened up the throttle. The tachometer peaked at just under 10,000 revs. By Day Two on the same sled, the engine was getting more broken in and we saw the tach peak out at about 10,200 and the digital speedometer blurted out triple digits.
Now, since clutching technology needs to be in the 8000 to 8500 rev range for durability and reliability, we have to believe that this 2011 Apex EPS unit enjoys an updated Yamaha quad with gear reduction from the engine back to the primary drive clutch. Some folks speculated the sled had a triple, but what company in this economic environment would create a gear reduced triple for a single product? Not saying it can't be done, but we suspect that the 2011 Apex EPS uses an updated Genesis 150 design with totally new exhaust, perhaps a revised cam design and other internal modifications that give it a nearly flawless torque curve that provides ample boost from drive-away to midrange to "oh-my-gawd" top end, wherever that may be!
Our Yamaha babysitters used black tape to cover up a portion of the digital gauge's readout area. It obscured the letters "E-P-S" that came up when the gauge cycled itself. Peeling the tape off confirmed our suspicions of what we were feeling in our shoulders. But, of course, the Yamaha crew never confirmed nor denied that discovery.
While the steering assist will be the big news, the sled deserves credit for providing near flawless power delivery. And the seating, while looking similar to current year Apex models, feels new and improved — words that Yamaha's legal department probably won't let them say! The riding ergonomics were extremely good.
While we gush over the sled's new and enlightened steering feel, you need to know that the new steering works not simply in providing a light feeling to a supposedly heavy power sled, but that the new steering and front end handling rivals Arctic Cat's trail grip. The new Yamaha front end grips the corners and hangs on like no other Yamaha we can recall. When you want to open the injectors wide, the steering and handling answer with confident cornering and serious grip.
For now, this is about all we can say. All of those virtues we conjectured would come when power-assisted steering finally appeared have been brought to light in the 2011 Apex EPS — or whatever Yamaha decides its moniker will be. EPS works and this newest Yamaha should enjoy a broad new audience of riders who want the latest and most innovative snowmobile on the market.
We'll bring you more once the final details emerge, but for now, check with your dealer as when to expect Yamaha's schedule of snowbelt-wide demonstration rides. You'll want to try EPS for yourselves.
Related Reading
Bassett's Blog : Power Steering Coming Soon?