Bassett's Blog : Ski-Doo Sets New Standard?

After having been around the snow biz since I was a high-schooler back in New Hampshire, it sometimes seems that it's just the same old thing, just a different day. Back then, Ski-Doo was number one with the lion's share of the snowmobile market.
Fast-forward to today and Ski-Doo is number one with an ever-growing share of the marketplace. The company that reinvented winter back in the 1960s has its sense of history firmly in place as it just introduced some all new 'light-footed' snowmobiles that have as much impact as those original light-footed sleds of yesteryear.
Power-To-Weight: The big difference is that the new sleds Ski-Doo just unveiled with an all-new rider-forward positioning are not merely lighter than the previous REV, but come with more power. Meaning, simply, much more performance due to an incredible power-to-weight shift. If we do a little math—and remember, we are writers not math hounds—we get the new Ski-Doo 800 coming in with a power-to-weight (PTW) ratio that charges each horsepower with 2.8 pounds of sled to carry down the trail! Now, giving Yamaha's all-new lightweight Nytro 4stroke the benefit of the doubt, it comes in with a PTW of one horsepower to 3.5 pounds of sled weight. That's the basic math.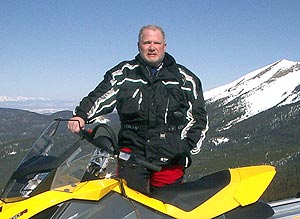 We won't pretend that we weren't concerned about Ski-Doo and its future. Once the powersports group was broken off from Bombardier proper a few years ago and became an independent entity backed by venture capital, we judged that Ski-Doo would have a fight on its hands for sheer survival, much less market dominance. But Ski-Doo used its legacy product of snowmobiles, revisited the way and why snowmobilers rode their sleds and came up with the REV platform. A gamble? Yes! But one that changed the recreational snowscape as much as those light-footed sleds of yore did. If you don't believe the REV was successful, look at the competition. Every other manufacturer makes a big deal of its rider-forward ergonomics. Argue that Yamaha's Snoscoot was the first with the concept, but Yamaha abandoned it to follow the mainstream.
Could Doo:

My problem with Ski-Doo was not one of 'can do,' but rather, more could do! Could Ski-Doo without the benefits of Mother Bombardier have the resources and capabilities to score another REV success? Voila! Ski-Doo has pulled off what very few snowmobile companies in the number one position have been able to do—follow up a market leading success with another market leader. It has yet to be proven that the new REV chassis combo will be a big hit, but we are betting it will because it isn't just about weight.
Check out the Ski-Doo web site and take a very close look at the sled's details. First, there is the weight reduction. Taking a page from Yamaha's book, Ski-Doo engineers combined functions of some pieces to reduce overall weight. It's worked well for Yamaha.
Second, there is the benefit of proven power from tried and true Rotax powerplants that are known to provide excellent performance. And the fuel mileage of these 2strokers is totally under rated, which gives the power source an advantage beyond simple horsepower. Lighter weight to haul usually means improved mileage as well as speed and acceleration.
Third, there is the simple fact that the new Ski-Doo shows that Ski-Doo engineering 'Gets It!' The engineering team thinks in terms of a total package. The front and rear suspensions are designed to provide maximum usage of their components. Shock rod lengths are there to be used as the rear suspension couples front action to rear action. The front end reflects a concept of balance. Supple up and down action balanced with progressive side-to-side action.
Fourth, rider positioning was rethought. But not to the extreme. Adding an inch or so of rider height created a way to give the rider more legroom while allowing him to maintain better control. The engine is mounted low. The secondary clutch is mounted nearly straight up and down to accommodate the riding position. A glance at the sled's dynamics as portrayed on the Ski-Doo web site suggests a nice balance between center of gravity retention and centralizing the mass of heaviest componentry—engine, exhaust and clutches.
Rough Trail Leader: Frankly, we're somewhat amazed that Ski-Doo has been the leader in rough trail technology in recent years. This is a company whose engineers open R&D's overhead doors and head onto one of the best-groomed trail systems in all of snowmobiling. For those 'hommes' to intellectualize rough trail riding and the ergonomics of rider position in big bumps and pockmarked, rutted out terrain comes as a bit of a surprise to us. This is the company that gave us the Everest—nice for touring, but not very good when the trails got rough—and Safari series. We have been incredibly impressed that Ski-Doo brought us the REV. We would have thought that Polaris or Cat would have done that since their engineers open the R&D doors in northwestern Minnesota and head out on to some of the most pitted out roadside ditches you can imagine!
That brings us back to another reason we are impressed with what Ski-Doo has done. When a sled company has been number one, it has been hard to retain that title. Yes, Polaris was tops for more than a decade living off the Indy and its many iterations. But when it came time to make the great big jump forward, Polaris gave us the Fusion 900 and lost their leadership position.
Arctic Cat was number one for years, but in tough times back in the late 1970s and early1980s, Cat went out of business and was saved by diehard Cat engineers and marketing types who brought it back to life and created the biggest comeback in snowmobiling history—in great part due to an even more diehard core of Arctic Cat owners who would rather give up riding if they couldn't have a Cat.
Yamaha was tops after Arctic Cat fell into receivership, but despite its lineup of interesting sleds like the Enticer, SRX and SRV, Yamaha fell off to a distant fourth place in a group of four. With a renewed commitment to snowmobiling and a major commitment of 4stroke technology, Yamaha has rebounded and now challenges Ski-Doo.
Ski-Doo vs Yamaha:

The Ski-Doo/Yamaha challenge is an interesting one. The two companies are opposite in engine technology. Yamaha is 4stroke-centric. Ski-Doo is open to both 2stroke and 4stroke—sort of. For its performance line, Ski-Doo opts for clean burning 2strokes that are lighter and pack more power per cc than a 4stroker. Ski-Doo offers a V-twin 4stroke for its trail-oriented lineup of Legend type machines, but believes that performance riders want lightweight performance first and foremost. And, for Ski-Doo that means 2stroke Rotax performance.
Based on rides this winter of the new Blizzard 800cc twin, we agree that performance riders can get strong performance and good fuel efficiency from 2stroke-based sleds. Just recently at a gas station in central Minnesota, we compared fuel efficiency between Ski-Doo's Blizzard 800 and Arctic Cat's Jaguar Z1 4stroke. Having traveled the same distance, the 4stroke thirsted for a gallon more of fuel than did the 2stroke Ski-Doo. Keep in mind that the Suzuki-built Cat motor uses a computer-corrected fuel injection system versus the carbureted throttle body style feeding the Ski-Doo 2stroke twin. We were quite surprised at the result of that fill up. Ski-Doo's Rotax engineers know a little something about squeezing power and efficiency out of its engines.
Bottom Line:

The bottom line in this discussion is simple. Ski-Doo has established a new standard for snowmobiles. There is power-to-weight. There is comfort. There is big bump performance. There is engine power. There is engine efficiency. There is a heritage that is taken very, very, very seriously by a legacy sled brand! And, there is a very large challenge for the competition.