Bassett's Blog : Whassup for 2008?

Forecast calls for recovery
Like everyone else, we're curious as to the future of the sport. What can we expect to be riding in the near future and can the sled makers stay healthy for the long term?
According to one source in snowbiz, despite the rather paltry sled sales of recent years, there will be a rebound—of sorts. That recovery depends on a myriad of factors. Obviously, snowfall is one consideration. No snow. No sled sales. But consider that no one yet knows what consumer reaction to US$10,000 to $12,000 pricing on new models sleds will do to the market.
Consumers already are aware of the higher prices for sleds. Yes and no. The early 'must have' buyers, the true hardcore riders, are buying new sleds at the higher prices. But it is also true that many buyers are purchasing 'blowout' priced 2005 and 2006 non-current models and haven't had to make the choice between paying the real price of a new '07 and beyond or staying with an older model.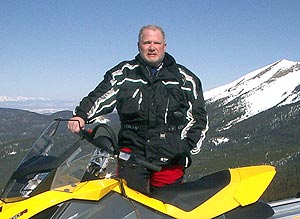 Consider that we haven't had good snow for five of the past seven seasons. Many snowmobilers, the average riders, have stayed with the sleds they already had because they didn't have many miles on them. Some of them did (and will) upgrade to newer non-current models based on price and better features. But chances are they will not feel a need to upgrade for a few more years, meaning no new sleds sold to them for a while. When the future arrives for them, how seriously will they consider a sled for US$10,000 that they will most likely use for six to eight weekends? That's $1,200-plus per weekend of riding. Or, will they look at a new ATV for $8,000 that they can use virtually all year?
Once the new buying patterns are determined, how deep beyond the hardcore rider will sled sales go? Mountain riders are pretty reliable because snow is reliable and there is a solid core of these folks. Midwestern and eastern riders are less loyal and may look for alternatives.
The snowmobile makers have to check their crystal balls for the future—snowfall, and buyer acceptance of higher priced sleds. Now sled makers have to fit model plans into this mix. They have to consider unit margins and volumes to maintain profitability. Polaris is the most damned by this as it has become a stockholder-driven company that works its future according to its quarterly projections and stock analyst studies. Arctic Cat is driven this way, as well, but to a much lesser degree as it runs with a bit broader view to the future. BRP/Ski-Doo has to meet expectations, but as a more private firm can be even more forward-looking than Cat. And Yamaha is most obviously a company that looks quite a long stretch down the road. If it didn't, it would not be in the sled biz today. Like Toyota, Yamaha and other Japanese-style firms look years ahead, not quarters. That explains why the company has made such a commitment to 4strokes. If not, Yamaha would have been history five years ago.
Looking ahead, the sled makers have to be aware that they will need 'price leader' sleds to replace the non-currents and to keep consumers from rebelling at the higher prices. That is one reason Yamaha created a whole new snowmobile line—the Phazer. The company figures a US$8,000 all-new sled is more palatable to consumers than a replacement sled for 12 grand.
With these thoughts in mind, what can we expect? Frankly, for now, in the short-term, we expect to see sleds aimed at the hardcore rider who is willing to pony up for features and benefits. We expect power to weight to be a big deal. We expect suspension evolution to be a big deal. We expect 'big bump' ergonomics to be a big deal. We don't expect the war between 2strokes and 4strokes to be over. Rather, we expect Ski-Doo and Polaris to hammer away at 4strokes with more efficient, cleaner 2strokes. And we expect Yamaha to hammer on lighter weight 4strokes. They have to. And, isn't that what Yamaha's snocross racing is all about? Trying to convince consumers that 4strokes are as nimble as 2stroke big bump sleds?
Arctic Cat
For 2008, we expect Cat to continue its move into the chassis. It has to get weight out of its new performance sleds to maintain pace with Ski-Doo and Polaris. But look for lower cost, de-contented models in the new chassis as Cat looks to streamline production efficiencies to maintain margins and profitability. Other than that, for '08, we don't see any revolutionary models. Possible a new big bump model could appear to generate excitement and get consumers to hit the Cat dealerships.
Polaris
Look for a new twin with very good—very strong—power to join the 600 and 700 sport models and to replace the 4stroke turbo as their power king. We expect that new engine will drop into the IQ chassis very nicely and this would be the smarty thing for Polaris as their engineers have got that system working well and helping consumers forget the Fusion 900 and 750.
We also expect Polaris to streamline production efficiencies as well by offering a nice palate of consumer-friendly sleds in the US$7,500 to $9000 price range.
Ski-Doo
This company has the burden of being number one, which means it has to lead and showcase a future that will get consumers to upgrade. This will most likely lead to lighter weight sports models, or at least, performance models that can swallow big bumps in a single bound! Perhaps Ski-Doo can do both.
The reality is that Ski-Doo pioneered an excellent seating/riding position and everyone has bad-mouthed it as they strived to catch up with the REV series. What Ski-Doo has to avoid is the 'Polaris Syndrome' of becoming number one and simply freshening up a popular and good design.
Ski-Doo also has to convince consumers that 2strokes are still good. They have to refine the attributes of the 2strokes as being dependable and clean. Yamaha has hammered away at 2strokes by claiming its 4stroke motors are wonderful by comparison. Truth is somewhere in between. Yes, we like the convenience and quiet of 4strokes, but when you look at the results of weigh-ins of 2strokes versus 4strokes, Ski-Doo and Polaris have a very legitimate story to tell. And consumers—especially hardcore big bump riders— know that lightweight matters.
Rumors of high-powered, lighter weight Ski-Doos are running rampant. We believe this is true. It could be a hardship for Yamaha and a counter to Polaris that is also light in weight with similarly powerful motors.
Ski-Doo suspensions must evolve as the rear ends need to be much more compliant for big bumps. Polaris's snocross record gives the company sled 'cred,' even if that credibility for big bumps is for its racer-only sleds and not its everyday trail sleds. Look for lightweight new chassis with more rider-friendly ergoes coming from Ski-Doo in '08. And look for a refinement of its quite nice line entry-level sleds to counter Yamaha's Phazer pricing.
Yamaha
This could be a big year for Yamaha. Nice though it is, the Vector has to be at the end of its product cycle. We expect a more Apex-like version here. We don't see the Apex getting much change overall. The Phazer should be solid for another season.
We will not be surprised, however, to see an all-new big bump model or series from Yamaha that will grow out of the Nytro-type sleds. This is an area that concerns Yamaha. It does not have 'must have' deep mogul masher in the line. The company knows that it has to convince the hardcore rider that Yamaha can compete in the ditches and deep and dirty mogul-pocked trails. Look for a lighter weight 4stroke with an evolutionary rear suspension specially designed for bumps.
As we have noted in the past, Yamaha has all but the 100-ish horsepower category covered. Is there a need for more than 150-hp from the Apex? Yamaha might be able to coax 170-plus from that design. The 120-hp Vector triple will most likely hang around as it is reliable but fuel injection tweaking could be expected. The Phazer twin is tapped for 80-ish hp and most likely will stand pat for '08. That leaves a new motor or a tweaking of the Vector triple in a new chassis, but we wouldn't be surprised to see a new 115 hp engine in a strongly tweaked Phazer-type chassis. Lightweight chassis? Long travel front suspension—and, please, a new rear suspension that truly works in the bumps!
Yamaha's 4stroke message has been good and well received, but recent postings of sled weights aren't going to help the Yamaha cause at this point. We are not talking about a few pounds; in some cases the weight difference is very substantial. While it's not really a big deal for everyday cruisers, it is a very big deal in the moguls and mountains. Weight does matter in these instances.
No matter how well balanced a sled is, when you bang down a 650 pound sled over a series of moguls, you feel it! You can shove the weight back under the rider only so far and every hard landing convinces you that less is more in the biggest bumps. Yamaha has its work cut out for it against Ski-Doo and Polaris that are seemingly committed to lightweight 2strokes with very good power. If the EPA enters the picture with heavy recommendations on emissions, then Yamaha sits pretty, but for now, don't bet against the Rotax and Liberty engine developers and Ski-Doo and Polaris chassis/suspension designers.