New Gimmicks, Gadgets & Gizmos on 2016 Snowmobiles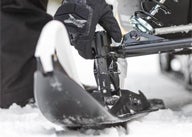 Some come and go quickly, while others stick around
As new model introductions go, the assemblage of new sleds for 2016 proved underwhelming. We expect that the sled makers played things pretty close to their snow bibs due to the way winter played out. Up to early December, sled sales looked robust. Spring sales exceeded most sled makers' best estimates. But as snow dribbled in through the end of December, the picture grew as dark as the landscape. Instead of all-important snow covering the Snow Belt, many areas seemed stuck in a snowless late fall. Sales that earlier appeared ready to push upper teens, if not increases of maybe 20 percent, fell to an estimated nine percent.
Nine percent would be good based on past history, but looking at the most recent winters, that number should have been better. Maybe end of the season results will rebound somewhat as the East Coast has been hammered. But will seven-feet of snow in Boston translate to healthy increases in overall sales? Well, it can't hurt, can it?
As the snowmobile manufacturers looked to their 2016 product lines, they realized that they were committed to some new products like the re-do of the Polaris Pro-RMK, the extension of Yamaha's Viper models, Arctic Cat's re-worked utility and touring lines and Ski-Doo's expansion of Summits. Yes, we saw new models for 2016. Admittedly we are jaded and hoped for the next "REV" revolution or such. All-new out-there engineering excites us. We want it in new sleds and we used to get it. But, let's face it, after 50 seasons, snowmobiling has matured and jumps in technology don't come in whole sleds like they did in the 1970s and 1980s. Now those technology improvements come as the pieces of new sleds. While we were underwhelmed by the total sled packages, we found very interesting gimmicks, gadgets and gizmos in the makeup of some 2016 models.
Of course, sometimes gimmicks and such are simply that, gimmicks. They are intended to attract attention and incentivize us to purchase a new model. Ski-Doo is one of the best at the gimmicks, gadgets and gizmos game. It's a BRP corporate strength. The company's Sea-Doo watercraft distinguished itself with off-throttle steering and intelligent brake and reverse. Sound familiar?
In recent years Ski-Doo brought us wireless throttle, three-mode engine electronics, flip throttle, handlebar actuated rear air ride suspension, rMotion and tMotion rear suspensions to name a few innovations. For 2016 Ski-Doo unveiled its latest gimmick, the Pilot TS adjustable ski.
At first glance this seems truly gimmicky. At first ride it works. It's incredibly easy to raise or lower the carbide-edged runner through its half-inch range. There's a twisting knob positioned in front of the ski leg to actuate the blade. We really liked the fact that the knob suits a gloved hand and still manages to provide tactile feedback through its 20 clicks of adjustability. You can go from full retraction to maximum extension in just 10 turns of the knob.
Ski-Doo marketing materials note that the ski allows you to set it one way for icy hard conditions in the morning and another when the trail slushes up by mid afternoon. Our test riding conditions in West Yellowstone were exactly that way and the Pilot TS adjustable ski worked as advertised. Gimmick or not, the ski works as promised and will be available on select 2016 models as well as an accessory for previous models equipped with RAS2.
Choices in Aftermarket Snowmobile Skis
How will the ski hold up over time? No idea. But in retrospect, we're a bit surprised that no one else ever came up with this ski concept. As a recreational sailor, we were struck with just how similar this ski design is to a daysailer's daggerboard, which also retracts into a protective casing. Ski-Doo's Pilot TS ski design is innovative and, for now, may be a bit gimmicky, but when other sled makers pick up the idea, it becomes accepted and just another gadget designed to make snowmobiling more enjoyable.
Another gizmo that's been around for a few years is the electrically actuated rear suspension. FAST of Eveleth, Minn., offered an electrically actuated rear shock for its M-10 more than a decade ago. In the 1990s Ski-Doo debuted a Grand Touring with an air ride rear suspension. After many iterations, the air ride floats on in the 2016 Grand Touring SE and Renegade Enduro. A bit gimmicky when it first appeared about 1997, Ski-Doo's air ride works quite well in its 2016 models.
Of course, we were a bit put off by having to follow the multiple steps to arrive at setting the ride to our liking. Safety commercials frown on texting and driving as it forces the driver to take his eyes off the road as he searches a small screen for information. Same thing here, but with ownership and familiarity we expect the process would become easier and quicker than for a technology-challenged test rider.
Once on the sled, you have to locate the Menu button. Then scroll to the air ride suspension screen. Then locate and activate the multi-purpose handlebar heater rocker switch to scroll through the suspension's one-through-five numeric settings. Once you accomplish that, you wait until the shock has the right amount of air and the read-out numerals stop flashing. Although the change in ride setting is not immediate, it is quick enough for a touring rider.
You will find that the five settings cover virtually every trail condition you'll face. We tried the 1 setting and the sled squatted down quite a bit. The 2 and 3 settings were improvements, with us actually settling in on the middle 3 position as a smooth on-trail tour setting. The 5 setting seemed way to stiff for us, but if carrying two and gear, you'd probably want it or the 4 position. The thing is that this gizmo really works quite well and adds measurable value to the sled's ride capabilities. Plus, the air ride sleds also come standard with the new adjustable ski, making these sleds very enjoyable for long days in the saddle.
The Era of Rising Rate Suspensions
Ski-Doo was not the only sled maker to try a handlebar-mounted electrically actuated rear shock. Yamaha's 2006 Apex GT was fitted with an Ohlins electronically controlled shock for its Mono Shock rear suspension. Yamaha stayed with the Ohlins EC rear ride for a while, but the system seems to have simply faded away over time, leaving Ski-Doo to champion the handlebar adjustable air ride for now.
While some gimmicks, gadgets and gizmos come and go quickly, some stay on like the air ride, electrically heated handgrips, heated seats, pushbutton electronic reverse or heated glove boxes. Others, like cigarette lighters, die out and become 12-volt accessory outlets. There is no accounting for what gimmick will succeed and last as a gadget that we snowmobilers won't do without. For 2016 we've seen the arrival of a few new ideas that, if they work as promised, we expect will continue on. That's the nature of gimmicks, gadgets and gizmos.