Scala Rider G4 PowerSet Review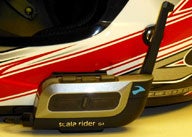 Stay in touch on backcountry rides
This past season, we tested many products intended for mountain snowmobile use; such as mountain riding gear, avalanche equipment and so on. One of the more interesting evaluations we conducted was of the Scala Rider G4 PowerSet for snowmobiles.
The Scala rider G4 is a Bluetooth communication system for snowmobile helmets. Developed by Cardo Systems, Inc. headquartered in Pittsburg, Pa., the company first introduced its Bluetooth line of headsets in 2004. The corporate tagline, "Communication in motion" reflects its typical customers, who are outdoors, in motion, and committed to remain in touch.
Last year we met with a Cardo representative at Hay Days in Minnesota. He knew we were mountain riders and he wanted an honest perspective as to the practicality of this system in a mountain environment.
We approached this assignment with enthusiasm. We'd been searching for an intercom system that we could use in the challenging environment of mountain snowmobiling. But, we also had some doubts.
Would the system work in a motocross style helmet? Another question was how would it work with foam style hearing protection or earplugs? For several years we have been wearing hearing protection while riding. We've found that at day's end our fatigue level is much lower on the days hearing protection was used. In reality it's as much the wind noise that we were blocking as the sound of modified machines where such noise is a real issue.
As with any communication device, what would the effective range be?
The G4 PowerSet for snowmobiles consists of the audio kit – a corded noise-canceling microphone, along with two corded speakers. The audio kit attaches to the bottom of the helmet via a clamp system or, if you prefer, a glue strip. The speaker and microphone are threaded through the helmet. The G4 power unit slides into the audio kit and connects with the speakers and microphone. This power unit slides out for charging and programming.
In general, the G4's Li-Polymer battery provides up to 10 hours of talk time. Charging time is three hours. Since the G4 uses Bluetooth technology you can pair it with a cell phone and a 6.2 GPS device for voice activated navigation. The G4 has a built-in FM radio and with the cable option will connect to an MP3 player. Yeah, we never even saw this kind of stuff on Star Trek.
The list goes on from here. The intercom system uses AGC (Automatic Gain Control) – the automatic increase or reduction of volume according to ambient noise and driving speed. The microphone is VOX, voice activated for hands free operation. VOX sensitivity can be customized to suit personal preferences. There are also spoken status instructions heard through the speakers to let the operator know what device you are connected to at any given time – in whatever language you select. However, intercom communications will override any other device.
The Scala rider also uses PLC (Packet Loss Concealment). This software will provide for audio losses in a challenging environment.
Communication devices are used in many noise-challenging environments, such as with NASCAR where crew chiefs and spotters must remain in constant communication with their race driver.
Snowmobile.com's mountain photographer, Jake Allred is a helicopter pilot currently in training with the Army at Ft. Rucker Alabama and knows how challenging the noise environment inside the cockpit of a helicopter can be. Clear communication is absolutely essential for safety in the military and in the backcountry. It is clear that the folks at Cardo have tapped into similar technology for communication and put it to use in a device for snowmobiling.
After using the G4 for the entire season, here's what we found. As with any electronic device some quality time with the user guide is essential to get familiarized with the functions and control buttons. Practice time before actual use is recommended to save some frustration while riding.
As for the question as to whether it would it work in a motocross style helmet? No problem. We mounted the microphone to the side of the helmet in the cheek area instead of directly in front of the helmet. This would prevent covering the microphone on colder days when a breath box insert was used. Adhesive strip Velcro provided is used to keep the microphone in place as well as the speakers.
In a new HJC helmet that was used, there were actual pockets in the ear area to neatly accommodate the speakers. Cardo claims the G4 has been certified waterproof and dust proof (IP67) and is designed for use in rain and snow as long as the cover over the charging jack is tightly closed. In our experience this was the case as we returned from several rides where the G4 was covered in a layer of ice.
We would recommend that the flip up antenna be folded down to prevent snagging on a tree and being damaged while boondocking in the trees.
As for the question did G4 work in the challenging noise environment such as on a modified turbo mountain sled? Absolutely yes!
Did it work if the rider was wearing hearing protection? Again yes, impressively yes! The conversation was clear and not garbled with background noise. However, here again time with the user guide is essential for the ultimate enjoyment of this product. For example, on our first ride we noticed background noise picked up by the VOX microphone each time the other rider would pin the throttle. By digging into the manual you will learn how to adjust the sensitivity of the microphone.
As for the range, it is as stated according to the terrain. A voice prompt will tell you when you are disconnected. In big open bowl play areas, it was impressive, but on winding trails it comes in and out. That is to be expected because of line of sight transmitting. With the use of the extended range flip up antenna Cardo claims up to one mile.
For us the safety aspect of this device is key. It helps us keep track of each other while mountain riding. When we attended a Ski-Doo sponsored avalanche course taught by Mike Duffy of avalanche1.com, one of the things he suggested was the use of a communication device to warn of oncoming avalanche danger.
On one particular ride I started down a steep tree-covered slope in very deep snow. The thought inside my head was, "Bad idea! We may not be able to climb back out."
I transmitted to the following rider, "Hold up, this could be bad getting out."
"Will do," was the reply back. I thought to myself, "Wow, this Scala rider is worth its weight in gold for the trouble it just saved."
For me, the value of the Scala is about keeping track of each other.
Jake Allred, our photographer, was usually the other paired up rider, he comments:
"At first I was pretty skeptical about the claims from Cardo, about their quality and how their system can increase the snowmobile experience. I have been around plenty of communication devices that were completely worthless. Some devices are expensive and high quality, but so difficult to use that the owners give up on using them. Some systems are heavy, while others are extremely cheaply manufactured. Cardo has it all wrapped up into one tiny package that's lightweight, easy to use, and durable. I like the fact that I can pair the Bluetooth with my cell phone and listen to music or whatever else I want to do with Bluetooth. One time this last season we crossed over a large mountain range and I was able to pick up an FM radio station that was playing Frank Sinatra. I thought that was fitting to listen to an old classic while I was threading a snowmobile through the trees in deep powder at 8,500 ft."
In conclusion, the mountain team for Snowmobile.com put the Scala Rider G4 to the test in the challenging mountain backcountry environment and it comes away highly recommended. We even used it on dirt bike trail rides this summer. It would work awesome for ATV rides and add to the overall enjoyment of those rides, too.
The G4 retails for around $489.95 with current technology – plus, available online updates will keep it up-to-date to provide for many years of service.
Related Reading Backcountry Survival in Your Backpack FXR Mountain Vertical Attack Gear Review Mountain Snowmobile Gear Review: Part 1 Mountain Snowmobile Gear Review: Part 2