Rox Releases New Stealth Handguards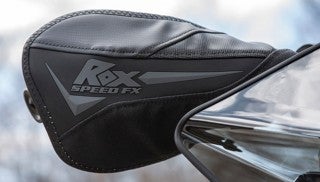 Black/Grey design fits Flex-Tec line of handguards
Rox has introduced a new Stealth Guard with a black/grey color scheme to its line of Flex-Tec Handguards.
"Whether you prefer boondocking in the ditches, sticking to the trails, or ripping around the Snocross track, these guards will take year after year of abuse and still look great," Rox says in a release.
Built using a rigid-but-flexible backbone and waterproof materials, Rox Flex-Tec guards are designed to keep your hands warm and protected. Three separate Flex-Tec mounts are available, depending on snowmobile model.
Pricing for Handguards Stealth Guards (Part #FT-HG-K) MSRP: $134.95 Standard Flex-Tec Mounts (Part #1G-FT-MNT) (Note: Fits most sleds, except those listed below) MSRP: $54.95 Arctic Cat Procross / Yamaha SR Viper Mounts (Part #1G-FT-CRSS) MSRP: $84.95 Polaris Pro Taper Mounts (Part #1G-FT-PROT) Note: These mounts are only for Polaris sleds that come with factory Pro Taper Handlebars MSRP: $84.95
Visit RoxSpeedFX.com for more information.