On/Off-Trail Power Bangers Comparison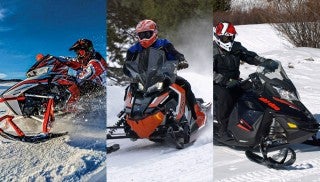 2016 Arctic Cat ZR 8000 Sno Pro vs. Polaris 800 Switchback Pro-S vs. Ski-Doo Renegade Adrenaline 800R E-TEC
If you missed out on the pre-season deals back in March and April and want a power banger for on- and off-trail usage, what are your choices? We scoured the manufacturers' inventories and arrived at three options: Arctic Cat's ZR 8000 Sno Pro with 137-inch track, Polaris' 800 Switchback Pro-S and Ski-Doo's Renegade Adrenaline 800R E-TEC. In the process we discovered that opting in on some of those early season buys might have paid off with added features for not too many more dollars.
Our premise in this selection of on/off trail bangers presupposes that you ride trails more than 60 percent of the time, probably more like 80 percent! Your off-trail excursions are pounding a snow-filled ditch or breaking trail down an unplowed county road or forest fire road. That also includes tearing up untouched powder on a lake or wide open field. But, you really tend to stay on the trails and want the power an 800 two-stroke provides along with the bridging action of a 137-inch long track.
Specifications-wise, these three sleds hit all the right notes and are surprisingly similar, meaning that your prejudice for or against one brand or another most likely steers your final purchase decision. Now, you'll note that we opted for the tamer and more trail-oriented models. We chose the Arctic Cat ZR 8000 Sno Pro 137 and not the XF crossover series like the more expensive CrossTrek, which has a taller lug Cobra track. Nor did we go with the Backcountry versions of the Ski-Doo. And we stayed with the Pro-S version of Polaris Switchback models instead of going for the Pro-X.
If you are a true off-trail rider, you have different criteria. But, we chose 800cc two-stroke models simply because that seems to be the direction that the snowmobile industry is going. According to industry experts, in recent seasons more 800cc models have been sold than 600cc ones, which is a turnaround from five years ago. Why not? A modern 800cc two-stroke snowmobile drive system offers upwards of 30 more horsepower than a 600 twin for not much more money and today's performance 800s are incredibly trail-friendly.
Unlike big bore high performance engines of yore that seemingly had unmanageable power blips where the engine was either fully engaged or off the power entirely, modern 800s allow smooth drive offs, easily modulated throttle control off trail where you want controlled power and eye-watering acceleration bursts. Just look at where you find today's 800 two-strokes. Ski-Doo has them in such diverse models as high-performance MXZ X versions, Summits, Freerides and even the new-for-2016 Expedition Xtreme.
All of these specific models offer an 800cc two-stroke with a manufacturer-specific clutch system. Ski-Doo pairs its Rotax 800 with a familiar QRS drive. Polaris matches its latest Cleanfire 800 with its legacy P-85 drive and lightweight Team driven. For model year 2016 Arctic Cat switched from its own proprietary system to partner with TEAM Industries and mates a TEAM Rapid Response driver to a TEAM Rapid Reaction BOSS driven clutch. Regardless of drivetrain, you can expect 150 horsepower or more from each of these three sleds.
You'll also find that each sled delivers its power to a common track design, a Camso-manufactured 137-inch Ripsaw with 1.25-inch lug profile. Other models like Cat's CrossTrek feature taller lugged Cobra tracks, but if you are a moderate off-trail rider, the 1.25-inch lug height should suffice. Do consider another model with more off-trail traction capabilities if you spend more than 50 percent of your riding off trail.
With basic power and track considerations sharing major similarities, are their truly enough differences between these three to make anything more than a random choice? If you are Ski-Doo fan, you'll find major reasons for the Renegade Adrenaline 800R E-TEC. Although it may not have the most powerful engine, as proven by one dealer's recent regional shootout, Ski-Doo's 800 can tear through 1,000 feet even or ahead of these other models. Cat fans will heed the manufacturer's 160hp claim and opt for the most power. And Polaris fans will look closely at the AXYS chassis and key components and decide it's for them, even though the 800 Switchback Pro-S is the most expensive of these three.
This was where we discovered that some pre-season offers really are good deals if you know that you are going to get a new sled. Check out the differences between the 2016 in-season Renegade Adrenaline 800 and the spring-only Renegade X 800 R. For an added premium of US$800 above the $12,499 MSRP of the Adrenaline model, the X would give you: Quick Adjust Pilot TS dagger ski, HPG R front shocks, KYB Pro 36 Easy-Adjust rear suspension shock and a choice of lug profiles. Choices like this could be a consideration when the model year 2017 special deals appear in early March.
Other than that, you might want to check out which of these three sleds offers the most features you deem essential to your riding style. While close in basic specs, there are differences that can add up. For example, the Polaris 800 Switchback Pro-S is easily more pricey than the Ski-Doo Adrenaline, but why is that? For starters, the Switchback Pro-S has a premium Walker Evans shock package that consists of piggyback compression adjustable shocks for the ski suspension and on the rear suspension. The Switchback also brings its AXYS technology with rider balanced control to the bargaining table. The Ski-Doo counters with its rider-forward REV-XS platform. Likewise, the Ski-Doo and Polaris weigh in with similar in function but different in execution suspensions. The Ski-Doo offers its successful rMotion rear suspension and RAS2 front end. Polaris' AXYS double A-arm front suspension works with Polaris' equally innovative Pro-XC rear. Cat shares its newly reconfigured Arctic Race Suspension geometry with a Slide-Action rear suspension system. Which is better?
Ergonomics are personal, but Arctic Cat excels in the hands-on touch with its pre-curved handlebar set. We'd give that feature to Cat. Seating is a toss up, but the Ski-Doo does have rear storage in its REV-XP X seat. All three of the seats tend to allow rapid seating to standing posturing and feature a narrowing at the front for freer movement during cornering.
For live-ability, the three models either offer electric start as an option or as in the case of the Renegade make it standard. Wind protection is abbreviated on the Cat Sno Pro with a 5.5-inch race height versus the taller mid height screens on the competition. All have push button electronic reverse. All have digital information centers. And all come with at least 10 gallons of fuel capacity to insure decent range.
Which of these three 800 on- and off-trail power models is right for you? Check them out but look carefully at how their individual features fit your riding style. Although they are similar in many areas, they each have their own unique differences that may make one a better value for you than the others.
| | | | |
| --- | --- | --- | --- |
| | 2016 Polaris 800 Switchback Pro-S | 2016 Ski-Doo Renegade Adrenaline 800R E-TEC | 2016 Arctic Cat ZR 8000 Sno Pro (137) |
| Engine | Polaris Liberty 795cc twin cylinder 2-stroke; liquid-cooled; Polaris Cleanfire two injector electronic fuel injection; two-into-one exhaust with 3-stage variable exhaust valve; CD ignition | Rotax 799.5cc, liquid-cooled two-cylinder 2-stroke; Rotax electronic direct injection | Suzuki 794cc twin cylinder liquid-cooled 2-stroke; electronic fuel injection; Arctic power valve exhaust |
| Horsepower | 160+ (estimate) | 150+ (estimate) | 160+ (estimate) |
| Drive | Polaris P85 drive with Team LWT driven clutch | Ski-Doo/Rotax TRA III with QRS; engagement @ 3800 rpm; maximum engine rpm @ 7900 | Arctic Drive System with TEAM Rapid Response drive with Team BOSS driven clutch |
| Front Suspension | AXYS dual A-arm with Walker Evans piggyback compression adjustable shocks; 9.3-inches of travel; Polaris Pro-Steer skis standard | RAS2 double A-arm with HPG Plus aluminum bodied rebuildable gas shocks; up to 9.0 inches of travel; Pilot 5.7 ski | Arctic Race Suspension dual A-arm with Fox FLOAT 3 adjustable shocks; 10-inches of travel; ProCross skis 6-inch |
| Rear Suspension | Pro-XC parallel rail slide suspension with Walker Evans piggyback compression adjustable shock; 13.4-inches of travel | rMotion parallel slide rail with aluminum body HPG center shock, HPG rear shock; up to 16-inches of travel | Arctic Slide-Action parallel rail slide suspension with Arctic IFP gas shock on front arm and Arctic Cat 2-inch diameter IFP gas on rear arm; 13.5-inches of travel |
| Length | 121.0 in | 122.4 in | 125.75 in |
| Width | 47.0 in | 47.9 in | 47.75 in |
| Height | 46.0 in | 47.6 in | NA |
| Ski Stance | 42.5 in | 42.4 in | 42-43 in adjustable width |
| Track | 15 x 137 x 1.25 Ripsaw II | 15 x 137 x 1.25 Ripsaw | 15 x 137 x 1.25 Ripsaw II |
| Weight | 446 (claimed) | 486 (claimed) | NA |
| Brake | Polaris AXYS radial disc system | Brembo hydraulic brake system with braided stainless steel line | Arctic "Race" radial hydraulic disc system |
| Features | STANDARD: Pro-Steer skis; electronic reverse; AXYS performance seat; Polaris multi-function display; mid-height "smoke" windshield OPTION: 12-volt outlet; electric start, Lock & Ride storage | STANDARD: Pilot 5.7 skis; electronic reverse; electric start; multi-function gauge; 15-inch windshield; XC front bumper; REV-XP X seat with storage OPTION: LinQ mount accessories; rearview mirrors | STANDARD: ProCross skis; electronic reverse; high performance seat; multifunction gauge/display; rear belt bag; 5.5-inch race-height windshield OPTION: electric start; heated seat; side panel wind deflectors; rear rack; visor plug ins; goggle holder; mirrors — color option Team Arctic green or orange |
| Fuel Capacity | 12.0 US Gal | 10.6 US Gal (91 octane fuel) | 11.7 US Gal (91 octane fuel) |
| MSRP | $13,099 | $12,499 | $12,949 |