2016 Affordable Trail Sportster Comparison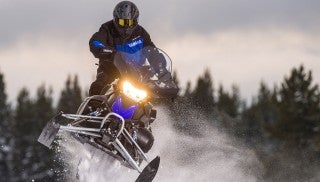 Three value-laden and trail-friendly liquid-cooled sport sleds
We're not sure if eight thousand bucks qualifies as "low buck" or not, but that is today's reality when it comes to buying a fun to ride but basic liquid-cooled sport sled. You can spend less by going for a fan-cooled model like the Polaris Indy or Arctic Cat's Lynx 2000, but those sleds are fading into history. Ski-Doo has relegated its Rotax 550 fan engine to its Expedition and Tundra models, no longer offering even a low buck fan-cooled trail MXZ, relying instead on its high-mileage 600 ACE four-stroke.
Only Polaris carries the past into the future with its line of 550cc fan-cooled Indys. But, what else does Polaris have for now? There is not one single four-stroke to be found in the Polaris line for 2016. Arctic Cat offers a Suzuki four-stroke as its low-buck trail model. And like Yamaha, Ski-Doo has created a nice stable of four-stroke options. That's right now. Who knows, maybe Polaris will design a new four-stroke of its own and, perhaps, Arctic Cat will expand its Kymco-built 700cc four-stroke twin into some sporty trail sleds in the future.
But for model year 2016 we've looked at the "low buck" liquid-cooled options available and settled on these three: Arctic Cat ZR 5000 LXR, Ski-Doo MXZ Sport 600 ACE and Yamaha Phazer R-TX. They are all priced under US$9,000, have a liquid-cooled four-stroke engine and are designed for solo sport riding. At 1056cc and with 125 horsepower the Cat ZR 5000 leads the power parade. Ski-Doo's MXZ Sport with the 600 ACE and its potential 29 miles per gallon on-trail performance should easily get the best mileage. And Yamaha's R-TX has proven to be a fun sport sled that is light and extremely nimble in the twisties. All three cost about the same and each comes with nice-to-have features for not a lot of money, when compared to the top performance models.
2016 Ski-Doo MXZ Sport 600 ACE vs. Polaris 550 Indy
We suggest that while these three models offer similarities in pricing, they are quite different in on-trail personality. Indeed, comparing these sleds is a bit like comparing an orange to an apple, but when looking at the suggested retail price, we think you need to look at your riding intentions as these sleds have compelling differences that make them all good values but for totally different reasons.
Arctic Cat ZR 5000 LXR The traditional value leader
Built on the famed ProCross platform and equipped with Cat's excellent tall spindle ARS front suspension, the ZR 5000 LXR offers tremendous value for riders wanting a smooth-riding, modern sled with added amenities such as a heated seat. Keep in mind, up until Cat fitted the Yamaha 1049cc triple into the ZR bodywork, this sled was Cat's top of the line four-stroke sport option. This is a big Suzuki-built twin measuring 1056cc and developing 125-plus horses, but it's 10 claimed horsepower less than the Yamaha-powered ZR 7000 LXR. It's also more than US$3300 less than the ZR 7000!
In our experience we've found the Suzuki four-stroke to be pleasant, if not a bit slower to rev than the Yamaha or Cat's two-stroke engines. However, the ZR 5000 drivetrain should be essentially bullet proof. After all this 1056cc four-stroke twin is the base for Cat's brutish 177 hp turbo 9000 engine. Plus, new for 2016 is a complete set of TEAM clutches, expressly designed for the newest Arctic Cat models.
When you consider that the ZR 5000 LXR offers many of the same features as the more expensive and higher powered LXR versions, you can start to appreciate what a deal that under US$9000 price tag really is. You get the tremendous rider control ergonomics that help the ZR models stand apart form the competition. The Cat handlebar design with its rider-friendly curvature and bar end control provide outstanding control for cornering. The high performance seat puts you in position to rise up for bumps or hunker in for powering into wide sweepers.
Of course, the LXR series adds luxury appointments to its sport capabilities. That sport seat is heated. The standard tunnel bag offers storage for spare gear. The 13-inch tall windshield adds weather protection. And the push button reverse, 12-volt auxiliary outlet and included key starting add convenience.
We also like the fact that the ZR 5000 LXR comes with a 129-inch track to spin over Cat's slide-action rear suspension. With its 1.25-inch lug grip, this set up will give you a smoother ride than a shorter track and it will add stability in the corners as well.
Of course, in order to keep the price in check, Arctic Cat engineers and marketing staff specified more modest shocks like the coil-assisted Arctic Cat IFP gas shocks up front and base IFP shocks on the rear suspension arms. Regardless, at this price point you get a sled with the ProCross chassis, race-bred front suspension and a smooth and dependable engine. The ZR 5000 LXR is an excellent traditional Cat value for the money.
Ski-Doo MXZ Sport 600 ACE Economical four-stroke engine technology
We have been MXZ fans ever since the first REV hit the snow more than a decade ago. Now for 2016, Ski-Doo combines that ride-forward technology with the latest in high-mileage four-stroke engine technology to offer a premium sled at less than US$9000.
The MXZ Sport combines both older and newer components in a package suited for riders seeking true value. The REV-XS platform brings in the latest narrow profile styling combined with performance suspensions. The MXZ Sport suspensions are good, but not top of the food chain. Up front is a double A-arm set up complete with Motion Control shocks, not the RAS2 with HPG Plus shocks standard on the MXZ TNT 900 ACE. The Sport line features the proven SC-5 rear suspension with 15 inches of travel and not the newer rMotion set up. But, the truth is that the MXZ Sport 600 ACE's performance level doesn't justify that level of on-trail capability. This is a 60-horsepower sled designed for every day but more modest sport riding.
The Rotax 600 ACE twin cylinder four-stroke is exceptionally smooth with an engagement speed of just 2200 revs. Expect its 60 horsepower to kick in around the engine's 7,250 rpm maximum engine speed. That performance reaches the track via Ski-Doo's proprietary eDrive2 and QRS drive system.
While on-trail performance and speed is adequate for groomed trails, the secret to the MXZ Sport 600 ACE is the economical way it handles fuel. Ski-Doo claims almost 30 miles per gallon fuel efficiency with this engine, which means under those riding conditions you could get more than 300 miles on one fill up of its 10.6 US gallon tank. Chances are you won't because the MXZ Sport is just that, a sport sled with true REV handling.
Read our review of the 2015 Ski-Doo MXZ Sport ACE 600
Admittedly we've been long time fans of the former MXZ with the 550 fan-cooled two-stroke twin. It's taken us a bit to warm up to the 600 ACE replacement. However, even we admit that the performance of the 600 ACE is better overall than that older, much noisier, smellier 550. Plus, with its Intelligent Throttle Control (ITC), the throttle pull working the EFI is minimal compared to leveraging the 550's dual Mikuni carbs.
The 600 ACE adds in some nifty electronic pieces to include three engine settings that let you choose standard, sport or ECO modes. You would need to be in ECO to maximize the fuel economy. You also will find that the 600 ACE offers a "Learning Key" that dumbs down performance and can be fitted when you let inexperienced riders try out the sled. And, if your thumb gets tired, you can flip the throttle for finger activation.
The MXZ Sport 600 ACE is stylishly designed in Ski-Doo yellow with black that gives this sled a polished look for added value points. That REV-XP seat includes storage, but you can readily fit any of Ski-Doo's LinQ accessories to the Sport platform. The handlebar invites sport as it's a straight aluminum design with J-hook ends for cornering control.
Unlike the Cat ZR 5000 LXR with its 129-inch track, the Ski-Doo MXZ Sport features a slightly shorter 15-inch wide by 120-inch long RipSaw track with 1.25-inch gripper lugs. Given the paucity of power, the track accommodates the sled's performance well enough.
While this may be a value sled, the 2016 Ski-Doo MXZ Sport 600 ACE does not betray its rider with a look that says cheap. The MXZ Sport 600 ACE is richly handsome and loaded with value for years of dependable and frugal trail riding.
Yamaha Phazer R-TX The "dirt bike" of value sleds
Interestingly the Yamaha Phazer never really caught on as well as Yamaha marketing types would have expected.  Designed to be a lightweight, easy to toss around sled, the Phazer was supposed to be the dirt bike of snowmobiles. To that end, Yamaha succeeded.
Unfortunately for the Phazer, Ski-Doo's REV managed to redefine how sled and rider would interact. The ride-forward design of the Ski-Doo REV totally revised how modern sleds were to be ridden. The Phazer was lost in the evolution as full sized sleds like the MXZ REVolution offered the nimbleness and sport handling promised by the Phazer.
In addition, unlike the competition the Phazer was a one-engine fits all design that could be altered for two-up, stretched for off-trail and powder riding. The 2016 value leader at US$8999 is the Phazer R-TX, which retains all that Yamaha engineering wanted from the original design.
Read our review of the 2015 Yamaha Phaze