Best Ski-Doo Accessories for Comfort and Performance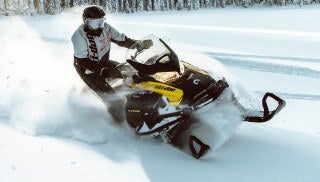 Enhance your snowmobile with accessories that make a real difference
Get more out of your snowmobile by picking up some of the best Ski-Doo accessories from the snowmobile manufacturers and the top aftermarket producers.
While modern snowmobiles are incredibly fun and useful machines straight from the factory, we all need different things from our sleds. The good news is the aftermarket is rife with parts and accessories that allow you to set up your snowmobile any way you like to improve performance, add comfort, or help you carry more stuff.
For this article we tracked down some of the best Ski-Doo accessories on the market. Ranging from protective covers to hand warmers, we think you will appreciate what these items bring to the table.
Ski-Doo New OEM LinQ Summit Seat Bag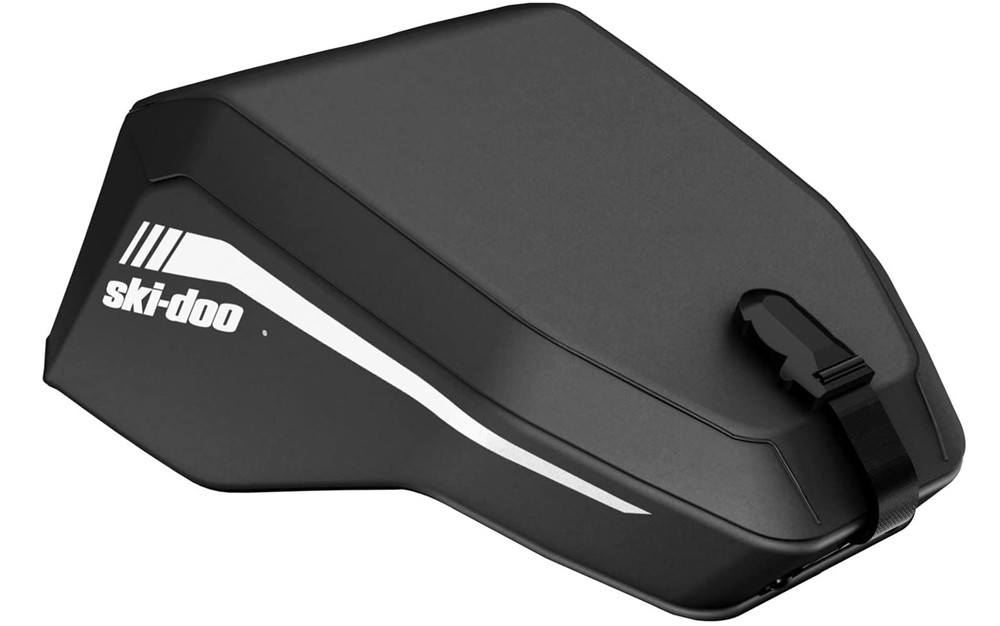 The first item in our guide is Ski-Doo's LinQ Summit Seat Bag. If you often struggle to pack all the gear you want, this is one of the handier Ski-Doo accessories you can buy.
The Summit Seat Bag measures 18 x 18 x 22 inches and an extra gallon of storage space that stays out of your way while you ride. It boasts a hard shell and a locking strap to keep your goods safe and secure. As such, this isn't a cheap storage bag by any means. Its durability is built to withstand a good amount of force and weight, although it can't support a person, so it won't double as a seat.
By design, snowmobiles are limited in storage space. But thanks to this OEM seat bag, you can expand your storage needs at a reasonable price. Yes, you'll pay more for this accessory than you would on a traditional cloth bag, but the quality alone makes it worthy of your consideration.
Unlike fabric snowmobile bags, you don't have to worry about rips or tears while you travel, giving you lasting performance that you can count on.
As an added bonus, this bag secures to your snowmobile using Ski-Doo's LinQ system, so it is guaranteed to fit right.
Ski-Doo LinQ Fuel Caddy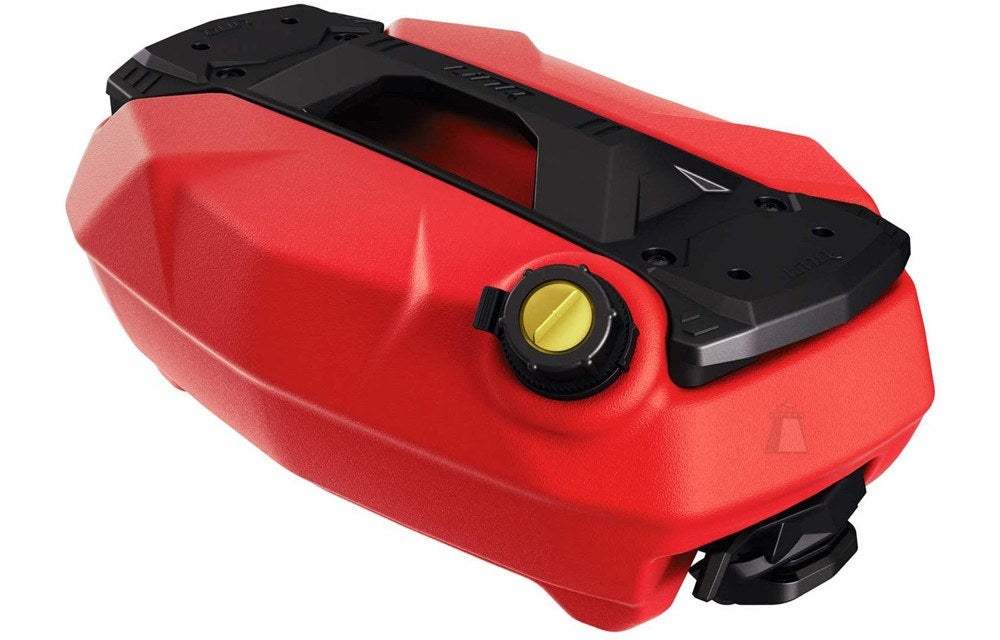 For those of you who like to go on extended snowmobile rides, carrying some extra fuel with you is a smart idea. The good news is there are quite a few options when it comes to fuel cans for Ski-Doo snowmobiles.
This 15-liter/4-gallon LinQ Fuel Caddy lets you take plenty of extra fuel along for the ride and secures to your sled using Ski-Doo's LinQ system. As an added bonus, this caddy lets you stack a LinQ tunnel bag on top to provide some extra storage space for clothes and food.
Designed specifically for REV G4 models (or REV-XU with an adaptor plate), it's one of the smartest Ski-Doo accessories you can have so you can extend your ride all day long.
Ski-Doo Universal Racing Cover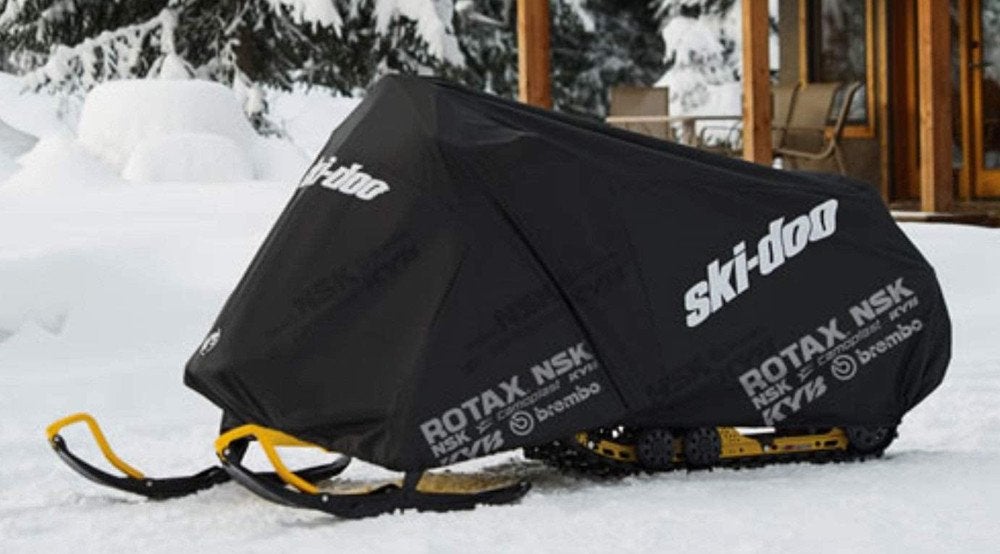 Finding a quality cover for your snowmobile can sometimes be a challenging job. You want to make sure that you invest in gear that is built to last, but you also need the peace of mind that the cover will provide the protection you need.
Thanks to Ski-Doo's Universal Racing Cover, you can rest easy. This cover ticks all the boxes for what you would expect from a high-quality snowmobile cover.
Lightweight nylon makes up the material used here, and it goes a long way in providing lasting protection. Perhaps best of all, though, is that the Universal Cover really does fit any snowmobile without issue.
Its versatile design and strap system are easy to use, too, so you can quickly and efficiently put off and take off the cover as needed.
A handy storage bag is included that houses the racing cover when it's not in use. You can toss the cover – bag and all – into your rear storage compartment for easy transportation.
The only real downside here is that you shouldn't use this cover for trailering. It's best served as a protective shell when your snowmobile is parked.
Sixty61 LED Headlight Bulbs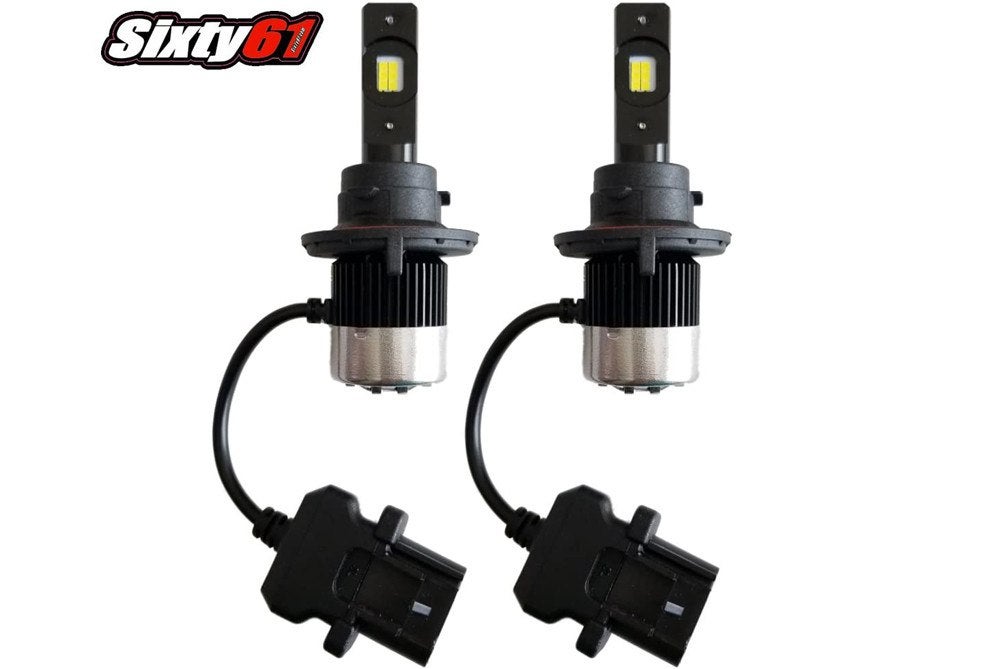 Are you looking to brighten your path while you're in the snow? As Ski-Doo accessories go, these will surely improve your performance and safety at night. If you often ride in the evening, you'll definitely want to take a look at Sixty61's powerful LED headlight bulbs.
The compact construction makes these bulbs fit easily into tight fairings. What's more, they are completely plug-and-play, so you needn't worry about compatibility issues.
Built-in safety features are on deck, too. When the headlights reach 185 degrees Fahrenheit, they cool down automatically, so you never have to worry about overheating or damage while you're riding.
Rated as the brightest snowmobile bulb available, you can rest assured that you will have optimal visibility at night. If you're concerned about safety when you ride, these headlight bulbs will help make a difference for the better.
What's more, each bulb comes with an average lifespan of 50,000 hours.
Sixty61 makes LED bulbs for a variety of Ski-Doo models, so make sure you get a pair that is designed to fit your sled for this simple but useful upgrade.
Ski-Doo Team 3DX Graphic Decal Sticker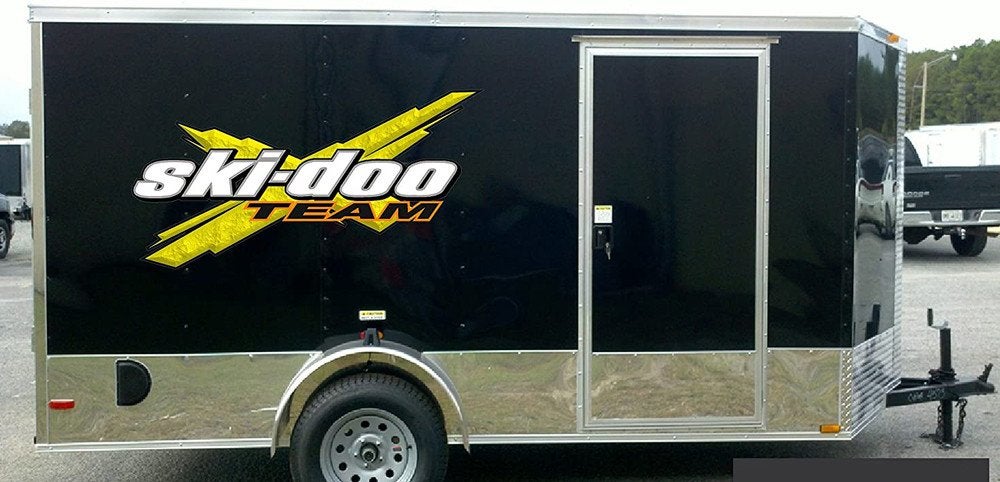 Ready to share your fandom with the rest of the world? This premium vinyl decal boasts the Ski-Doo Team logo in bright, vivid fashion.
Various sizes are available, so you can pick the one that best complements your snowmobile. The smallest decal starts at 6×12 inches and goes all the way up to 24×47 inches, so you can get one for your sled, one for your truck, and one for your trailer.
This US-made graphic decal is designed for straightforward application and removal, so adding some character to your snowmobile has never been easier – or faster.
Another nice bonus is that you don't necessarily have to limit yourself to the order sizes offered. If you need a custom size printed up, you can get just the right dimensions.
Whether glass, fiberglass, plastic, metal – you name it – this decal will safely apply to virtually any vehicle surface.
Ski-Doo New OEM 2-up Passenger Seat Hand Warmer Muff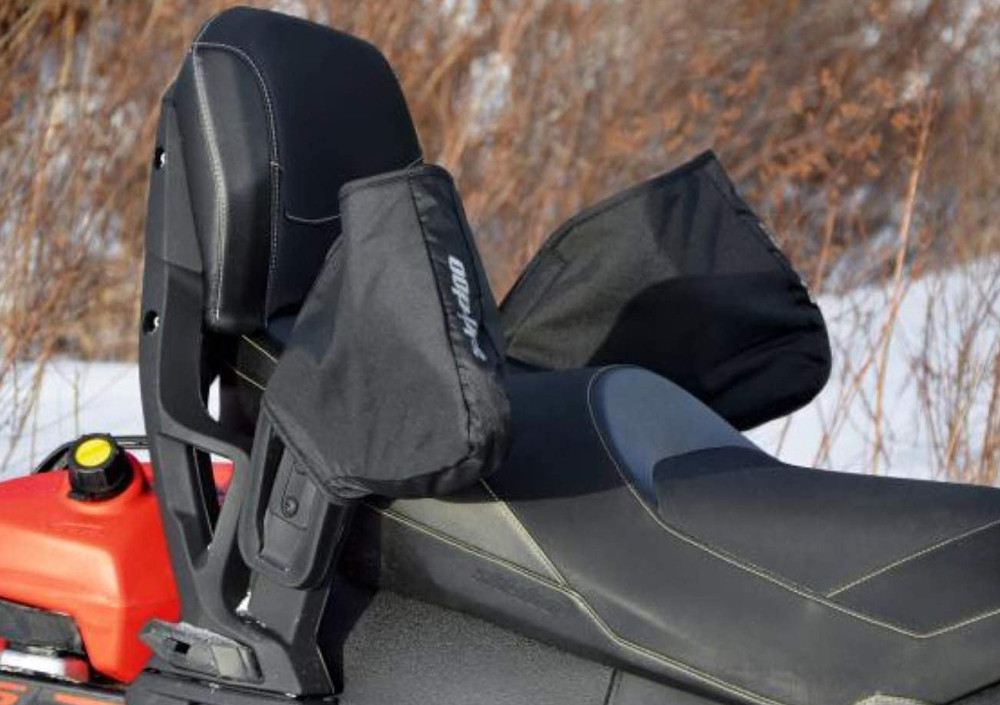 For the ultimate in passenger comfort, this Hand Warmer Muff does exactly what it says and keeps your guest's hands warm while you ride.
Designed to fit the passenger seat with seat handles and air deflectors, the Hand Warmer Muff fits comfortably around the passenger handles to provide continuous warmth, even on coldest, most frigid days.
Even better, you can nab one of these "handy" Ski-Doo accessories for a great price. Installation and mounting are quite straightforward, but there are some limitations.
These hand warmer muffs will not fit every model, so be sure to check if it is compatible with your Ski-Doo before you finalize your purchase.
But if you have a Ski-Doo snowmobile that can accommodate these hand warmer muffs, your friends and family will certainly appreciate the extra warmth that these Hand Warmer Muffs provide.
Northbound Aluminum Ski Bar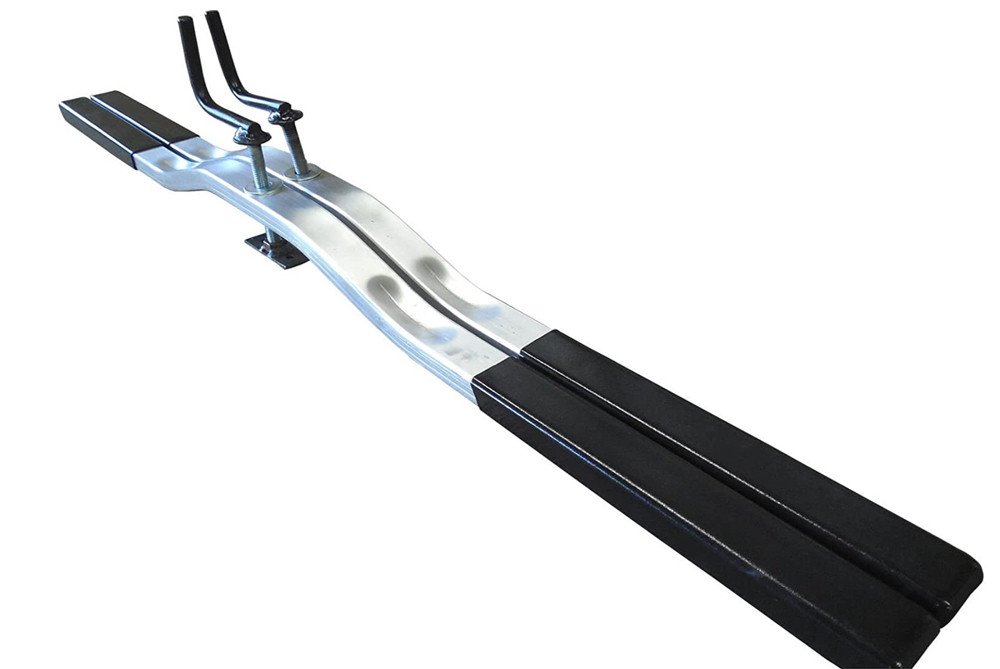 While it's far from a sexy choice, if you do any trailering of your snowmobile you will appreciate the Northbound Aluminum Ski Bar.
Each kit includes a pair of snowmobile trailer aluminum ski tie-down bars that are manufactured by Northbound Trailers in Michigan. Built tough and designed to last for many years, these bars feature all radius edges, a set of black boots to protect your skis, and a stainless steel painted nut and ski bar screw.
A good ski bar makes securing your snowmobile to your trailer a fast and simple job. A pair of these is a wise purchase for every snowmobiler.
We are committed to finding, researching, and recommending the best products. We earn commissions from purchases you make using the retail links in our product reviews. Learn more about how this works.