Customize Your Ski-Doo Snowmobile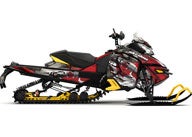 Ski-Doo offers customization options that rival aftermarket choices
As the pioneer in recreational snowmobiling, Ski-Doo brings more than a half century of expertise to the trails. Even in the earliest days of the sport, Ski-Doo offered specialty storage bags in "Ski-Doo" yellow and many uniquely styled two-piece snowmobile suits. Indeed, the French-Canadian sled maker understood the snowmobiler's desire for individuality.
Carrying forward into 2013, Ski-Doo offers an online catalog that, when downloaded, will eat up nearly 16MB of space on your computer. It's an impressive catalog sectioned off into segments for Riding Gear; Technical Gear to match various riding styles; Parts & Accessories; a section on Customized Sleds that includes specialty graphic wrap options; Accessories that include products expressly designed for the LinQ system; and, of course, a section for Parts, which gives you options for traction, drive belts and maintenance items.
The online Ski-Doo store presents so many custom options that you really don't need to shop anywhere else. But, then, that's the idea. Like all modern snowmobile companies, Ski-Doo realizes that there are healthy profits to be made in Parts, Garments and Accessories (PGA) and, since most items are custom-fitted to Ski-Doo brand sleds, there is little dickering on price, which means PGA profit margins are quite healthy for both the company and its dealer network.
Still, though, many Ski-Doo owners do venture to the aftermarket for specific alternatives to customizing their rides. Aftermarket ski companies can offer excellent choices for the adventurous boondocking or off-trail riders. To protect your sled when trailering or when stored, you'll find the aftermarket gives you nifty quality and pricing options. But, Ski-Doo remains the most aggressive of the four snowmobile manufacturers when it comes to trying to retain your loyalty dollars. This pioneering sled maker partnered early on with a graphics wrap vendor so it could offer its Ski-Doo riders a very expansive and daring series of graphic treatments designed expressly to fit and make Ski-Doo sleds uniquely yours. Ski-Doo PGA experts "get it" when it comes to your desire to make your Ski-Doo a personal statement.
Wrap It Up
While you have a number of alternative sources within the aftermarket for personalized "wrap" choices, Ski-Doo's partnership with SCS Unlimited out of Bozeman, Mont. gives you an experienced company that can supply you with the latest wild and crazy (or mild and entertaining) graphic wrap designs. Established last century in 1998, SCS Unlimited specializes in the design and manufacturing of custom wraps for today's Ski-Doo models.
SCS Unlimited is the "officially" licensed sled wrap online store for Ski-Doo and is the official worldwide supplier for all Ski-Doo wraps. While there are many sanctioned designs, you can create a totally custom style if you want. The sled wraps are made of a 12mm vinyl and only SCS Unlimited can offer approved Ski-Doo manufacturer logos in its designs. When you visit the online wrap store, you'll find a vast array of options for powder models, crossovers and MXZ trail models.
For more information, you can check out SCS Unlimited via the Ski-Doo store or directly at http://scsunlimited.com/.
Missing LinQ
Not about to miss a sale to any aftermarket suppliers, Ski-Doo created a proprietary LinQ "clip on" storage system and designed a number of fitted storage items that utilize it. We find that Ski-Doo comes up with a couple of very good items to incorporate into the LinQ storage system. Boondockers and mountain riders should seriously consider the advantages of a LinQ secured "jerry can" that allows you a few extra splashes of fuel to extend your ride.
There is also a semi-rigid expandable tunnel bag expressly designed for Ski-Doo's sturdy full-lock mounting system. The bag can be fitted or removed quickly without need for tools if you want to carry it to a motel room after a day of touring. There are two sizes of bags available.
Both the LinQ jerry can and premium medium-sized tunnel bag retail for about US$125 and can be ordered online at the Ski-Doo store.
Got It Covered
If you go to the trouble of adding a sled wrap you most assuredly will want to protect that investment. If you don't have a covered trailer to store your sled when traveling, you can purchase a quality cover such as the Skinz Protective Gear Pro Series stretch fit waterproof snowmobile cover. Designed to protect sleds when trailering, the Skinz cover is waterproof and protects your ride from both salt and road grime. The cover can be washed on the gentle cycle and air-dried to get it ready for future trips.
The cover's Lycra material will not tear or rip and its sizing accommodates various handlebar and windshield styles. The front and rear panels are made of nylon.
The Skinz cover's stretch-to-fit design should fit your snowmobile regardless of what you add to or remove from it. There are only two sizes available, which should cover most standard and long track sleds. The covers come in a variety of color options, including black and yellow, and retail for about US$400 at many snowmobile dealerships throughout the Snowbelt.
For more information about the Minnesota-based company, visit Skinz Protective Gear's website: http://www.skinzprotectivegear.com/.
If that's too pricey, you can order a more conservative trailering cover that retails for less than US$100. Pennsylvania-based Empire Covers offers protection options for a variety of vehicles, including snowmobiles, motorcycles and ATVs. The company's tough, trailerable snowmobile covers are claimed to provide superior sun, rain, snow and dust protection. Each snowmobile cover comes with a two-year warranty that covers the full elastic hem, grommets, stitching, and cover fabric.
Empire's snowmobile covers are made from a polyester material that will keep your snowmobile protected from the elements and will not harm your vehicle's exterior. The seams are double-stitched with top quality thread that holds tight for highway trailering. In addition, each basic black cover has eight straps to secure it to your sled. A storage bag is also included. For more information, check out http://www.empirecovers.com/.
Ski Options
With the advent of highly durable plastics to replace the heavier metal once used in the manufacture of snowmobile skis, your choices for styles, colors and technologies have never been greater. Mountain snowmobilers know the importance of the "right" ski for their riding and boondocking. With the growing popularity of longer tracked "crossover" sleds like the Ski-Doo Renegade, ski choice will become of greater importance.
C&A Pro Skis provides one option with a highly flexible and nearly indestructible design. Made of extremely durable UHMW poly that is combined with compression molded technology, the company claims that it has a ski solution specific to your riding style whether you prefer boondocking, hill climbing, powder blasting or trail riding.
Crossover riders will want to check out the C&A Pro XTX series, which is available in eight colors. The Xtreme Terrain X-over (XTX) features an outboard keel design for good handling but with the strength and flexibility necessary to carry you through and over off-trail and ungroomed snows.
The XTX measures 45 inches in length with a 7.25-in width. The outside keels are squared with a 1-inch center keel height and flexible ski tip.
A pair of XTX skis will retail for US$459.95 and can be ordered online at http://www.caproskis.net/.