Klim Snowmobile Gloves Buyer's Guide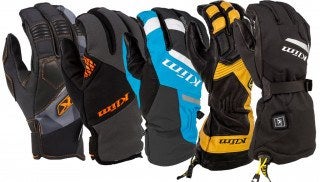 Klim offers a huge array of snowmobile gloves to keep your fingers warm
Klim knows snowmobile gear as well as anybody and that includes protection for your hands. Our Klim snowmobile gloves buyer's guide looks at the entire Klim lineup.
Klim understands the importance of keeping your hands warm while you are on and off your sled, so it's no surprise that Klim snowmobile gloves are some of the best available.
Of course, no one pair of gloves will work for every rider, so Klim has put together a deep lineup of snowmobile gloves to choose from. In this buyer's guide we look at every pair of Klim snowmobile gloves currently available and and highlight their features so you can find the right pair of gloves for your needs.
KLIM Inversion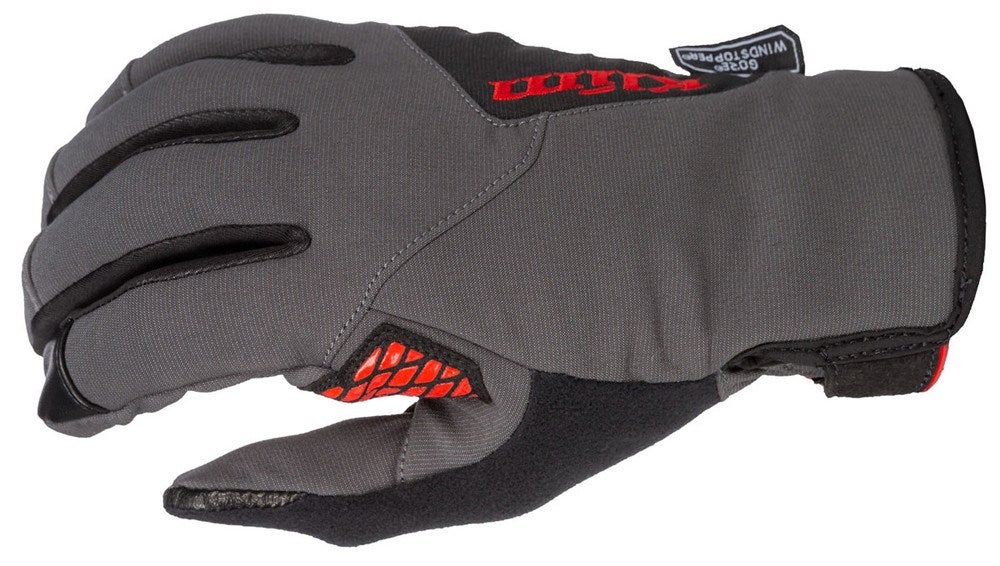 Lightweight, windproof, and highly durable, the Inversion is one of Klim's most trusted snowmobile gloves. Over the years, the Inversion gloves have been revamped to deliver even better construction.
As such, you're getting an improved palm that features exceptional grip. What's more, you can even operate a touchscreen smartphone thanks to the Mult-e Touch fabrication.
These lightweight gloves are made with Gore-Tex Infinium with Windstopper to keep the cold outside. Other featuers include fabric palms and fingers with water resistant suede palm overlays, hourglass fitted fingers for improved fit and dexterity, silicone palm grips, and nose wipe on the thumb.
Designed with all-weather construction, you're getting a tried-and-true snowmobile glove that has been a fan favorite for over a decade.
KLIM Inversion GTX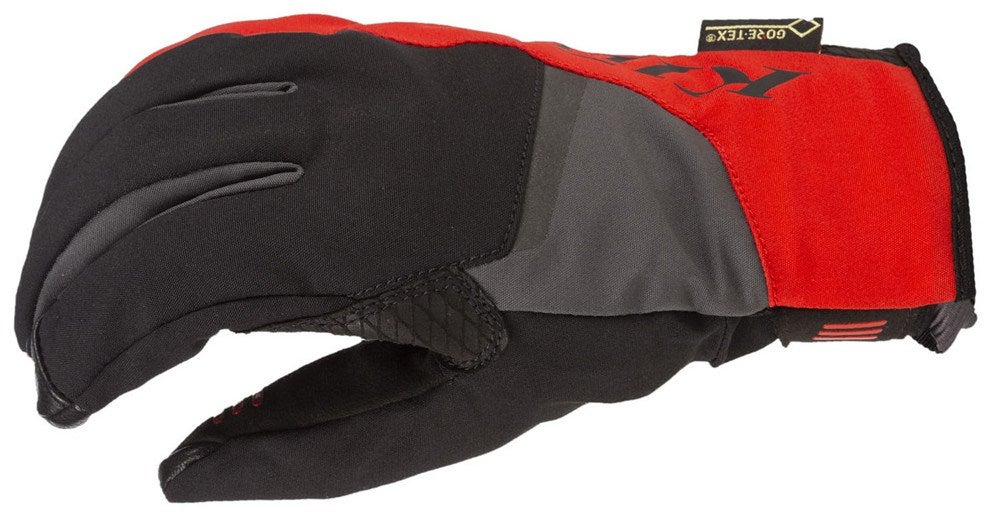 We start out our guide to Klim snowmobile gloves with the Inversion GTX. Thanks to being completely waterproof, you'll never have to worry about melting snow cramping your style.
You will also appreciate the unique GORE GRIP technology. This feature provides exceptional tactile control, ensuring that your grip stays strong, even when things get slippery. Other features include 3M Scotchlite reflective material, goggle squeegee, Mult-e Touch screen functionality, and moisture-wicking liner.
KLIM Inversion Pro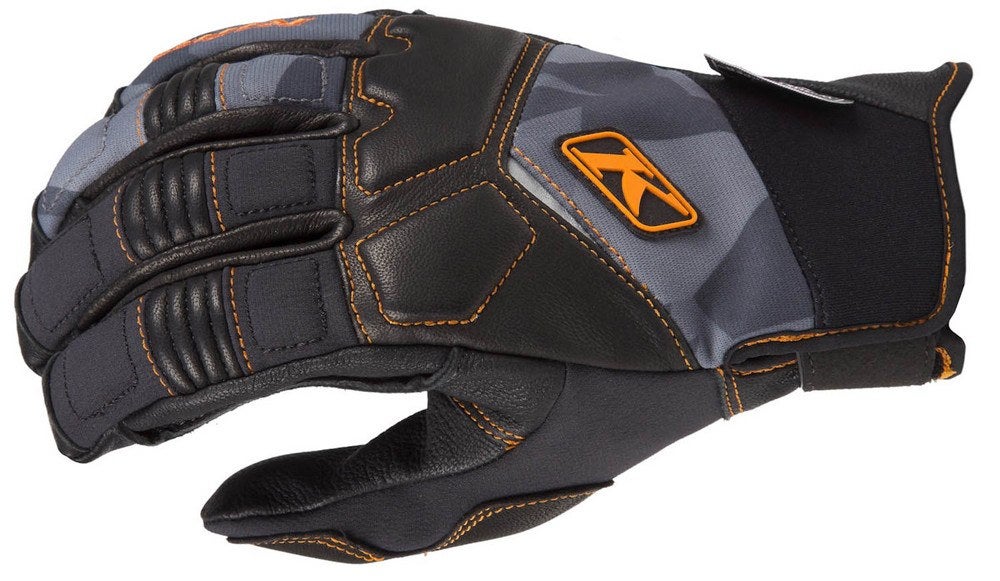 If you want snowmobile gloves built for longevity, the Inversion Pros will serve you well. Tailored using leather and impact foam, you're investing in some of the best protection you can get in a snowmobile glove.
PORON SR impact foam lines the knuckles and fingers to ensure maximum safety as you ride. If you accidentally scuff your hand on a tree, for example, the Inversion Pros are designed to protect your delicate digits.
What's more, you can look forward to Windstopper construction. The technology works to deflect freezing wind from scorching your hands. And for further abrasion protection, Klim added overlays made of goat leather.
KLIM Inversion Insulated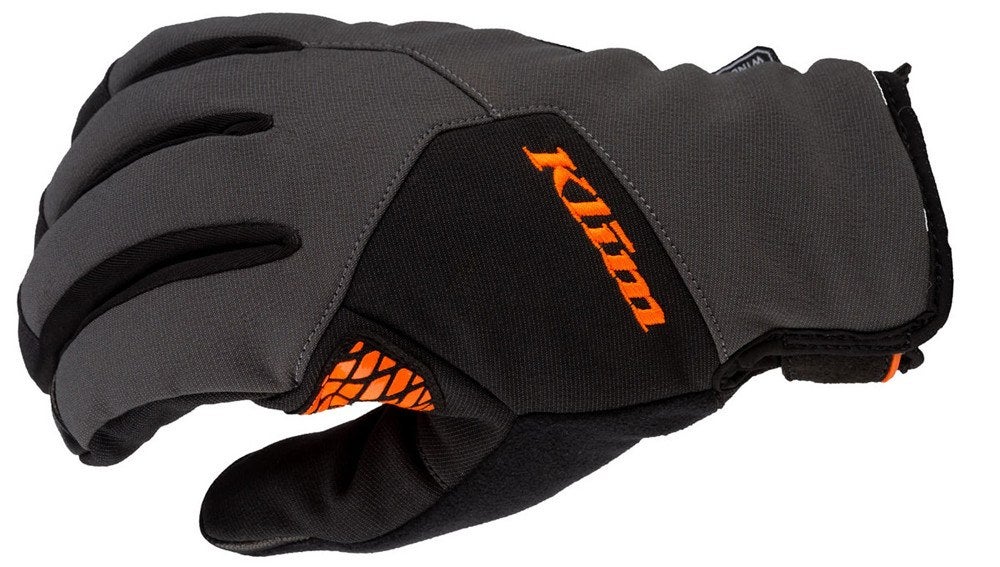 Thanks to 60 grams of Thinsulate from 3M, the Inversion Insulated Klim snowmobile gloves are some of the most protective that you'll find.
You can trust that your hands will feel comfortable and warm while you shred on your sled. In addition to the Thinsulate insulation, these Klim snowmobile gloves are also built with Gore-Tex Infinium with Windstopper to keep cold wind outside.
Klim made sure to deliver a flexible snowmobile glove here, and that's precisely what you're getting. You will find gripping your snowmobile handlebars is a breeze thanks to the superior textures that line this glove.
Klim Spool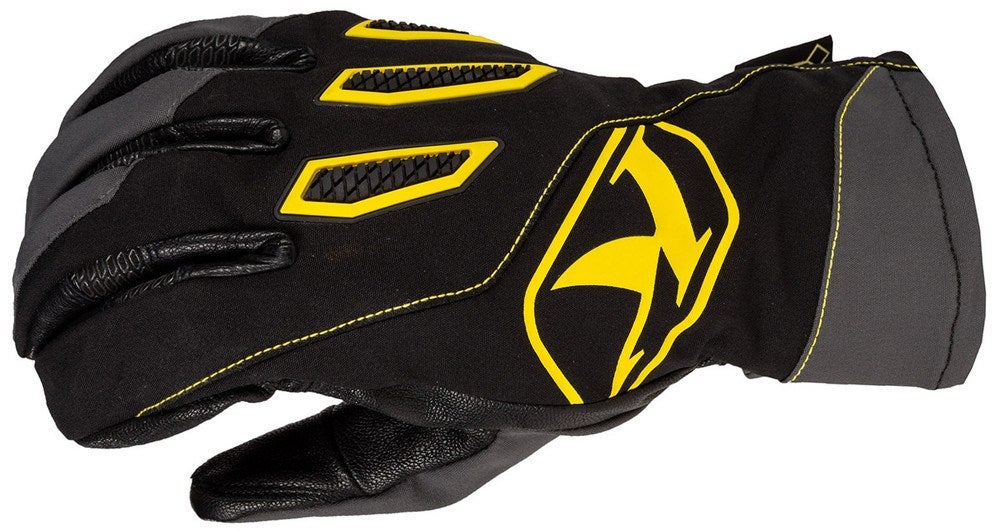 Klim Spool gloves are built for precision control while you ride. The snug-fitting design means that your hands will feel the difference that these gloves provide. According to Klim, the Spool gloves are designed specifically for backcountry riders who demand the utmost control while they ride.
The Gore-Tex + fully bonded Gore-Grip technology helps with grip and further adds to the appeal of the Spool gloves. These Klim snowmobile gloves are guaranteed to keep you dry and feature a leather palm, silicone finger tips, knuckle protection, moisture-wicking liner, and much more.
KLIM PowerXross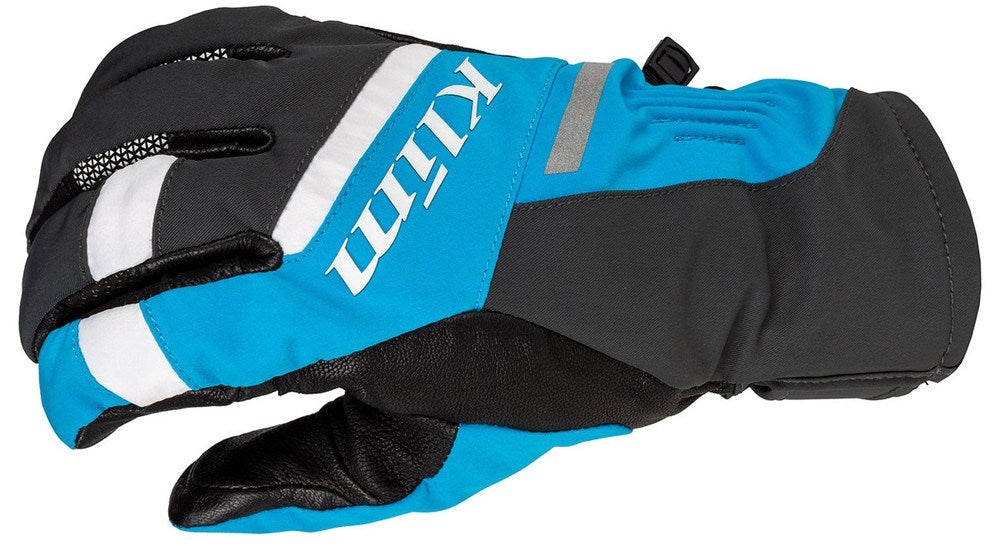 The Klim PowerXross are mountain tested to ensure maximum performance and reliability for those of you that like to ride in the steep and deep.
These gloves are guaranteed to keep you dry and boast excellent ergonomics, protection, and durability. They also offer all the warmth you need for backcountry exploring. The backhand is lined with warming insulation to ensure that your hands stay toasty, even in frigid temperatures.
Other features include Gore-Tex + Gore Grip technology, 3M Insulate insulation, 3M Scotchlite reflective material, leather palm and fingers, silicone finger tips, goggle squeegee, and moisture-wicking liner.
KLIM PowerXross Gauntlet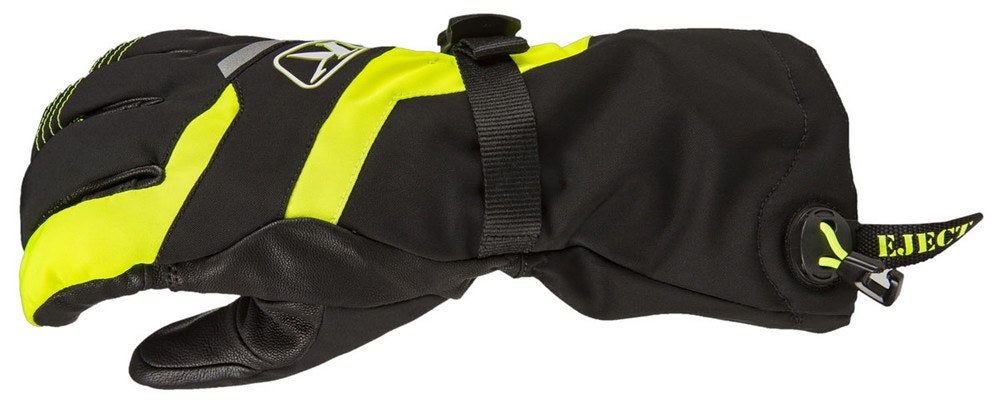 Using the tested and approved Sawtelle chassis, Klim's PowerXross Gauntlet is designed for riders who need tactile functionality.
Usually found only in non-insulated gloves, the PowerXross Gauntlet delivers both warmth and protection thanks to premium 3M Thinsulate insulation.
The backhand is equipped with insulation to ensure comforting warmth, while the gauntlet design helps to maintain your comfort at all times. This is a versatile glove that delivers stellar performance.
Klim Elite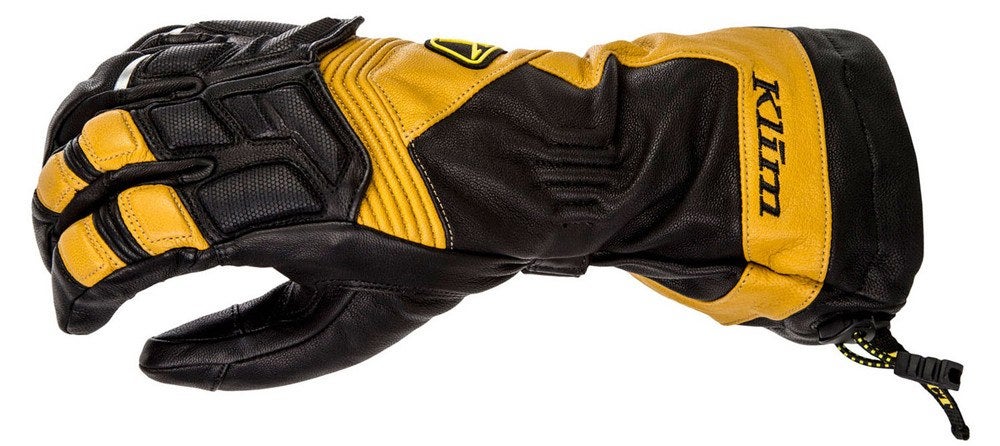 As Klim's most durable snowmobile glove, the Elite features Gore-Tex + Gore Grip technology. Combined with 3M Thinsulate Platinum insulation and Scotchgard DWR insulation, you're getting some of the warmest snowmobile gloves that don't sacrifice grip.
The flexibility of these gloves is what appeals to most riders, as the Elites come new feeling like they are already broken in. Right out of the package, you can slip these gloves on and feel like you've been wearing them for years.
Other features include Poron Performance cushioning on the back of the fingers, accordion stretch knuckle protection, and one-hand "Pull to Eject" gauntlet shock cord cinch.
Klim Togwotee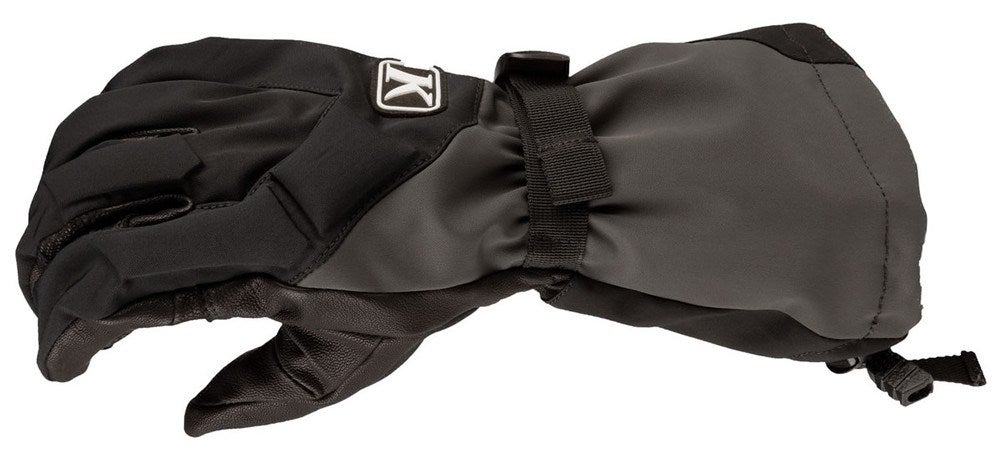 The Togwotee Glove is another one of the Klim snowmobile gloves that come equipped with premium GORE-TEX.
This waterproof material serves to deliver superior performance and stellar grip thanks to the leather-palm fabrication.
There is also a handy removable fleece liner that helps add even more warmth but without the added bulk. This makes it easy to operate your snowmobile without having to worry about interference while you ride.
Klim Klimate Gauntlet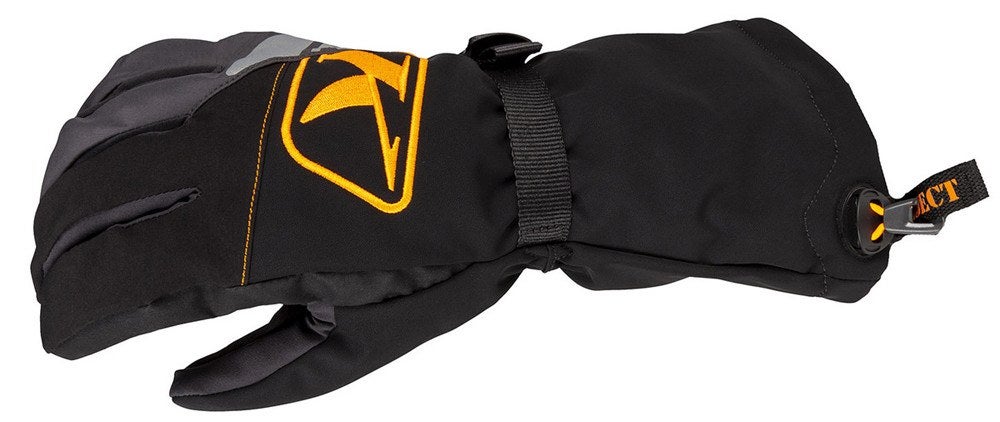 The Klim Klimate Gauntlet is designed to provide exceptional control while you ride the trails. What's more, these snowmobile gloves offer incredible protection from freezing temperatures thanks to mapped 3M Thinsulate water resistant insulation.
The Klim Klimate Gauntlet gloves also feature a rubber palm for grip, goggle squeegee, moisture-wicking liner, and available youth and adult sizes.
Klim Klimate Short Glove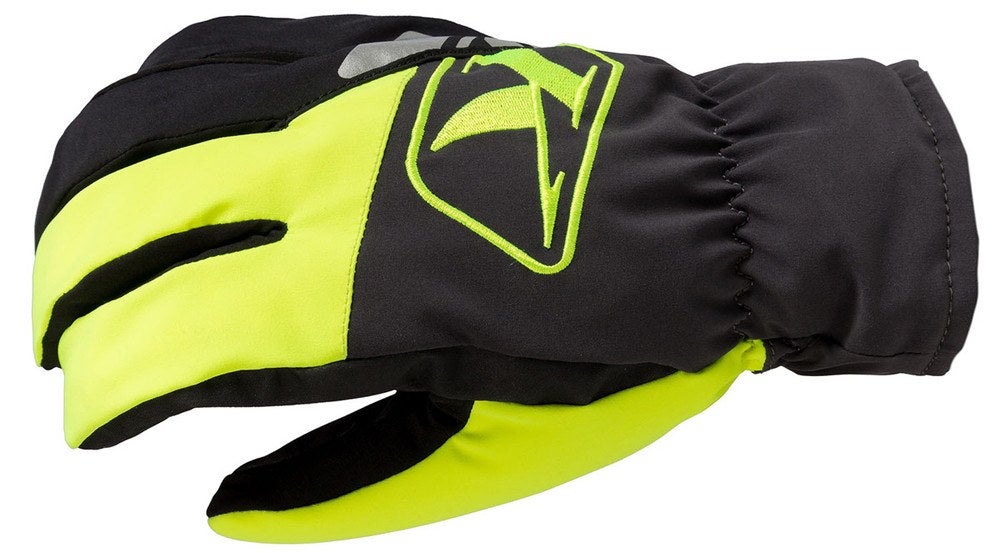 Thanks to 3M's Thinsulate making an appearance once again, you can look forward to a snowmobile glove that excels in combating the cold. You'll find 200 grams of insulation on the back of the hand and fingers and 100 grams on the palm.
Armed with GORE-TEX, the Klimate Short Glove is a marvel in snowmobile wear. You will never have to worry about low temperatures interfering with your fun, as these gloves are designed to keep you feeling toasty, even during extended periods in the powder. Add in an ultra-tacky palm for enhanced grip, and this might be the best snowmobile glove in Klim's lineup.
Klim Resistor HTD Gauntlet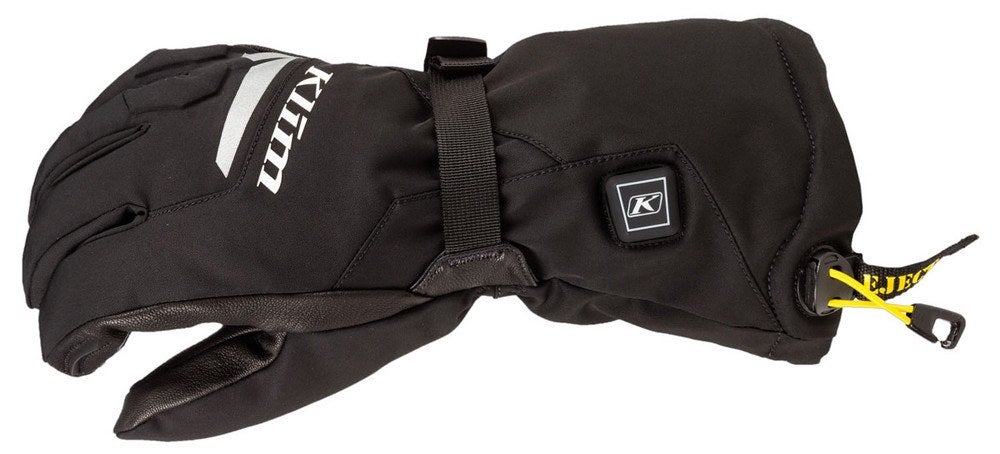 Built with three heating levels, you control how warm your hands stay while you ride with the Klim Resistor HTD Gauntlet glove. The Resistor HTD comes armed with safety features that automatically switch off the heat after 10 minutes.
This ensures that your hands don't get too hot. It's an ingenious system that works wonders in keeping you comfortable. All told, the heating system offers up to eight hours of heat on low setting, three hours on medium, and 1.5 hours on high.
Beyond the heating technology, the Resistor HTD also boasts 3M Thinsulate insulation, 3M Scotchlite reflective material, leather palm and fingers, knuckle protection, comfort fleece backhand, moisture-wicking liner, and a whole lot more.
We are committed to finding, researching, and recommending the best products. We earn commissions from purchases you make using the retail links in our product reviews. Learn more about how this works.