Tested: Motorfist Argo Avalanche Airbag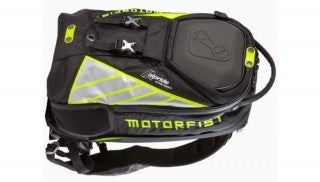 The Motorfist Argo Avalanche Airbag Backpack is a dual cartridge system where one cartridge – a CO2 cartridge – functions as the volume cartridge, and another cartridge – an Argon-filled cartridge – is the quick launch-to-inflate cartridge. Both are cartridges are replaceable. Like a C02 inflator for a road bicycle or mountain bike, these cartridges, once used, are throw away cartridges. With the second set on hand, owners have the comfort to know their bags are ready to protect.
The best avy bag is one that is ready to serve as a minuteman, but is one (hopefully) not used. (Read: Be backcountry avalanche smart and educated.) The Argo airbag is one such bag. It is light at 6.50-pounds and has just enough room to hold some survival equipment such as fire starting tools and rescue equipment like a combo shovel/saw and search probe. If you're wanting to carry camera equipment or an abundance of shop tools, then that must be thought through as the Argo bag, like other similar-sized bags, are limited in volume due to the airbag, cartridges, and inflator; it is a 22-liter bag. Point is, invest in a good tunnel bag for camera equipment or a plethora of tools, and keep the heavy loads off your back.
The Argo bag has a well-thought-out cinch and latch system that keeps it snug, in place and not too tight. When properly secured, it does not move around, nor does it cut into the shoulders or waist. Its T-handle is large and can be easily pulled by a gloved hand, and can be secured out-of-the-way when in transport or in storage.
We take avalanche preparation with great seriousness, and the Motorfist Argo quick-deployment airbag system is one we recommend.
For more information, click here:  Motorfist Argo Airbag System