10 New Products Seen at Haydays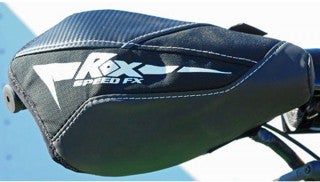 New products and ideas from the "unofficial" first day of winter
There are a lot of good reasons to go to Minnesota's tradition-rich Haydays, but maybe one of the best ones is to see what's new for the coming season. And, not only can you see and touch the new stuff you can usually meet the guy who built it. It's a unique chance for snowmobilers to learn firsthand about the product and buy direct. Here are 10 new product ideas viewed at Haydays this past September 11-12, 2010, that stood out from the rest.
Yamaha Turbo and Supercharger
So your FX Nytro MTX doesn't have enough power? Make that line on the dyno climb a little higher with a Yamaha supercharger or turbo. The supercharger is a Mountain Performance product and the turbo is from PUSH Turbo – both are now available through Yamaha dealers. Both are intended for use at elevations above 6,000 feet and both come with a one-year warranty from the manufacturer.
The supercharger is a bolt-on that requires virtually no modifications and uses stock ignition and fuel curves and stock exhaust. Quick-spooling and lightweight, the PUSH turbo requires no electrical splicing and works with the stock fuel curve but does require premium fuel and exhaust modification. Both are priced the same at US$3,995.95. See a Yamaha dealer.
Ski-Doo Advanced Tec Jacket
Sympatex is the first manufacturer in Europe to develop environmentally-friendly 100-percent windproof and waterproof breathable membranes and laminates. The Ski-Doo Advanced Tec Jacket uses a Sympatex membrane in a 3-ply laminated polyester shell. It was even tested in a rain chamber to insure maximum water resistance and breathability.
Intended for the backcountry rider, the jacket features magnetic main zipper closure, stretch fabric in the shoulder blades, water resistant zippers and a Recco avalanche rescue system. Available in sizes S-3XL in red or black colors. Suggested retail: US$369.99. Get it: http://www.ski-doo.com/.
Arctic Cat Team Arctic Sponsor Jersey
The new Sponsor Jersey from Arctic Cat is exactly what the Pro riders on Team Arctic will be wearing at the races every weekend. It's made from polyester for moisture-wicking performance and long-wearing durability and it has all Team Arctic's sponsors printed on the arms.
Polyester jerseys make a good base layer and if you're a Cat rider this one will look good at the trail stop too. Available in S-3XL. Suggested retail: US$49.95. Get it at an Arctic Cat dealer.
509 Aviator Goggle
With a design inspired by the face shields found on jet fighter pilot helmets, the Aviator goggle features a revolutionary rimless frame design. By reducing the size of the frame 509 was able to use a larger lens thus increasing peripheral vision.
The standard bronze mirror finish lens blocks 100 percent of UV rays and the goggle has triple layer face foam to keep out the cold. The strap is extra wide and features a metal 509 logo attached to a leather base. There's also a snow mask available to protect your nose. Comes in black, white and pink with a large selection of lens options. Suggested retail: US$124.95. Get it: http://www.ride509.com/.
HMK Women's Hustler Jacket
HMK has a line of women's gear that includes more features that matter to female riders looking for more feminine style. It even includes a separate logo specific to the line.
The Hustler Jacket is the same one HMK snowmobile athletes Nadia Samer and Emilie Moreshead wear when they ride. It has a soft shell that allows for ease of movement and has an overall softer look to go along with the feel. It has all the technical features HMK gear has become known for so it gives up nothing to the gear made for men. Available in black, plaid and olive. Suggested retail: US$249.95. Get it: http://www.hmkusa.com/.
Split Rail Skis
Maybe the funkiest-looking new product we've seen in a few years, the Split Rail ski is essentially one ski with two narrow ski bottoms. The Dual Axis Rails are meant to flex independently and conform to terrain and twin carbides combined with the hollow ski center all but eliminate darting. The two narrow ski bottoms combine to form as much surface area as a "normal" ski so you don't lose any flotation. To install on your sled you have to use Split Rail's Arch spindle to mount the skis. Get it: http://www.splitrailski.com/.
Rox Flex-Tec Handguards
It seems like everyone is making handguards these days, but leave it to Rox SpeedFX to re-think the concept and make it better. Rox Flex-Tec handguards have a flexible inner backbone that can be twisted and contorted so if you crash or bump them they won't break. That backbone is covered with a tough fabric shell that is actually slightly larger than most handguards so it provides effective wind protection to keep your hands warm. Get it: http://www.roxspeedfx.com/.
SLP Polaris 600 RUSH Lightweight Silencer
This silencer for the Polaris 600 RUSH is 12 pounds lighter than the stock can and requires no fuel system mods. It's quiet too and with SLP's Sonic Tube Technology it passes the SAE J-2567 stationary sound test below 88 decibels. SLP fired up a RUSH equipped with this silencer and it sounded stock with no raspy bark aftermarket silencers are generally known for. Comes ceramic coated. Suggested retail: US$269.95. Get it: http://www.startinglineproducts.com/.
Motorfist 2011 Rekon Jacket and Bibs
New to the 2011 line of Motorfist gear is an eVent fabric membrane. The eVent membrane is 100 percent waterproof and breathable. The 2011 Rekon jacket features an eVent membrane, Pro Sled Fit non-bulk engineering, fully-taped, waterproof seams, heavy duty construction and a "chin saver" zipper that curves over to the side so it doesn't poke your chin while you ride. The Rekon bibs feature the eVent membrane along with a pre-bent knee design and both come with the Motorfist Bluebird Warranty where Motorfist sets you up with loaner gear if yours needs to be fixed or replaced for any reason. Comes in black with red, blue or yellow zippers. Suggested retail: US$379.99 (jacket); US$359.99 (bibs). Get it: http://www.motorfist.com/.
Blown Concepts Castle Graphics
New from graphics guys Blown Concepts is their Castle Clothing graphics package for snowmobiles. A graphics package is the best way to update the look of an older sled or set your new sled apart from everyone else's. The Castle Clothing graphics represent the 2011 line of Castle clothing and eight fresh new print patterns. Blown Concepts prints on 6 mil vinyl and uses 12 mil clear laminate where most graphics places only use 2 mil. High-bond adhesive sticks to all plastic and powder coated surfaces in all temperatures. The vinyl used was tested for 10 years by top level Pro racers. Suggested retail: US$300.00. Get it: http://www.blownconcepts.com/.