Six Last Minute Santa Suggestions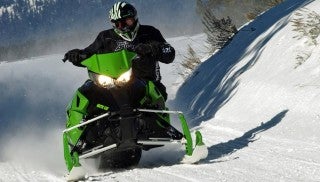 A few gift ideas for your favorite snowmobiler
We've been dropping a few hints to our significant others in hopes that they might pick up on some last minute holiday gift ideas for their favorite snowmobiler. With that in mind, we thought maybe we could help out the gift givers in snowmobile-dom with a few suggestions for their favorite sledder. You'd think this would be simple since Santa lives and commutes from a cold and snowy land and would have firsthand knowledge of what works for us power sled riders. Now if you got that list to Santa in late, we offer a few ideas to point his helper in the proper direction. Some of these are hints we've dropped around our icy domain. So, here's hoping that our gift-giving friends can de-code our hints, which are not subtle at all.
Ski-Doo Advanced TEC E-Chrome Goggles
Ski-Doo offers a unique goggle that changes from light to dark depending on light conditions. The US$249.99 patented "e-chrome" dual lens system is said to instantly tint dark when activated for optimum visibility in varied light conditions. We have yet to trail-test the new goggle, but we have a pair and will be using them as soon as we have ride-able snow.
While the key feature is the tint-ability of the lens, we like other features, like the nicely enlarged flexible urethane frame. You'll find this design incorporates integrated vents for strength and flex. This should encourage a nice ventilation flow, which we especially need as our chubby body heats up quickly when riding. That means body heat tends to exit though our headwear and can fog up full face helmet shields quickly. That's why we reverted to open face or motocross-style helmets with goggles.
The new Ski-Doo goggles also feature oversized, hypoallergenic triple density face foam for comfort. The idea is to effectively increase sweat absorption, which will help reduce any skin irritation.
The actual dual lens is constructed with anti-fog and scratch-resistant materials that should provide long lasting clear vision. Of course, simple but careful maintenance with a proper cleaning cloth will prolong the lens quality.
We find that the strap system comes with a premium silicone backing to keep the goggles in place on your helmet. We expect long lasting slip-free performance from this design. The goggle strap also is dual hinged to virtually guarantee optimum fit on any helmet you might use.
Another feature we find useful is the clip-on nose guard shield, which will provides a bit of added protection in very cold riding conditions.
While we have yet to use the goggles in actual riding, we expect this test set of goggles to serve us well. Although we have yet to try them on the trail, we have tried them with a number of our helmets to gauge initial comfort and have been impressed with both fit and overall quality.
If you'd like to check them out, visit a Ski-Doo dealership or go online to the Ski-Doo e-store.
World Snowmobile Headquarters Gift Shop
If you are interested in snowmobile history, you should check out the offerings from the World Snowmobile Headquarters Gift Shop based in Eagle River, Wis. You'll find what the shop suggests might be the largest snowmobile gift shop in existence. Gifts range from $1 novelty items to in-depth reference manuals with all sorts of gift items in between.
Possible gifts include books, magazines, toy snowmobiles, clothing items and scores of snowmobile-themed gifts. The store offers a variety of items, wall switch plates with a Ski-Doo, Mercury or Arctic Cat logo.
The World Snowmobile Headquarters store is located at 1521 North Railroad Street in Eagle River, Wis. 54521. Of course, not everyone lives in or near Eagle River, but you can inquire about gifts and shipping by calling (715) 479-2186. Better yet, check out the World Snowmobile Headquarters online e-bay store for other snowmobile-related gifts. You can also contact the WSHQ for more information at [email protected].
Battery Tender Plus
With more snowmobilers opting for four-stroke powered sleds, there is a growing need for maintaining the charge of your four-stroker's battery. We have found battery tender devices particularly worthwhile as we certainly fit the need profile for using battery support. Our motorcycle is connected with a battery tender while in winter storage. Since we use our ATV to plow out our driveway having a battery charger for maintenance is a must. That ol' single cylinder four-stroke slogs to life pretty slowly in minus 30-degree weather so a fresh charge is critical. And, we generally fit a battery charger to our four-stroke test sleds, especially if they are going to sit outside for a week or more.
You'll find that one of the most readily available battery maintenance tenders is the Deltran Battery Tender. These units come in a variety of configurations. The US$39.95 Battery Tender Junior 12V is a trickle charger with a brain that is compact, lightweight and fully automatic. If you charge your sled outdoors, you might consider the Waterproof 800 International that was first introduced in 2003. With the same charger characteristics of the Battery Tender Jr, the Waterproof version is about the size of a computer mouse, but completely encapsulated and protected from shock, vibration and moisture. It retails for about US$50.
Of course, should you want to go green, then go with the Battery Tender Solar. This is a multi-part device that starts with the Battery Tender Solar Controller, which connects to your choice of solar panel support ranging from a 5-Watt to 15-Watt capacity solar panel. These solar-powered chargers offer 100 percent portable battery charging in areas without electrical power access. Deltran claims that its Battery Tender Solar Panels are the only available panels with a built in controller to prevent overcharging.
For more information about the Deltran Battery Tender line and where to shop for them, visit http://batterytender.com/.
Cruz Tools EconoKit M1
Invariably we find ourselves needing a simple, yet effective tool kit for our power toys. We keep a select tool set onboard our V-twin bike. We add tools to the basic kit that came with our ATV. When it comes to our test sleds, we like to have a tool set that we can move from sled to sled. We are constantly amazed at just how simple — basic — the tool kits are that come with many sleds. Back in our German sports car days, we found the roadster came with a nifty and more complete tool set than our favorite sled. The chances of us needing to repair that car were substantially less than making repairs on the sled. Go figure.
So, it seems that a nice gift giver might consider getting their favorite snowmobiler a compact trail-able tool kit like the Cruz Tool Econokit M1. Cruz Tools used to offer a specific snowmobile kit, but has discontinued it. We like the Econokit M1 as a better than suitable replacement. This kit includes four combination wrenches, locking pliers, an 8-inch adjustable wrench and other basic pieces. This kit retails for about US$60.
Cruz Tools are available through a number of outlets so we suggest you visit the company's web site to find an retailer near you. When you visit the site note that Cruz Tools offers other kits that might serve you better. The company offers a variety of tool kit packages from fanny pack kits to specialty off-road or metric bike kits. Visit Cruz Tools at http://www.cruztools.com/ for more information.
Original Wool Stormy Kromer Cap
Well, maybe your favorite snowmobiler has all the baseball caps he needs, but does he have one of these Michigan classic caps, the Stormy Kromer Cap? Its enduring style and durability have kept this cap popular for more than a century. Available in different styles, the basic configuration can stow easily in a snowmobile tank bag and will keep your sledder warm and stylin' on the trail or at the pitstop.
The Stormy Kromer is constructed with six panels of an 80/20 wool/nylon blend stitched together with a lining of pure cotton.  The Stormy Kromer features a unique headband that you can simply grab behind each ear and pull down.
The cap was named for George "Stormy" Kromer , a semi-pro baseball player and railroad engineer, who created a cap that became known for long-comfort and the ability to stay snug, even in the fiercest winds. New colors, new fabrics and new styles have come along since those first few caps were made back in 1903, but we they are still hand-stitched in the USA and designed to be true to the original Stormy Kromer caps.
The caps retail from US$35 and up, depending on style and color. We will readily attest to their warmth and fit as we pack a Stormy whenever the winter weather becomes, well, stormy! You can visit the Stormy Kromer site to see what styles you can get.
Castle's Element Twist
If your favorite snowmobiler is of the feminine persuasion and likes to stand out on the trail in something other than basic black, check out what Castle Wear calls its Element Twist. This unique copyrighted pattern is a special design from the Castle X snowmobile collection. While the style sets your favored snowmobiler apart from the crowd, the high quality materials will keep her warm and dry.
The garment is constructed with a 400 denier poly shell with 660 denier Soft Touch taslan inserts and a waterproof, breathable coating. Warmth comes with Comfort Max insulation and a removable liner with waist shock cord to keep body heat in and trail winds out. Designed for style and comfort, this is just one of some quite unique styles from Castle X. This garment retails for about US$220 or CDN$275. For more information about where to buy Castle X garments, visit: http://www.castlesales.com/.
Related Reading Holiday Gift Guide 11 Last Minute Gift Ideas Safe and Warm Gift Ideas That Work Holiday Gift Ideas: For Her Holiday Gift Ideas: For Him