Five New Products to Consider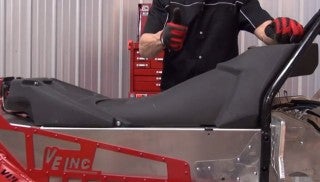 These products can make your life easier this season
With the advent of the unofficial beginning of the snowmobile season — or more officially known as the 43rd annual Hay Days — coming up the weekend of September 12-13 in Columbus Township, Minn., we figure it's never too early to look at some new interesting products. For starters we've rounded up five interesting and helpful items for you to consider. You might even see these items on the fast-approaching snowmobile show circuit later this autumn.
STA-BIL Fuel Stabilizer
With the uncertain composition of today's regular grade gasolines, we view STA-BIL as an absolute necessity. STA-BIL is a "must have" for powersport enthusiasts. This top selling fuel stabilizer works to keep fuel fresh during extended storage. It removes water and helps prevent corrosion. We've used it to reduce gum and varnish build up when laying up our power equipment. Using STA-BIL eliminates the need to drain before storing your power toys — whether they are 2-stroke or 4-stroke.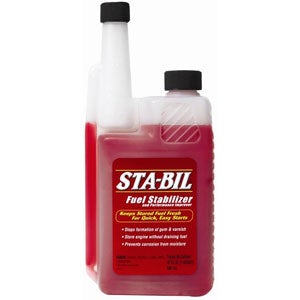 According to STA-BIL spokespeople, when mixed with fresh gasoline, the fuel-stabilizing product will keep it fresh up to 12 months. They add that STA-BIL has an expected shelf life of up to two years after the bottle has been opened — that's provided the product has been tightly capped and stored in a cool, dry place.
A versatile fuel additive, STA-BIL can be used at a ratio of one ounce to 2.5 US gallons of gas or gas/oil mixtures, even those fuels containing up to 10 percent ethanol. However, STA-BIL's versatility does not extend to restoring or improving old gas, although it will stop the fuel from degrading further.
We readily admit to being a fan of this product and always, always keep a bottle on hand in the garage and at the shop. We've learned the hard way that trying to sneak by without adding STA-BIL to the fuel of power toys that may not get used for two weeks or more can be a mistake. We've seen STA-BIL at many automotive supply outlets, including the automotive departments of places like Wal-Mart, and powersports dealers. STA-BIL is available in a variety of convenient sizes. Click here for more information.
Carlisle Ultimax 3
You may not recognize the Carlisle brand name, but we're certain you're familiar with Ultimax snowmobile drive belts. As the manufacturer of the Ultimax brand, Carlisle enjoys six decades of experience engineering and manufacturing belts for a variety of uses. The latest Ultimax 3 snowmobile drive belt features a double cog design to dissipate heat and add flexibility. The company states that its Ultimax 3 double cog belt runs more than 10 degrees cooler than "flat top" drive belts. According to Carlisle, better flexibility helps transfer more of the engine's horsepower from the primary to the secondary clutch in a snowmobile drive system.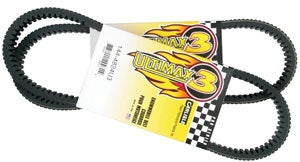 The Ultimax 3 uses a thicker cross section to put more belt surface in contact with the clutch sheaves. This reduces belt slippage and helps improve acceleration.
Because a snowmobile drive belt is such an integral part of the drive train, it is critically important to select the proper belt for your sled. Overall belt length can dramatically affect a sled's performance. If the belt is too short, it puts excess stress on the drive and will most likely result in a short-lived drive belt. Too long of a belt wont' let the clutches work properly.
Carlisle recommends that you "seat" a new belt to the clutch faces, which lets the belt conform to the angle of the sheaves so it can transfer the most horsepower at the highest efficiency. While it probably isn't something that most of do, Carlisle recommends breaking in a new belt by running your sled at half throttle or less for the first 30 miles.
To maximize belt wear, inspect your belt and drive system at regular intervals. Check where the belt rides on the sheaves and look for excessive ride-out in the primary. Your sled's belt should appear uniform and smooth with no broken cords or cracks nor overly worn in any particular area.
While acetone and brake cleaning fluids can be used to clean clutch faces, they will break down the construction of your belt and result in shortened belt life. You should also allow warm up your sled's engine to help warm the drive belt before riding off. Also, you should not use your sled's power to break a track free of ice. Pick up the back of the sled to free it of ice or warm up the sled on a stand.
For more information about Carlisle Ultimax belts, visit CarlisleSnowBelts.com.
Powder Jack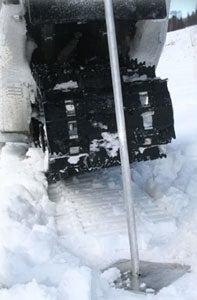 What took so long? The "Powder Jack" lightweight hand jack seems to be a no-brainer idea for a snowmobile-oriented product. Off-roading "jeep" enthusiasts frequently carry such elongated versions of a traditional automotive bumper jack in their kit. Now snowmobilers — especially deep powder riders — can have mechanical assistance to get themselves out of trouble in the boondocks. Powder-Jack is said to be affordable, simple to use, lightweight and easily mounted to your snowmobile.
The manufacturer claims that its Powder-Jack PJ-M3 weighs just 4.75-lbs and features a compact 4-3/4 inch jack mechanism. The jack's trip plates move on grooved insets for a smooth lifting motion said to effortlessly raise your sled.
Available with or without a powder coat finish, the PJ-M3 with red powder coat finish retails for $159.95. You can order a jack without the protective powder coat for $20 less.
To check out how the Powder Jack works and attaches to your sled, visit PowderJack.com.
Trail Tank
When we write up the specifications of the sleds that we test, we're often surprised by the size of the fuel tank. There was a period when sleds carried no more than six gallons of fuel on board. Then to get increased range, snowmobile manufacturers added larger fuel tanks. Now we are seeing shrinking fuel tanks again. That's coming about because the sled makers feel that their new 4-stroke and more sophisticated 2-strokes are more fuel efficient. Some are. Some are not. When we have to start thinking about making a fuel stop after only riding 60 miles or so, we get a bit grumpy.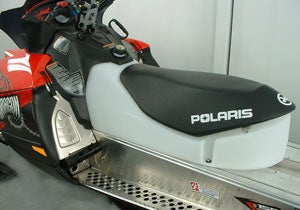 Apparently the folks at Trail Tank share our feeling. This Lake Oswego, Oregon company offers extended range via custom-manufactured fuel tanks designed for selected Arctic Cat, Polaris and Yamaha models.
New this season is an oversized fuel tank designed specifically for Polaris' IQ mountain sleds. Constructed of durable polyethylene plastic, the tank simply bolts in to the stock OEM tank location with minimal — or no modification — required. The company's tanks come with all necessary hardware for installation and use.
This high capacity fuel tank fits 2008-2010 Polaris IQ chassis and increase fuel capacity to 15.5 US gallons. The tanks come in a choice of clear or black.
For pricing and information about other high capacity options, visit TrailTank.net.
Neck PRO-Tector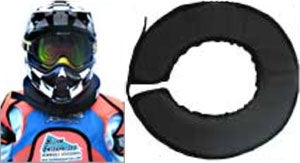 As much as some of us don't like to admit it, we aren't as agile as we once were. That's why we find Blum Enterprises Neck PRO-Tector of interest. After a few decades of trashing too many mogul-pocked trails, the spongy discs in our neck and back have taken a beating. That beating comes from both ends as our spine has been jolted from the bottom from serious bump spanks. Our neck gets pounded from the weight of a full-face, weather insulated snowmobile helmet. Add in some normal age-induced wear and tear and you have some one looking appreciatively at this product.
The Neck PRO-Tector is essentially a "neck doughnut" designed to reduce helmet fatigue while still providing a full range of motion. The manufacturer states: "These NASCAR style Neck PRO-Tectors are great for racers, hard-core riders, or if you have ever had neck or back injuries, these are a must!"
Well, we've had the latter and welcome something that can help reduce future wear and tear on our cervical vertebrae. The Wisconsin-based company offers Neck PRO-Tectors in two models and two sizes of each. There's a "Pro" version for about US$40 that has a durable nylon covering over its foam core. The "Econo" version is formed in black foam rubber and retails for less than US$20. The Neck PRO-Tector comes in sizes for youth and adult.
For more information, contact Bluhm Enterprises at BluhmEnterprises.com.