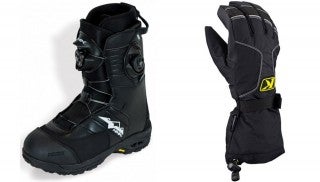 Experience has proven these sledding products work well for riders
Oft times we are cornered by friends and shop rats who ask us "off the record" what's the best (insert whatever it is you want to know about). Of course, nothing is "off the record," but we do try to give an honest answer based on experience with a wide variety of products we've used over the years. Our on the record opinions are based on our knowledge of sledding "goodies" that we believe in and justifiably feel we can endorse. This round up of products relates strictly to those products that help to protect your body.
For us when riding in the steep and deep, safety is essential. While style counts, it's always function before "look." So, roll out your pen and paper, dial up Santa's order line and begin creating that wish list.
Bests for the Body
"Head, shoulders, knees and toes, knees and toes, knees and toes, head, shoulders, knees and toes, eyes, ears, mouth and nose." This kindergarten favorite tells us what must be protected. But let's not forget fingers.
Head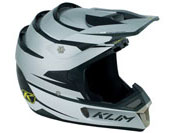 Throughout many years of evaluating snowmobile helmets, the Klim F4 helmet has proven itself as a head bucket that fits well, keeps the head cool and warm, and dissipates moisture with proficiency. The carbon fiber composite helmet with 41 patent pending vents does keep heat and moisture under control. The helmet comes with a GORE WINDSTOPPER liner. Also, the helmet adapts to goggles of many sizes. What impresses us most is the helmet's ability to truly keep goggles moisture free.
Chest Protector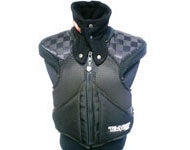 There are two we endorse: Tek Vest's "Super Sport" for its price, function, front pockets, removable collar, shoulder pads, optional zip-in and zip-out liner.
And, we like EVS' NC G5 Ballistic jersey / integrated chest and back protector due to its full torso and elbow protection, frontal impact absorption panels, upper arm brush guards, lightweight fabric with mesh stretch panels and integrated kidney belt.
Inner Wear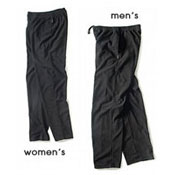 Our powder crew enjoys the products from Klim, especially the light fleece Inferno pant and Inferno shirt. We believe in staying cool and dry and don't like to load up on layers of clothing. Our experience has shown these products work well.
R U Outside is another company that makes excellent mid-layer clothing, including the company's microfleece pant and its DriMotion four-way stretch fleece half-zip top. For us at Snowmobile.com, it is important to have clothing that wicks moisture away from the skin, to keep the body cool. A cool performing body does not overheat, sweat, and become chilled, leading to hypothermia. These mid-layers work well.
Coat/Parka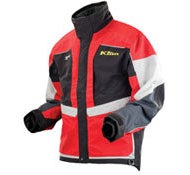 There are two that we use. One is the Valdez parka from Klim. The parka's good looks is trumped by its "Comfort Mapped GORE-TEX Pro Shell technology" that allows the rider's thermal requirements to be precisely managed. Staying dry, cool and warm is, well, "Kool."
Next on our list is HMK whose Stealth Jacket wears like iron. This jacket is built using REISSA, which is an advance membrane that is water repellent and breathable. Its tough Cordura outer shell resists scuffs and tears. Its insulation, Thermolite, is made with ADVANSA, which are hollow core fibers that trap warm air.
Pant/Bib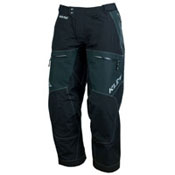 Just as with the coat / parka, we like Klim's Free Ride pant. This pant has flexibility, mobility and room for stuff. A gusseted crotch, full-length wraparound side zippers and thigh cargo pockets give riders the freedom to do what they want while GORE-TEX fabric and a gaiter keep the elements at bay.
We also like and use HMK's Ascent pant. Made with REISSA and Cordura it goes well with a matching Stealth jacket. These are strong and breathable and work hard to protect your legs from the cold; and when bashing through the trees, they shield your legs from the unsuspecting branch that seeks to cut you down.
Glove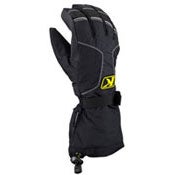 Like the coats and pants, we go for HMK and Klim products. A glove we enjoy is HMK's Factory Team glove. It's light, functional and — important for aggressive riding — it allows the rider to feel the bars. We like this snocross style glove and keep several pair in our gear bag.
Klim's Klimate glove is one we like for its cold weather and snow protection. This glove is light, durable, flexible and built with anti-slip material that keeps the hands locked onto the bars. Its gauntlet cinches nicely around the cuff and is easy to loosen even with a gloved hand. The wind- and water-proof material is 4.0. Check it out at.
Goggle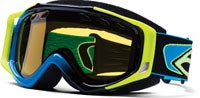 Smith has supplied Snowmobile.com with its goggles and we have come to rely on them. It is important when slapping the powder to have a goggle that evades fog and sweat and Smith's Snow Fuel V.2 Sweat X is the goggle for your use. The goggle is best served with its snow mask, which directs moisture-rich breath down from the face, and directs incoming snow away from the mouth. The goggle uses a yellow dual-pane anti-fog Lexan lens with airflow ventilation.
Boot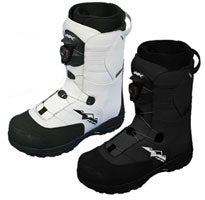 Well, the standard for many tech riders and freestylists is HMK's Team Boa boot. If you want a cable system and boot that is both rigid and flexible, then HMK has the sweet stuff to satisfy you. HMK's cable system is reliable and long lasting and easy to manipulate. The sole on this boot will withstand the serrated edges on a mountain sled's running board for many miles and years. This is a heckuva boot.
Next is Klim's appealing Adrenaline GTX Boot. This boot does not have that snowboarder look, but a workman's style boot that is flexible, highly insulated, designed to wick moisture away from sweaty feet and keep melted snow from getting to your 10 little piggies. We use this boot and recommend it for its comfort, durability and style. Good-looking boot it is.
Sock
From R U Outside is the company's Bill Townsend Chinook sock. R.U. Outside helped introduce Merino Wool to the outdoor market. This sock is a unique 50/50 blend of Merino Wool and NatureSpun Eco-Polyester for comfort, durability and warmth-to-weight ratio. Over-the-calf height makes it perfect for snowmobiling. This Chinook sock wicks moisture to keep your feet dry. We also favor Klim's Mammoth Sock, which is its warmest and thickest technical sock designed to enhance the performance of GORE-TEX boots by wicking moisture away from the skin allowing the foot to stay warm and dry even in the harshest environments.
Good socks, worn with a good boot are essential to a good ride, and if a problem occurs in the backcountry, which forces an overnight stay in the trees, a good sock covered foot, with a good boot, is crucial.
Gear Pack
It is complete, and there is nothing better for backcountry survival, especially when traversing through avalanche country. HMK's Backcountry Survival Combo has what you need, and we at Snowmobile.com have one. The Backcountry Survival Combo includes the Backcountry Pack, shovel with internal saw, 2.7-meter probe, hydration pack and a safety whistle. This complete kit is essential to any smart backcountry rider.
Things a Smart Rider will Have
BCA Avalanche Transceiver — BCA (for Back Country Access), has the reliable and easy to use DTS Tracker. A real–time, digital display shows both direction and distance with bright red LEDs (light emitting diodes). The distance is shown in meters and an indicator that displays the direction of transmitting beacons.
BCA's newest transceiver is its Tracker2. This transceiver uses a triple-receive antenna, which instantaneously gives real time display. On top of this, any avalanche equipment from BCA, probes and shovels, are 4.0 and we highly encourage their purchase and use.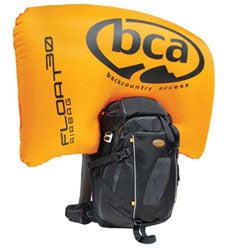 Avalanche Airbag Backpacks—Get one. Protect yourself, and return home to your family. With an avalanche airbag, volume around your upper body increases by as much as 150 liters. Once activated, an airbag system equalizes the volume and density of one's body relative to the surrounding snow by working on the principle of "inverse particles." As with a life vest in water, an avalanche victim holds to the surface of an avalanche. Avalanche airbag backpacks are becoming a popular purchase, as much as a set of pipes or aftermarket skis. The three we recommend are: BCA Float 30, Snow Pulse, and ABS. Research these, review the product videos and cylinder / cartridge recharge or exchange procedures. All these systems have a pull handle (think parachute rip cord) that releases pressure from a cylinder or cartridge to ensure inflation.
All the air bags can be reused. Certified and trained professionals have the skills to refill the pressure cylinder / cartridge. Again, and we stress, study these systems and decide which is best for your need. But, all the above is moot unless you take the time to learn about avalanche dangers.
For more information on riding safely and taking an avalanche course, check out http://www.backcountryaccess.com/education.