Choices in Aftermarket Snowmobile Skis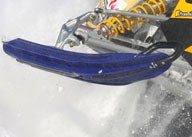 Coming to grips with your ski options
The average snowmobiler will be content with his snowmobile and satisfied with the components the sled's maker configured. But if you are adventurous and want to customize your ride and handling, then you might want to look beyond the stock set up and personalize your sled's handling for how you ride, not how the masses ride. You'll find that there are interesting alternatives to handling that begin with ski choices.
The aftermarket offers alternatives for you and we'll sample three of those offerings designed to help you get a grip on the trail.
C&A Pro Skis
C&A Pro has a proven track record and is well known in the industry for quality products. They make a variety of different skis for different applications – mountain riding and trail, cross-country or snocross. Whatever your ski needs may be, C&A Pro will have a specific ski for any application. C&A Pro uses a durable type of plastic material called UHMW poly. All C&A Pro skis are light, flexible and saddle-less.
The XT – The XT model is quite a bit wider and larger than shown in the ski profiles. It has a very deep keel and is very aggressive in both flotation and cornering. It takes a great deal of steering effort to turn these skis and is meant for extreme conditions. The XT model may be the most aggressive ski on the market.
The Outlaw – It's the most popular ski used by racers at the snocross track. Not shown in the profiles is a side view, the Outlaw keel seen from a side view has its center section keel dropped down, just in the area for the wear bar, making this the only ski on the market with a two-level keel. This ski will only accept a short wear bar, but its deeper keel makes it very aggressive for corning. The two outboard keels on the Outlaw ski also aid in corning in soft snow. This ski is great for snocross and most likely too aggressive for trail riding.
The TRX TrailX – In comparison, this mild-mannered C&A Pro ski is still more aggressive in cornering than most OEM stock skis. The TRX TrailX does accept a long host bar and takes some steering effort to turn the longer keel /host bar. C&A Pro has an assortment of mounting kits that fit all the major snowmobile manufacturers: Arctic Cat, Polaris, Ski-Doo and Yamaha. This enables the C&A Pro ski to fit any snowmobile.
Curve XS Skis
Curve Industries is a relatively new company to the snowmobiling industry, but it is quickly making a name for itself. Its new Curve XS skis have been endorsed by several racers in different circuits in North America. The Curve XS skis are a very different looking product as they use the same design of the modern downhill ski. This ski has a sculpted shape on the top and the bottom and flexes through corners and on the rough trail. This flexing has a great balance to deliver a great handling package. Although it takes a long host bar, its steering effort is much less than expected. Curve XS skis are outstanding on the trail in different snow conditions and offer predictable handling at very high speeds as well.
Curve XS skis also offers accessories – notably "The Leading Edge" and "Side Thrusters." The "Side Thrusters" simply bolt on the side of the ski with two bolts. This accessory is designed to provide more flotation – and it works. These parts can also be mounted upside down to act like an additional outboard keel, to aid in better cornering in deep snow. "The Leading Edge" is an idea long overdue; this small but effective part makes a difference. This is a flat and widened metal part fitted with carbide and mounted at the leading edge or at the front of the keel. This accessory flattens the snow and gives better steering effort and less darting. It makes a noticeable difference.
Split Rail Ski
How the Split Rail Ski Works
In order to make this ski work, the Split Rail spindle must be installed on the sled before you can mount the Split Rail ski to the appropriate Split Rail spindle. These skis are two pounds heavier when compared to OEM stock skis. The ski has a unique hollow center design, which leaves two thinner independent skis. These two skis are thinner than the norm, but the overall width of this unit is comparable to other aftermarket skis. The two thin skis operate independently from one another, with two of these on each side you now have four thin skis that can flex independently in the corners, offering better grip. We found these skis really do work well in the corners. You may think that with this much carbide that it would be hard to steer, but with its short host bars, it has an extremely easy steering effort. The Split Rail ski bites into a smooth or rough corner, it doesn't matter. All of this control is delivered with very little steering effort, good stuff!
Testing the Split Rail Skis
Yamaha's FX Nytro is known to push in the corners; it has gone through some front-end design changes over the years with little improvement. The Split Rail spindles have the latest FX Nytro spindle geometry; this means if you want to update your older FX Nytro, the Split Rail package will make a world of difference. After riding this model with the Split Rail skis, we noted a huge difference as the skis made this sled easy to handle. The skis also offer an easier steering effort that is not the norm on this model. The skis turned this model into a different beast, a much tamer animal in the corners.
Another positive thing that works here is the snow spray that comes up from the center of the ski; this spray helps lubricate the sliders, especially the spraying snow in the corners. This is a bonus on this model that is well known for poor slider wear.
In test riding a Polaris 800 Rush Pro-R with the Split Rail set up, I noticed right from the start that the rear suspension was set too soft for my liking. This meant that the pressure on the skis was too soft and not the way I like to ride this sled. Normally under these conditions the stock skis would push like crazy in the corners, but The Split Rail skis worked well, even with little ski pressure.
We also rode a Split Rail-equipped Ski-Doo MXZ 600 E-TEC. Let's be clear, this model is known for being one of the best handling and cornering sleds on the market in its stock form. How can you improve on something that works so well already? After my first ride, I was convinced. The Split Rail offered noticeable improvement in both handling and control with very little rider input.
Making a Choice
There is a pattern that develops when looking at so many different skis on the market. The traditional ski design is a long ski with straight edges; it also has a long straight keel with straight lines. This design does provide more positive cornering in all conditions and it does bridge the bumps in the corners, but this design does generally come with more steering effort and or push in the corners. There is sometimes a tough balance to find between push and steering effort.
While looking at skis with a shorter keel or even twin shorter keels, these skis using the shorter host wear bars do offer a lighter steering effort. Generally steering effort is often easier with these shorter keel designs. There are a number of other considerations in ski designs, such as the sculpted design shapes, which also tend to work in favor of easier steering effort.
There is no doubt that if you are looking for more aggressive skis than what's on your stock sled, aftermarket skis are the answer. But, when considering moving to different skis, you need to ask yourself some basic questions. What do you need? Are you looking for more flotation or cornering or both? How much is enough? There are several choices on the market that have different levels of performance.
After these considerations, you can take a further look at the different accessories to dial in and fine-tune anyone's wants or cornering needs. When you have narrowed down your ski options, go ahead and choose your ski and loop colors. This is the fun and flashy part; skis do give a sled a special custom look, while you rail through those tight and twisties!
We are committed to finding, researching, and recommending the best products. We earn commissions from purchases you make using the retail links in our product reviews. Learn more about how this works.