Do-it-Yourself Ideas for Your Yamaha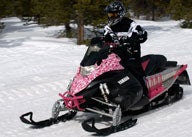 Take the time this summer to update your Yamaha snowmobile
Take the time to think ahead about how you want to get more efficiency, performance, utility and overall enjoyment out of your Yamaha snowmobile this coming season. Utilize your summer "downtime" to shop the aftermarket for bolt-on or add-on products that will let you get more benefit out of your sled. To help you get started, we let our fingers click-clack away on the keyboard as we searched out a few products that we thought you might find interesting. Of course, you can do your own search, order online to get what you want and then spend some quality shop time doing it yourself and adding on your selections to your favorite ride.
Add Turbo Power
When it comes to busting powder, Yamaha's four-strokes have a torque advantage in many cases. Unfortunately, Yamahas also come with a weight penalty. Boondocker Performance figures that one way to negate any weight bias is to add more power and simply increase the power-to-weight ratio. Nothing builds deep powder power like a turbocharger blowing performance into a Yamaha Genesis engine — whether it's fitted to an Apex four-cylinder or Nytro triple.
Boondocker Performance makes a Yamaha Nytro Turbo Kit that gives the Nytro's Genesis one-liter four-stroker 300-horsepower chops. Introduced in 2008, the Boondocker Nytro turbo features what the manufacturer calls "auto boost adjust" that lets you set the boost to a specific pump gas level so that you can run up and down the mountainsides and let the Boondocker turbo automatically raise or lower turbo boost to maintain the pre-set octane requirement. This allows the clutch to stay on the engine's sweet spot, keeping the horsepower level consistent. The system automatically lowers boost as you come back down the mountain, meaning that you don't have to worry about detonating your motor if you forget to turn down your boost.
The system also comes with a built-in altimeter that lets you know at what altitudes your sled is operating in. So you don't have to constantly monitor boost levels, a separate LED boost gauge displays and records maximum boost per a run. You can clear the recording as many times as you like.
Setting boost is simple. There's just the push of a button for up and down boost changes. If you were to set it at 7.5-psi, Boondocker says it will be exactly that. Plus, there's the option of a "push to pass" button that provides a quick nitrous-style power charge.
The kit features a turbo oil supply tank and oil system that allows easy install as well as outstanding fit and finish. Boondocker Performance claims that its kit offers performance that is unmatched by any other turbo kit.
The kit features fully TIG welded 321 SS header, exhaust muffler, and intercooler. For specific pricing and kit availability, contact Boondocker Performance online at http://www.boondockers.com/ or call 877-522-7805 (Toll Free).
Maximize Power Transfer
You can add all the goodies you want to your Yamaha's engine, but where you really gain performance is in the transfer of power from engine to track. That's where New York-based Bender Racing's various clutching expertise comes in handy. This aftermarket shop has been making Yamaha go-fast equipment for many years. The current line of Bender Racing PowerShift clutch kits derives their heritage from rigorous pre-season testing sessions in Alaska.
You can order Bender's Warrior Power Shift Clutch Kit online at http://www.benderracing.com/ for around US$389.95. For specific model applications you'll want to call 716-941-5840.
Certain of these kits can be utilized to handle boosted power from a turbo, but you should call Bender Racing for specific setup information. Remember as with any bolt-on upgrade that changes — especially clutching changes — are best refined by repeated field runs and that various snow conditions, studs in your track or type of track can affect results.
Avalanche Protection
Yeah, yeah, so maybe it's 90-degrees and humid right now. What do you care about avalanches? But, if last winter is any indicator of the real dangers posed by breaking away snow fields, you may want to think ahead and prepare for avalanche safety if you plan any serious mountain powder play.
When "flatlanders" venture to Western powder, the excitement of playing in loose powder can make you less cautious to the very real dangers avalanches pose for the unwary. Last season there were too many avalanche accidents. If you plan to venture into powder country elevations, you should plan now to protect yourself.
Fortunately, Snobunje of Casper, WY offers avalanche gear that you can order online and get packed away with your powder gear before you hit deep snow country.
The company's Avalanche Probe measures 8-feet in length. It assembles with a pull and latch lock and retails for under US$55.00. The kit includes a nylon tote bag, marking flags and the probe.
While the probe is useful for post-avalanche work, you'll want the pro-active benefits of a Tracker Avalanche Beacon. This device features dual-antenna and digital technology, which makes the tracker the easiest beacon to learn and the fastest to use. The searcher never stops to re-orient, change direction, or adjust volume. This is the world's # 1 selling avalanche beacon and is sold complete with shoulder harness and holster. The beacon retails at Snobunje for US$289.95.
For more information, check out http://www.snobunje.com/.
Ride Protected
Skinz Protective Gear of Paynesville, MN offers a number of items to help preserve your Yamaha and make your ride more comfortable.
Specially designed front and rear bumpers for the Yamaha Nytro offer a spiffy "Baja" style upgrade. Made of lightweight aluminum with a polished finish, the pieces are designed for easy do-it-yourself installation.
When you pull your Nytro into the shop for a clean up, you might consider adding on the Pro-Series Console Knee Pads. These pieces are designed to be removable for cleaning in your washing machine (ask the spouse first, though!). They are easily installed without any need for drilling. A pair of the kneepads retails for US$44.95 and are available at various outlets or snowmobile catalogs or online.
You can dress up the Nytro's shocks with a set of Airprene Shock Covers for US$49.95 that are engineered to fit over Fox Float Style Shocks. The perforated neoprene material allows airflow and venting to help maintain cool shock operating temperatures.
To check out other Skinz gear, go to http://www.skinzprotectivegear.com/.  Be aware that the company does not sell retail but to dealers and other suppliers. Check with your dealer for product availability.
Plow Ahead
Here's a unique snowmobile product, the Cycle Country Snowmobile Plow. Retailing for about US$700, the Ski Force plow offered by Cycle Country fits most snowmobiles with A-arm front suspensions and features a lightweight Poly-Blade with innovative push tubes.
A well-known maker and supplier of plows for ATVs and side-by-sides, Cycle Country engineered its "industry first" Ski Force Snowmobile Snowplows. The plow boasts a 3 Directional Blade and Drive-Up Mount. The blade lifts easily when fitted with an electric power winch (included).
Cycle Country notes, "… the heart of the Ski Force Snowmobile Snowplow begins with Cycle Country's innovative 'universal' A-Arm A.R.M Mount (patent pending) and bumper-free Lift Bar (patent pending) for superior blade lift. These features ensure extremely functional plowing plus a broad range of compatibility to machines. "
For more specific information visit http://www.cyclecountry.com/.