Customize Your Polaris Snowmobile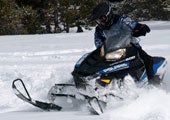 Polaris riders have a wide array of choices for personalizing their sleds
When you ride one of the best selling brands of snowmobiles in the sport, you can count on having many choices available for upgrading your sled to suit virtually any style of riding. You can go strictly for "looks" to separate your sled from your cronies. If you ride powder, rest assured that just about every major aftermarket supplier makes something to fit the Number One selling powder brand. You'll have a selection of optional tracks, gearing solutions, bolt-on power options and all kinds of add-on pieces to help you stay hooked to your sled when playing in the back country. Polaris snowmobiles are very popular and it shows with the number of available add-ons made specifically for select Polaris models.
If you want to stay purely with Polaris, the company offers an online store filled with special brand logoed pieces and apparel.
Here we offer a quick selection of pieces for you and your sled to set yourself apart on the trail.
Rox Mountain Snake Strap
There has to be a certain confidence in adding gear to a sled when you know that sled manufacturers have made Rox Speed FX products optional gear on select models. Over the years powder enthusiasts have seen Rox Speed FX products from riser bars to traction footing gaining popularity among the most in-the-know riders. If you have a mountain-marking RMK, you'll want to update it with a selection of gear from this Minnesota-based aftermarket specialty manufacturer.
A serious "must-have" for off-trail riders, the Rox Mountain Snake Strap is a concept by Rox Speed FX that was designed and developed with support from Skinz Protective Gear. What makes this innovative design useful for trailbreakers is how this unique design allows you to quickly lower the strap when not in use. It works great for on-off trail riders of crossover type snowmobiles because you get the benefits of a mountain strap when needed, but the grip drops down out of the way allowing a clear view of your sled's instrument cluster. Plus, since the Snake Strap drops out of the way, you'll still be able to use your regular sled cover.
The Snake Strap features billet-machined clamps and pivot ends that are crimped and bonded over 3/16 aircraft cable. The handle also adds rubber and an ergonomically molded finish to maintain grip and strength.
The Rox Mountain Snake Strap retails for US$109.95 and can be ordered online at http://www.roxspeedfx.com/.
Rox Powder Grip
Rox Powder Grips help riders stay in place when breaking through deep or fresh powder. The durable cold resistant plastic grips retail for US$32.95 and provide aggressive traction with an open self-cleaning design.
The design centers on allowing snow to drop through large openings in the runningboard. In addition the design features snow deflection to minimize snow build up in deep snow. The grips can be easily installed easily with a 1-5/8" hole saw.
You'll need two packages to outfit a standard short track trail sled as each package includes six Powder Grips and 12 rivets. The manufacturer notes that mountain sleds may require three Powder Grip packs.
Optional Tracks
Today's Polaris snowmobiles come with pre-selected tracks to suit what Polaris engineers feel is the best compromise traction for each model's expected usage. Of course, not all riders want a compromise. They want specific traction for their on- or off-trail riding. Fortunately, riders can select exactly the track design to balance their off trail habit, while allowing good groomed trail handling.
This desire for custom traction seems to apply mostly to enthusiastic on-off trail riders who prefer sleds like the various Polaris Switchback models. There's the Switchback Assault with the more traditional rear suspension and the Rush-based Switchbacks with Pro-Ride outside the skid frame shock design. These riders vary between riding more or less half time off trail. Those wanting off-trail capability but actually spend more than half of their time riding on groomed trails can look to Camoplast's "Intense" track with 1.5-inch lug profile for aggressive on-trail traction. To get good grip in off-trail loose snow conditions this track features V-shaped lugs.
Those Switchback riders spending more time off trail should opt for Camoplast's XC Pro with 1.75-inch angled lugs designed to give you good straight ahead grip and lateral bite for hard pack running.
Minnesota-based aftermarket retailer TRACKS USA is the logical choice for online shopping as it's America's largest snowmobile track dealer and offers an extensive inventory of Camoplast tracks. In addition to a large inventory, Tracks USA has 30 years of industry market knowledge. While you can get online information at http://www.tracksusa.com/, the company only accepts telephone orders so they can assist you in getting the right fit for your sled. For more information, check out: Tracks USA, 10341-67th Avenue SE, Lake Lillian, MN 56253 – Telephone: 320-382-6128 or Email: [email protected].
Duraflex Ice Scratchers
With the "iffy" snow seasons we've had in recent seasons, it might pay to consider ice scratches to keep your hyfax and cooling extrusions lubricated. This is especially important when the trails are hardpacked and icy such as they are during the early morning hours in mountain areas. While spring-actuated scratchers work well when moving forward, too often riders forget to put them up before reversing and harm them. The Duraflex version solves that problem with flexible scratches.
Available for around US$70, the newly improved Duraflex Ice Scratchers feature carbide tips for long wear. The ice scratchers are pre-assembled to give you simple one bolt mounting. Construction includes a nearly indestructible zinc-plated wire rope, which helps maintain pressure on the snow surface. The units can be hooked to stay on the rails when not in use.
Ice-Free Runningboard Coating
The makers of the Duraflex Ice Scratchers, Between the Lines Designs of Prairie, Idaho, also offer a drill-free solution to fitting necessary foot traction to your sled's runningboards. The company's Surefoot Ice-Free runningboard Coating is a specially formulated spray-on product that cures within eight hours and is said to cost less than half of what you'd pay for conventional runningboard inserts.
The maker claims that the coating completely eliminates ice adhesion, retains the sled's runningboard strength and will last for years. The coating, available in gray or black, can be applied over aftermarket runningboard inserts and will not harm your sled's appearance.
The kit suitable to coat one sled's runningboards will run US$74.95. To order or to learn ore about the company's products, visit online at: http://betweenthelinesdesigns.com/.
Pure Retro Style
We'll give Polaris credit for recognizing the value of its history, especially the success of its Indy years. That's what the FXR-sourced "Throttle Jacket" celebrates with its red, white and blue performance history and colorful vintage styling. While the style may reflect the "old days," the garment's construction is totally modern with a nylon polyester shell and a removable Thermal Flex insulated line.
Regardless of trail conditions, you can vent to release body heat or seal up for warmth with the waterproof zippered chest vents. Functionality comes standard with hand pockets, a key pocket and cell phone pocket. The Throttle Jacket features a YKK front zipper with magnetic closure, adjustable wind skirting, pre-curved elbows and reflective piping.
Available at the company's Pure Polaris website, the Throttle Jacket retails for US$269.99/CDN$309.99 and can be ordered in sizes from small to 3XL.
Related Reading Add-Ons For Your Polaris Add-On Pieces for Your Polaris Upgrades for Your Polaris Snowmobile