Best Performance Parts for Powder Sleds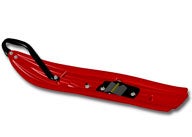 Here are some top products to make your mountain sled highmark higher.
As the primary backcountry and powder sled testers for Snowmobile.com, we are frequently asked what would we want to fit onto our powder buggies. While we have used, tested, tried and dialed in many hardware components over the years, we know that there are many good products on the market, and we admit that we have not tried them all.
Rather than fancy an answer about products that look promising but that we have yet to try, we've chosen to stick to products that are limited to our familiarity and frequent use. We must be bold here and state, though these products give your snowmobile more appeal, control, power, and reduced weight, today's breed of mountain and crossover sleds are excellent. Ten years ago, it took a pile of money to bolt on the performance and lightweight that we receive from a modern stock snowmobile. In our opinion, some of the biggest bang you can get comes from a single tuned pipe and good powder skis. But we know that many of you want more than that. So here's a look at what we've seen, tried and ridden and can recommend as adding pop to your powder mountain or crossover sled.
Skis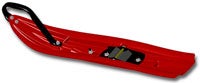 We chose Starting Line Powder Pro or Straight Line Tracker. We like the Powder Pro skis for aggressive powder maneuvering and trail cornering. These skis hold a hillside like an anchor and deliver fresh powder turning like a Brahma bull-changing directions. Next is SLP's Straight Line Trackers for aggressive trail use with that power steering feel. This is an excellent trail to mountain and back ski. Go to http://www.startinglineproducts.com/ and find your application.
Gathering a high recommendation is Simmons Flexi-Ski, including The Original, Gen II and new for 2010, Gen III. These skis are concave (tunnel) skis with two wear bars, one each on the outer edges. These skis each have their own width for demanding riders who power through many differing conditions. These skis are proven and have been in the West for many years. Log on to www.flexi-ski.com.
Turbo
There's no boost for performance like a turbo boost and Boondocker PGT – Pump Gas Turbo — gives you bolt on steroid-induced muscle that gives your stocker mountain sled permission to be an alien. Slap it on to your EFI motor, dump premium fuel in the tank and give that steep ascent a pummeling. Added weight is minimal. Power-to-weight is vicious good.
Pipe
We want solid, simple add-on performance and Starting Line Products Single tuners help a motor build long progressive and linear power that keeps the Revs in the sweet spot. Also, when adding SLP's pipes, generally, no remapping is required to the motor's EFI system. But, check with the boys at SLP first.
Also, to get the most from your pipe and motor, check out SLP's air induction systems. Cold fresh air into the motor improves combustion. When the air is thin, holding R's is needed for long pulls and when tree running in the thickets, single tuned pipes are your sure shot to thumping a mountain's backside.
Seat
Never underestimate the value of proper seating for comfy boondocking. We figure that BOSS
Shocks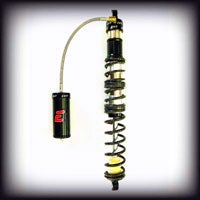 We've seen all kinds of shock options over the years and expect we'll see more in the future. For the here and now, we like Exit shocks from ZBroz Racing. These are high-end shocks that are engineered with strength, durability and easy tuning in mind. These bad boy bump soakers are rebuildable and are light in weight. They are built by racers for racers and for the common man, who demands optimum control, rebound and compression with no fade. The Zollingers, hardcore racers on the Rocky Mountain Snowmobile Hillclimb Association (RMSHA), use what they build. The company's front shocks are available in both piggyback and remote reservoir configurations. All come standard with HTC (high tensile chrome rod) springs, in dual and triple rate spring combinations. Check out these high-end shocks at http://www.zbrozracing.com/.
Springs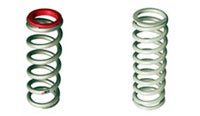 Renton Coil Springs is the leader in titanium springing and we feel that Renton Coil Springs (RCS) are the best springs money can buy. An RCS titanium suspension spring weighs 30% to 50% less than an OEM spring. RCS springs have a softer initial rate for small bumps coupled with a higher rate to soak up big hits without bottoming. RCS titanium springs come in progressive rates without adding weight. Renton Coil Springs can be researched at http://www.rentoncoilspring.com/.
Rear Skid
EZ Ryde rear skids by Great Lakes Sound and Vibration lighten up a sled, deliver superb weight transfer, do not pack with snow, and increase a snowmobile's flotation and maneuvering in deep snow and on the wildest steep slopes.
Master technical rider, Bret Rasmussen uses it, and recommends it. If you are looking to radically tune your EZ Ryde, Bret Rasmussen and well as Z Broz can shock up and spring load this premium rear skid.
Driven Clutch
When it comes to getting an engine's power to the snow, you want to look at The TEAM Tied Driven Clutch. The latest design is an improvement from the TSS-04, in that the moveable sheave opens axially to the stationary sheave without rotational movement. This translates to no scrubbing motion on the belt face — producing less heat and friction.
This driven clutch is as efficient as it gets. No wasted energy is spent rotating mass. Also, belt life is greatly improved, as well as sheave to belt squeeze.
With this clutch, all torque is transmitted through the helix, making clutch tuning much more precise. This clutch was developed using the extensive testing and design resources of TEAM Industries.
Major benefits that you should expect are: – Instant Back Shift – Improved Upshift – Cooler Running – ncreased Belt Life – No Engine Reverse Clunk – Unrivaled Torque Sensing
For more information, go to http://www.team-ind.com/home-news/home.