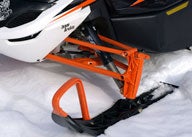 This highly tunable shock concept is available in kit form for your sled
By now virtually all snowmobilers know that Fox air shocks are among the hottest product set ups for improving your handling. What would it be like to live with a set?
The product we've looked at — Fox FLOAT AirShox — comes in a set of two for your front suspension. According to Fox information, most sleds will benefit. You simply replace your sled's existing stock shocks with the Fox kit.
Original equipment on some Yamaha and Arctic Cats, the FLOAT shock offers advantages like infinite adjustability of the air spring, race-proven design, a one-year factory warranty, and ease of installation. A Fox technician who knows us personally, felt even we'd find installation simple. Ahh, why not? We've bolted on aftermarket pieces on our Jeep, Harley, ATV and previous sleds. The instructions in the kit look well written — and full of dire warnings of death if you mess with the nitrogen charged portion of the shock. For that operation, Fox insists you take the shock to an authorized Fox Racing Shox or other qualified technician.
If you purchase a Fox FLOAT shock kit, in addition to the actual two Fox FLOAT AIrShox, you should expect to receive the Fox High Pressure Pump (the key to shock tuning!), sets of application specific reducer and O-rings, mounting clamps, some Fox FLOAT fluid (which is specific to each Fox shock application) and other components to make installation simple. There will be some Fox decals as well!
Don't forget to find the installation manual — and, of course, read it BEFORE you begin the installation. Don't be a total guy! Read the manual! It really is important.
Compare the photo description in the manual to the parts in your kit. Note the description of parts and locate them on the actual shock. The Fox FLOAT will consist of two eyelets, one on the shaft and a body one. There is a main shock body and air sleeve. A Schrader-style air valve and cap is located just under the body eyelet. This is where the pump fits. You will need to thread the pump's valve chuck on to the shock's air valve until pressure registers on the gauge.
According to Fox, the air pressure should never exceed 150 pounds. Average pressure ranges between 50 and 150 pounds, but once you've installed the shocks and ridden a bit, you'll settle in on your preferences. It's a good idea to keep a notebook and pencil with you until you establish your pressure choices. You can record ambient air temperatures, shock pressure settings, snow conditions, etc. Keeping notes gives you a valuable reference.
The Fox FLOAT concept utilizes air as a spring force instead of steel or titanium coil spring sets. Maybe there is some confusion on 'air shocks'. Think of the Fox FLOAT as a high performance, internal floating piston, gas shock that uses air instead of coil springs. Fox explains that underneath the air sleeve is a fairly familiar Fox performance design using high-pressure nitrogen gas and special Fox synthetic shock oil separated by the internal floating piston. You can expect high performance race-proven features in this shock. The construction is aluminum for lightness and strength. All seals and wipers are designed specifically for snowmobile application to keep them operational in muddy, spring snow or January freezes.
Fox FLOAT air shocks are light in weight and progressive in action. You will get a smooth and easy transition of shock springing half way through the shock's action. From that point the air shock begins to build its resistance force to counteract any harsh bottoming. As the force builds, the shock reacts to 'soften' the blow, getting progressively firmer. The adjustability of this air spring concept allows this single shock design to be fine-tuned to rider weights — including compensating for the weight of another passenger — or permitting set up for a specific trail or snow condition.
Fox claims that the shocks should bolt on to your sled without any modification of the frame, control arms or A-arms. If you are comfortable with basic mechanic hand tools, you should be fine. But, if you are not confident in your abilities, seek a dealer to do the installation.
One reason to READ the manual is that specific sleds may require more or less specific instructions. You should have ordered the shocks for a specific model and that is why you may find a supplementary instruction sheet included with the base manual. This sheet will identify the mounting orientation specific for the shock's part number and the vehicle it is designed to fit.
Remember that the beauty of the air springing shock is that it can be adjusted. In fact, Fox recommends when ambient temperatures change by more than 30 degrees, you should reset the shock's pressure setting. Consider that a sled stored in a heated garage and driven out to the trail may need a bit of adjusting before you reach your optimal ride setting.
However, Fox expects that any air pressure adjustments are made with the suspension unloaded and fully extended. This simply means jacking or raising the front skis until they are off the ground. You will have a schedule of recommended pressure settings. Try the one you think works best for you.
When you test ride the sled, note whether you are satisfied with how the suspension feels. If it bottoms or seems to roll too much, add more pressure in 5-lb increments. Conversely, if you find the setting is too stiff or harsh, decrease pressure in the same 5-lbs increments until you reach your sled's "happy place."
Post-installation, you will want to get out and enjoy the benefits of the Fox FLOAT AirShox, but remember, they still need occasional maintenance. Monitor the air pressure at least once a month. The air sleeve must be maintained annually. This is fully described in the manual. And, somewhere between 3,000 and 5,000 miles of use, you should have a full shock rebuild done.
If you maintain your Fox shocks, you should be set for many seasons, making them a quick and simple way to improve your sled's handling and ride.
For more information about Fox Racing Shox and the latest product news, check out — http://www.foxracingshox.com/.