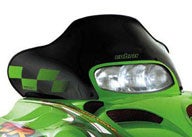 Now is the time to make your sled your own with custom add-ons
As any owner of a Jeep or Harley motorcycle knows, the ability to make your vehicle suit your own personal taste is only limited by the number of aftermarket parts catalogs you subscribe to and the depth of your bank account. Not too far behind those two vehicles come snowmobiles. Every season we find more and more aftermarket add-ons that allow us to pimp our ride and create our own unique style.
Unlike adding chrome to a Harley or a Jeep, updating a snowmobile can be relatively inexpensive, but still eye-catching. Since we have a two-year-old Ski-Doo in our stable, we've been looking for ways to add a touch of pizzazz that can also enhance our riding comfort. Right away we began looking for pieces that literally would fall to hand. After all, a sled's handlebars are effectively its office. Getting comfortable with your sled is key. What if it adds to the personal look as well?
Handlebar Risers
One of the more interesting products we've seen of late comes from Rox Speed FX, which makes a number of add-on pieces for both snowmobiles and ATVs. This company's pivoting snowmobile handlebar riser is a nearly universal fit for any sport sled.
The riser is designed for comfort and quick adjustment. According to Rox Speed FX, the handlebar risers feature dual rotation points to minimize fatigue when riding for a long period.
What we like about this specific product is that its two-piece design fits most snowmobiles with a pinch-type handlebar clamp. Installation allows you to raise your stock handlebar set or add a straighter bar while keeping your sled's stock bar height. Of course, there are risers in varying heights and optional blocks and steel caps for you truly rugged riders.
The Rox risers add a high-tech look as they are CNC machined of heavy-duty billet aluminum.
As with any bolt on, there are cautions. Rox Speed FX advises that you determine whether or not your existing cable length for throttle and brake will be adequate before you begin installation. Additionally, the company advises you to check for any binding or pinching of cables or brake line.
But, if you are looking for a sporty handlebar setup that adds a nifty 'tech' look, check out the Rox Speed FX handlebar products at http://www.roxspeedfx.com/. The company offers risers from US$74.95 on up. You can also get hand guard kits for Ski-Doo's REV or Yamaha's Apex among others.
Hand Guards
If you don't want to pop for the high-tech billet aluminum look from Rox Speed FX, you can check out the handlebar upgrades from Sportech — http://www.sportechinc.com/, — which include an assortment of add-on plastic guards. If you have a sled with a narrow — or virtually non-existent — windscreen, adding or updating to larger hand guards is recommended. You don't have to get slapped silly by trailside brush to tell you it's time to add guards to the end of your handlebar. It's also a very quick and inexpensive way to add custom style to your sled.
You can replace stock guards with more colorfully designed guards for around US$70. Sportech has everything from chrome sets with diamond plate graphics to carbon fiber graphics or color-matched sets to add to your sled.
This firm offers a line of handlebar risers as well. There is a series of articulating bar risers from a 2-inch height up to 4-inches. The riser kit permits radial movement for comfort and adjusts to suit your riding style. The kit consists of CNC machined billet riser arms, bar clamps and a chromoloy adapter bar to ensure a tight grip on your sled's stock bars. The kits start at U$89.95.
If you add this kit, you should seriously consider popping for a riser bar pad with a waterproof multi color vinyl cover and protective low-density foam padding. It adds a touch of motocross style to your bar set. The protective pad retails for about US$19.95.
More Handlebar Accessories
After we had our Ski-Doo for a season, we got real tired of the standard straight bar ends and added a handlebar hook to the brake side. We had the dealer install this piece using their parts supplier. But, if we were to do it again, we'd do it ourselves and research bar hook options more carefully.
Today's options for handlebar hooks are amazing. Not only do the hooks come in a variety of colors, but also in a number of bends and lengths. For our purposes we'd pimp our sled with bright yellow hooks with the 90-degree bend instead of the more elongated 45-degree bend. And, we'd put hooks on both ends. You can find such hooks in a variety of outlets, including Sportech's "Ultra Hook," which is molded from unbreakable nylon and is designed to original equipment fit and specifications. These pieces start around US$20.
You can really add some color to your handlebar area as Sportech also offers colorful brake lever replacements for some Polaris models.
Stylish Add-Ons
Other stylish add-ons that give your sled a unique "look" include headlight covers. Some Ski-Doo owners cover their lights in yellow, but there are light covers in shades to suit other brands.
Sportech offers what it calls a string of "Chrome Goochi Trim" that you apply to your windshield to give your sled a bit more bling! The US$9.99 kit includes a 6-foot long string of trim complete with adhesive to keep the trim in place.
If you think your sled's windshield is too drab or too ineffective (you Ski-Doo and Yamaha owners know what we mean). There is a whole world of windshield options. Cobra is a leading maker of replacement designer windshields for almost any recent model. You can get everything from clear to blacked-out or full-on chrome windshields. There are replacement windscreens with racy graphics like this Arctic Cat version or a yellow-tinted design for Ski-Doo's REV series.
No matter what style or level of personalization you want, we've been finding more and more custom pieces available for more and more snowmobiles. Maybe Polaris is on to something with its new 'design-it-yourself' Shift line of sleds. Of course, the snowmobile aftermarket, while getting more and more creative, has a long way to go before it comes close to the aftermarket goodies available for Jeeps and Harleys. But it's getting better every season.