FXR Renegade XC Technical Jacket Review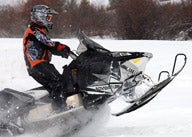 Top-notch technical riding garments with state of the art materials
Fussy. Fussy. Fussy. That's me when it comes to my snowmobile gear. The first priority has to be function, because when you ride in -35 degree non-wind chill temperatures, you want wind-cheating warmth. Style? That comes in a distant second.
Over the decades as snowmobile apparel transitioned from heavyweight quilt-like insulation through polyester fibers to light yet incredibly warm and functional 3M Thinsulate synthetic insulation, we've tried most all of it. We came to modern materials grudgingly. For many seasons we packed a truly lightweight but expensive goose down parka. It came in handy when we stood inside the racing oval at Eagle River's world championships as real temperatures dropped to nearly 50 below zero. Those temperatures definitely work well to keep out the riff-raff, but that type of cold teaches you what works and what is simply marketing hype. Materials matter. Quality matters. You learn to be fussy.
We've gotten very picky about the quality of the snowmobile gear we pack on our trips. We've gained insights from competing in long distance terrain events like the original Winnipeg-to-St Paul cross-country event. Racers in such events get to the basics very quickly as being able to compete in dry warmth can offer a comfortable margin of victory.
In addition to insulation and shell materials, one of the other things we look for are quality zippers. We like big zip-up grips that can be activated with gloves. Zipper action needs to be smooth so you aren't needlessly tugging and torquing, which can lead to damaged zipper teeth. We don't prefer metal over plastic as we've had both fail on us. We also like good Velcro-style closures, especially as the securing material for an overlapping flap that covers a garments zipper line. The material makes wrist and neck closures more secure and easier to fasten than snaps.
With the rise of technical materials that retain heat while allowing perspiration to escape, we have new expectations for what we consider minimal standards for the outerwear we pack. And, since much of today's snowmobile apparel is sourced outside of North America, we've become very wary of stated sizing. Does a 98-pound adult male garment worker in some Asian clothing factory really understand what XXX sizing means to a hefty snowmobiler? For him in his world experiences, "Sumo-sizing" makes little sense. But accurate sizing is extremely important to an active snowmobiler who may be spec'ing out a jacket to fit his safety-vest protected body.
Fussy? You bet we are. That's precisely why we were delighted with the latest piece of snowmobile apparel that we used for the annual snowmobile ride and photo session in West Yellowstone. Our Snowmobile.com ride and video crew wore apparel supplied by Winnipeg-based FXR Factory Racing. The gear worked well in this session, which saw conditions range from occasionally sunny but frigid mornings to full-blown snowstorms with visibility reduced to mere feet. That meant the gear had to work in cold temperatures, transfer sweat from active mountain riding, protect from wet melting snows and allow ample movement while speeding along in groomed trail testing.
My specific gear included FXR's nifty all-black Renegade XC jacket with removable liner. As many riders know, FXR supplies gear to both Yamaha and Polaris, which specifically feature FXR riding garments in its catalogs and at its dealerships. If you think you are fussy, we can't think of any fussier partner than Yamaha, which is nearly paranoid about offering only high-quality products to its customers. Actually, we can think of one other snowmobile manufacturer that guarded its corporate reputation as closely. In the "old days," John Deere carefully researched and vetted its suppliers. In fact, John Deere's top of the line snowmobile suit was supplied by Hart Schaffner Marx, which was then at the peak of its apparel power.
When we looked at our FXR jacket we were impressed immediately. The inner lining zips in or out quickly and easily. We took ours out to provide added room for our safety vest, plus we figured that Yellowstone's weather would be seasonable and tending to warm temperatures by and after lunch. If conditions got warmer than expected, the jacket offered ample zippered air-conditioning venting. The neck area features a Velcro-type material to keep the wind away and quickly secure cold protection.
You'll also find this type of closure on the sleeve ends. Plus, we really like the elasticized interior arm "skirt" with thumb loop that works better than anything we've tried in recent seasons. Fashioned into the arm's sleeve, the extension allows you to utilize the thumbhole for cold, cold days or simply extend your hand through it for normal access. This all works well for using normal gloves or gauntlet style ones. Versatility is the key.
The functionality of the FXR jacket is wonderful with its many pockets. On the inside you'll find zippered pockets to retain a wallet or cash. That's where you'll find the open-topped built-in cell phone pocket. We'd prefer a more secure cell phone pocket, perhaps a Velcro-type strap or snap. But, since our phone is bigger than normal, we used the zippered interior pocket anyway. There's also a secured pocket at the end of sleeve that is handy for carrying an emergency credit card or your keys.
The functionality of this FXR jacket also includes a complete selection of YKK waterproof zippers for the venting and a very substantial YKK front zipper.
The jacket was warm. It kept us dry. We owe that performance to smart design, which includes use of 300D Kordura for the garment shell and sealing the seams with HydrX Pro laminate. The cold stays out thanks to use of the Cold-Stop multi-placket Velcro-type hook and loop fastener for the front closure.
Other features we like include the longish curved tail to keep snow from blowing up the rider's backside. Of course, you can also adjust the interior wind skirt, which can be secured to matching FXR snow pants. There are reflective materials designed into the garment to help you be seen on the trail in low light conditions. Plus, FXR offers a three-year limited warranty on this premium jacket as protection against defects in materials and workmanship.
We know we're fussy and it appears that FXR founder Milt Reimer is also a fussy sort with a focus on offering high quality snow wear with superior fit, sizing and garment venting. While we had experience with just one of the FXR premium garments, know that FXR offers more than 60 different style of jackets and pants for men, women and children.
Founded in the mid-1990s, FXR is a private company based near Winnipeg, Manitoba with an online presence and full-line "e-catalog" at http://www.fxrracing.com/.