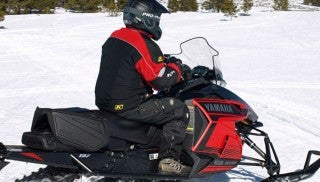 From turbos to billet fuel caps, Yamaha adds custom options
You can make your new or older Yamaha snowmobile truly yours by adding low-key add-ons such as a goggle bag or really cranking up the volume with a 45-horsepower boost from a Mountain Performance turbo kit. Of course, there are custom options in between these two extremes. How rad do you want to go?
The idea of enjoying a boosted Yamaha Viper isn't one held only by high country riders. In the spring pre-season sled buying period, Yamaha offered special deals to boost Viper performance for the trails, too. If you missed out on that money-saving offer and regret not having a sleeper Viper to ride this winter, you can still add a turbo. It'll cost you the full price now, but you can chat with your local dealer to have a Mountain Performance turbo kit installed. The basic MPI kit adds 45 horsepower to a standard 1049cc Yamaha Viper and can cost about $4,000, depending if you buy it in the US (MSRR US$3,299.95) or in Canada (MSRP $4,199). It should be installed by a Yamaha dealer to protect the warranty. Even so, you must understand that Yamaha is quite clear that "…specific failures determined by Yamaha to have resulted from installation of kit components or other modifications may not be covered by the Yamaha limited warranty or extended service coverage."
The MPI kit comes in two versions. The SRViper M-TX Turbo Kit is designed only for operation at elevations above 6,000 feet while the SRViper All Elevation Turbo Kit is designed for operation at any altitude. A special Clutch Kit (sold separately) is necessary if you will ride your sled at elevations of 2500 feet and under. The clutch kit includes weights, rivets and spring.
Having enjoyed the trail turbo Viper this past spring, we still smile at the thought of that stock looking and quiet idling Viper surprising some two-stroke 800cc bully riders at an occasional trail stop. The trail installation differs from the powder sled application and is very subtle, but it still delivers significant torque and power across the rev range. Just know that if Yamaha backs the product by including it as an accessory, the kit delivers both performance and reliability; a Yamaha hallmark.
For more information about the turbo kits, check with your local Yamaha dealer.
Suspension Boost
Okay, so you added power, now how about enhancing the ride to cater to the boost. You can add a variety of Fox air shocks to improve front or rear suspension performance. Yamaha dealers can help you select the best ride option from a Fox Float for front action to a Fox Mega Float set for Monoshock rear suspensions. Whether you have a new or older Yamaha, you can find a Fox option to suit your needs as long distance groomed trail cruiser or off-trail berm blaster. The top of the line Fox Float R Evol shock features race-proven technology, extra volume air chamber, infinitely adjustable air spring, and a retail price starting around US$1,000.
Custom Pieces
If full-on performance enhancements aren't your idea of personalizing your Yamaha, there are some other options. One that we find especially pleasing is adding custom billet pieces such as the Yamaha Tuning Fork handlebar clamp. Canadian riders can spin a special billet fuel cap (MSRP CA$68.95) that's crafted from a block of aluminum and offers a very unique and distinctive Yamaha tuning fork logo to their sled. Replace the boringly standard reverse handle on Vectors and Ventures with a customized billet handle (MSRP CA$72). While such billet add-ons tend to be readily available to snazz up motorcycles, they add serious personalization to snowmobiles.
Comfort accessories can add both utility and comfort to your ride. Yamaha's "console knee pads" not only protect the tank shroud of your Apex, they can provide a bit of cushion for your knees when banging over rough terrain. These heavy-duty pieces feature a carbon fiber print pattern and retail for CA$73.
Utility and add-on storage isn't simply added for looks, but also for how useful it is. Yamaha offers a wide variety of on-sled storage options that includes goggle bags, handlebar bags, rear luggage racks and kits as well, as various sized tunnel packs. Long distance riders may want more volume storage, while deep powder adventurers need a place to put backcountry safety gear. Much of the gear is available via Yamaha's online accessory catalog at http://www.shopyamaha.com/.
Get Out of the Woods
Backcountry and off-trail riders may want to consider adding Warn's XT17 Portable Winch, which is conveniently available from Yamaha. You expect such an item to be included and of interest for ATV and UTV owners, but the US$563 XT17 winch is purposed for snowmobilers. Although the winch adds an additional 8.5 pounds to your sled, it can pull up to 1,700 pounds with its 40 feet of included synthetic rope. The new XT17 portable winch exceeds the capacity of the previous design by adding 200 more pounds of pulling capacity from a unit that weighs about half that of the previous Snow Winch. Its sealed motor protects it from severe winter conditions and its versatility and portability allows you to move the winch from your sled to your four-wheeler. Backcountry and off-trail riders can think of this accessory as the perfect "get out of the woods" tool.
Custom and personalized sleds need protection from road hazards like salt, dirt and slush and that's where the use of a quality fitted cover comes in. Yamaha offers its own custom-fitted covers that are made of two-ply army duck canvas and can be used for trailering and storage. But if you don't have an enclosed trailer, you might want to protect your custom sled under a SKINZ Pro Series stretch-fit waterproof cover. The SKINZ cover stretches over your sled's bumpers and handlebar for a secure and protective fit. Available in two sizes, standard and XL, the covers are machine washable to rid them of road grime.   These covers feature a universal design with a form-fitting Lycra material that is combined with 600-denier nylon front and rear panels. Standard sizing fits sleds up to 118-inches from ski tip to rear bumper. The XL version will accommodate longer sleds. Pricing may vary at different outlets, but expect SKINZ Pro Series covers to start around US$400.
Yamaha riders will find many options to customize their new or older Yamahas, whether they are core models like the Apex, Vector and Phazer or new Cat-built Vipers. Yamaha–specific add-ons run the gamut from power to storage to billet pieces and have been designed and manufactured to fit Yamaha models.