Holiday Gift Ideas: For Him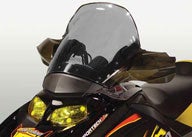 Helpful shopping hints for that special snowmobiler
It's the holiday season, so we figured we'd help you find that perfect something for the snowmobile guy in your life — Dad, spouse, boyfriend, brother or whomever. We made picking for your guy kind of easy, we simply thought, "What are some things we would like?"
Our random sampling of gift suggestions runs from things to fit his sled, something for his garage or workshop or something to fit him. If you're looking for a gift for your special snowmobiler, here are a few helpful hints.
Get A Lift
Not only are snowmobiles hefty, but modern long travel rear suspensions require lifting higher to get the track off the ground. Help your special snowmobiler save his back by getting a snowmobile lift for his workshop. Better yet, give him a mechanical advantage by selecting a snowmobile lift that includes a built-in hand crank that allows him to raise and lower his sled with ease.
Easymove Snowmobile Carts of Riverdale, Mich. offers a number of lift options, including this crank assist model, which retails for a suggested US$124.95 (plus shipping). If you can't find this model at your local dealer or sled parts store, simply visit the Easymove online store at shop.EazyMoveCarts.com.
"Help your special snowmobiler save his back by getting a snowmobile lift…"
This Easymove model features rustproof aluminum construction and adjustable height so your sled man can use it on short or long track snowmobiles when storing or working on them.
Bar Bags
No, we're not talking about giving your sledder a portable booze bar, but we are talking about offering him some extra gear room on his sled. He can store his favorite cap in this storage pouch offered by Powermadd of Wyoming, Minn. There are two versions of this gear holder and we'd suggest opting for the deluxe version, which offers added pockets for storing a cell phone, a small digital camera or a set of truck keys.
Available in basic black, the Bar Bag simply attaches to the handlebar of your guy's sled. The basic Bar Bag retails for US$12.95 with the Bar Bag Deluxe selling for US$18.95.
These bags are available at many online retailers or can be purchased directly through Powermadd at PowermaddStore.com.
Map Bag
Another simple but effective gift for your snowmobiling guy that will show him that you definitely want him to come back is a tank bag with a map pocket. The online powersports superstore, DennisKirk.com offers a simple style that features water-resistant nylon construction and a snap-and-loop closure to protect a trail map.
The price will vary between US$34.95 and US$42.95 depending on the specific style of map bag you need. Each style has straps with "quick-connect" fasteners that attach to mounting straps that screw to the tunnel. There's a clear map pocket along with a zippered pouch.
The bag goes from flat when empty to an expansion of 3.5-inches. It measures nine inches by slightly more than 10.5-inches in width.
To order online go to DennisKirk.com and seek out the Parts Unlimited Map Bag.
Windshield Options
If like us, your favorite guy has had a sport type sled for a while, he may wish that he had opted for a taller, more effective windshield. Oh, the low, sporty windscreen looks nifty and the hand guards offer some protection, but there's nothing like a true wind-deflecting screen to beat the elements on those brutally cold rides.
You can offer your guy a riding option by getting him a taller windshield. Fortunately many sleds make replacing the stock windshield as simple as pulling it off and pinning in a new, taller one. You will need to know exactly what year, brand and model of sled that he rides if you order online. That's where online vendors like Powermadd can assist you.
We went looking for a replacement for our Ski-Doo MXZ 550 X and found a number of options that would be both easy to add and would give us substantially more wind protection than we have now. Plus, Powermadd's Cobra brand windshields come in tints with flames, plain smoke or even plain old clear. The prices vary, but you shouldn't expect to pay more than US$100.
Powermadd can accommodate your needs for most of the popular models, although we noted that there were fewer options for Yamaha. You'll find some nifty pieces for Arctic Cat's F-Series that include customized designs to suit popular Arctic Cat colors like green and orange.
To get an idea of what's available, visit Powermadd.com and check out the Cobra product line.
Hot Foot
Over the years, one of the biggest complaints about snowmobiling — heck, most winter sports for that matter — is that you get cold. Freezing extremities like fingers and feet can make a ride truly tough. That's why snowmobile entrepreneurs have fixated on products to keep us warm. Companies like Gerbing's can outfit you in head to toe warmth with its line of electrically heated gear.
The company offers heated insoles that can run off a sled's auxiliary 12-volt plug or a self-contained, rechargeable 12-volt Lithium battery pack. Long a stalwart for serious, all-weather motorcycle touring types, Gerbing's gear has earned a solid reputation with the two-wheel set. Now the company has expanded efforts to the powersports and wintertime outdoor enthusiast as well. A set of heated insoles retails for US$59.95. If you want to know what other products Gerbing's offers, visit Gerbing.com.
Another well-known and well-respected outfitter is Columbia, which recently introduced the Bugathermo cold weather boot. This is not a snowmobile-specific design, but what Columbia calls "the first high-performance winter boot with an integrated heating system."
The basic boot is based on Columbia's popular Bugaboot. To the key features of an Omni-Tech waterproof and breathable upper and Techlite lightweight cushioning pads, the new thermo boot features built-in rechargeable batteries and on-boot electronic controls that give you three heat settings via heating pads located under the ball of the foot. On the low setting, you can expect up to eight hours of warmth. At the highest setting, you should get maximum heat for up to three hours.
This heated boot also features a lightweight, waterproof thermal rubber shell and rustproof alloy gaiters. There's Thinsulate insulation and what Columbia refers to as Omni-Grip traction.
These boots are currently available through various retailers as well as at Columbia's own retail stores or online at Columbia.com. We found a pair at a local Columbia outlet and will report on them later as we take Columbia at its word when it claims that this boot is "…ready for serious mountain trekking, snowmobiling, ski lift operation or Arctic exploration."
You can expect to pay up to US$250 for this new high-performance boot. That will include the internal rechargeable lithium polymer batteries, and the included adapter. The dual range heating elements of integrated toe heating and underfoot insulation provides a -25 degrees Fahrenheit rating.
If your snowmobiling guy likes to be an early adapter of new technologies, this might be a consideration.
Siphon Safely
As too many of us know all to well when we run out of fuel and need to siphon gas from one vehicle to another, it can be downright dangerous. Now there is a simple and safe to use product that removes much of the danger in siphoning fuel.
Safety Siphon appears too good to be true and leaves you thinking, "Why didn't I come up with this?" Basically it's a clear hose with a self-priming pump that can extract liquids at up to 3.5 gallons per minute. To engage the device, you simply insert the primer end into the liquid, jiggle it until it starts to draw fluid and let simple science take over.
Safety Siphon features a patented self-priming pump and comes with a six-foot long, half-inch anti-static diameter hose.
You can find this product online at SafetySiphon.net. In fact, you'll find an offer of a "Super Combo Package" retailing for under US$30 that includes a ½-inch siphon for drinkable fluids, a ½-inch siphon for other fluids, and a 3/8-inch siphon for automotive gas tanks. The basic ½-inch Safety Siphon retails for less than US$10. If this product seems familiar, it may be that you have seen this product advertised on late night television.
Regardless of its on-screen presence, we can personally attest to its utility as we own two of these products. We use one around home and carry the other in our kit when we snowmobile or ATV. We've found this product is incredibly easy to use and have been amazed at its flow rate. In recent months, we've used it to siphon out bad fuel from our sleds and ATV. It's quick, easy and safe to use. This thing is so effective and inexpensive that you can justify one for each power toy.