Holiday Gift Guide for Western Powder Snowmobilers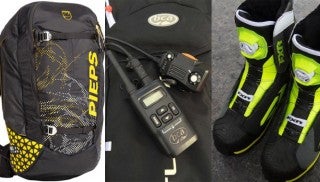 A giver's guide to some fantastic gifts
What is it you want? What does she or he want? Mountain riders – those snowmobilers who ride the steep-and-deep slopes in North America's snowy mountain ranges – have tastes that are both bold and simple. With the gifting and giving season upon us, we've compiled some suggestions, from budget conscious to budget stretchers. These include vacation destinations, stuff to wear, stuff to survive on, and stuff to bolt on to a mountain snowmobile. Let's get started.
You Want to Ride Here
The Rocky Mountains provide so dang many riding destinations that picking one, two or three (or 10!) is a hard task. We've narrowed this down to a few for now; we didn't hit upon the awesome winter riding lands in Utah, Oregon and Washington. This does not mean these and other locations are not as desirable, the choices are vast. But what we have here are those areas where, as we've lumbered along, our eyes about melted from the surrounding beauty.
Alpine, Wyoming
The areas near Alpine, Wyo., are some of the best for experienced riders and the trail cruiser. The trailhead East of Alpine gives riders with big trucks and trailers ample room to park. The trail system is groomed daily (weather permitting) except for an area up over Squaw Creek. Trail riders and mountain riders can drop on in to the Box Y Ranch for some good American grub, burgers, sandwiches and chili, warm up, fill their snowmobile with gas, and move on for more adventures. The backcountry ranges from learner hills to extreme have-your-A-game-on slopes. Know your limits. Take your DSLR or GoPro camera with you and capture the vistas around Blind Bull, Grey's River and beyond. Avalanche awareness and avalanche equipment are highly recommended.
While in Alpine, head east to the Hoback Junction then north to Jackson Hole, Wyo., where an awesome night life begins. Jackson Hole is also home to the greatest Wild West show on snow, the Jackson Hole World Championship Hillclimbs, which is held every year near the end of March or the first of April.
COMPARISON: Read our review of the The Snowmobilers' Holiday Gift Guide
Another great way to the Grey's River and the Blind Bull area is from Pinedale, Wyo. Pinedale is a cowboy town with superb pulled pork sandwiches, pizza, prime rib, and any other four-star restaurant fixings you would want.
The point here is this. Snowmobiling in Wyoming is sweet. We can go on forever to discuss other areas like the Snowy Range near Laramie. Contact the Snowy Range Snowmobile Club at http://www.srscwy.com/ to learn about the areas where an average 21 feet of snow falls on the mountain slopes every winter.
Moran, Wyoming, Togwotee Mountain Lodge
Moran, Wyo. has the famous Togwotee Mountain Lodge. This location is an easy burn from the Midwest, North Dakota, Minnesota, etc. and is a favorite for all riders – trail, cruiser, steep-n-deep. Book your reservations early and spend more than a weekend at Togwotee. Go to http://www.togwoteelodge.com/, and while there, click on Togwotee's live web cam where you can see for yourself the snow depths at the lodge.
For the vacationer who wants a western snowmobile adventure stocking stuffer, check out Wyoming.
Two Top, Island Park, Idaho and Lion's Head, Montana
Visitors be aware, Two Top and Lion's Head are addictive. Trails are plentiful, the scenery fantastic, and snowmobile rentals of all mother snowmobile rentals exist in West Yellowstone, Mont., and Island Park, Idaho. If you should mess up while exploring the backcountry, the search and rescue organizations at these areas are the Marines and Green Berets of search and rescue. Not suggesting you need to take advantage of this, but it's good knowledge.
Two Top and Lion's Head offer a well-marked trail system, if that is your flavor. The trails crisscross vistas that are lovely beyond comparison. If you are adventuresome, then zip off the trails and explore the steep-n-deep. Keep glued to your buddy, as the buddy system is best. Also, consider mapping your ride with a GPS. If a cloud bank should roll in, visibility extends to your snowmobile's ski tips.
With West Yellowstone nearby, excellent dinning is available. If that is not enough, book a tour through Yellowstone Park. Yellowstone in the winter should be had by all at least once in their life.
These are great Christmas gifts for the winter traveler.
Wrap It and Place a Bow on It
We snowmobilers are a distinctive breed with DNA that may be beyond mapping; you, he or she is a custom-built one-of-a-kind being. Therefore, why not show off this uniqueness through a snowmobile vinyl wrap? Companies like ArcticFX graphics, SCS Unlimited, and SledWraps to name some of the more known, are companies that have ready-to-ship in-house designs or the expertise to recreate your DNA on vinyl.
Vinyl wraps add a level of protection to the snowmobile, acting like a thin Kevlar jacket. The wraps protect the hood and more from tree branch gouges and spider web cracks from roll overs. These are not like full body roll cages, but are robust enough to add a level of confidence to push your riding a wee bit harder. Plan on spending about US$295.00 for the minimum and move on up from there.
Look Ma, No Light
One aspect mountain riders are moving to, as a way to drop some weight off their mountain snowmobile, is through a headlight delete kit. Weight weenies are riders who seek to place their snowmobile on a diet more than dropping a few pounds off themselves.
Headlight delete kits do more than drop weight from a snowmobile, these also open up air flow, allowing (depending on design) for more air to move into the motor and more hot air to vent out. Also, and again depending on design, the delete kit opens up more real estate under the hood for storage, such as goggle storage. One company that specializes in headlight kits is Skinz Protective Gear.
With no a headlight, then what is a rider to do? A minimum 300 lumen tactical flashlight mounted to your helmet with a GoPro-like mount helps light the way. For example, MotorFist has a mount that will fit and hold a tactical flashlight and will slide into the MotorFist helmet camera mount.
For this Holiday gifting, plan on about US$30.00, at a minimum, for the headlamp delete kit, and depending on tactical flashlight and mount, another $30.00 to $75.00.
10 Little Piggies
With much attention on gloves, goggles, outerwear, coats, bibs and helmets, little thought is given to socks. We like to discuss socks, for these are your toes' first layer of defense against cold via sweat.
Well-constructed boots, like those from MotorFist, Klim, FXR or HMK, are made to protect feet from cold, moisture and impact. But, if worn with a cotton sock, then all the high-tech fabric becomes less-than tech. Socks made with a blend of several water-wicking and body-warmth keeping material include: Merino wool, acrylic, lycra, Dri-Release wool, Thermalite, ISO Wool, nylon and spandex.
So, with minimal dollars, choosing a sock from Klim (i.e. Mammoth), MotorFist (i.e. Wix), FXR (i.e. Boost Performance) or HMK (i.e. Summit) is a huge positive swing in the right direction. Stuffing a pair of socks like these in your favorite riding buddy's Christmas stocking says you care about his or her toes.
Boot Me
FXR has created a lightweight low profile boot for active riders. This boot was purpose-built for active mountain riders and snocross racers. The reason it is called the Focus boot is because there are two BOA dials that can be used to focus the amount of support that the rider wants; one BOA dial for the ankle, and one for the front of the boot. The other highlight of this boot is the low profile toe box. This boot is made to fit better into the footwell than most boots on the market. The boot also has Achilles support, as well as calf support. If a consumer isn't in love with the BOA laces, but wants a low profile boot to fit into the footwell, FXR offers the Elevation Lite SL Boot that has normal laces. The Elevation Lite Boa Focus boot retails for US$339.99. For more information visit fxrracing.com.
Avy Bag
Some consumers may have stayed away from conventional airbags, because of the hassle involved to maintain and refill cylinders. Many consumers have not practiced with their airbags because of that same reason. Klim is offering the Pieps Jetforce airbag that was developed through a team effort between Pieps and Black Diamond. The Jetforce pack uses a lithium-ion battery to power a jet fan that fills the airbag in three seconds, using ambient air. The airbag will automatically deflate after 3 minutes. During that time the fan will intermittently run to keep the airbag inflated in case there is a small tear in the airbag. There can be about four airbag deployments on each battery charge. Finally, consumers can practice using their airbag without a huge expense involved. There is an LED display that consumers can refer to check the status of the airbag, the airbag will also go through a self check during startup. The Jetforce pack retails for US$1449.99. For more information visit klim.com.
Talk to Me
BCA developed, quite possibly, the best two-way radio on the market. The BCA BC Link Radio features two main components; the battery pack with antenna and the mic, connected by a coil. They both have large alligator clips that bite down on nearly anything the consumer wants. We generally clip the battery on the pack and run the coil over the shoulder strap, where we clip on the mic. The mic is easy to use even with gloved hands. The radio uses standard FRS/GMRS frequencies, and is compatible with other brands. There are 22 channels and 121 sub-channels available. We've used the radios for four days for riding in 20-degree weather on a single charge. These radios have good reach even in the backcountry. The BC Link Radio retails for US$149.99. For more information visit http://www.backcountryaccess.com/.