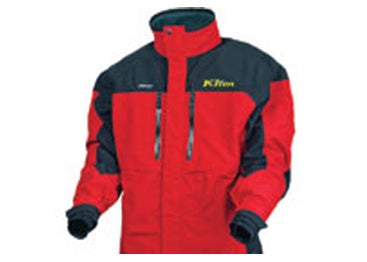 Klim adds more versatility to its Tomahawk 'do-all' parka
We first personally experienced Klim winter apparel at a new product introduction near Jackson Hole, Wyoming in 2004. The official host, W.L. Gore, creator of Gore-Tex®, was introducing wind-proof and water-resistant products to a group of snowmobile magazine editors. Idaho-based Klim was on hand to supply apparel featuring Gore's products for our usage. It was quite an interesting experience for this 'old school' writer who favored natural fabrics like wool, silk and cotton over the new-fangled synthetics. Klim and Gore managed to bring our thinking into the 21st century.
Well, it wasn't like it was that difficult to convince us. After all, we embraced windproof gloves using synthetics. Early on we tried micro-fleece, but abandoned it because it didn't breathe as well as we felt it should and made us too hot and sweaty when we rode hard. We did like our water-resistant snowmobile bibs. They were lightweight and warm thanks to 3M's Thinsulate® material.
Once we chatted with the Klim and Gore folks, we discovered that maybe our perception of some products was due to our lack of knowledge. What? We held erroneous ideas? Us? Well… yes!
Since we are quite fussy about what touches our skin, we tended to layer with cotton or wool because we liked how it felt. It was explained that we did actually defeated the work of the modern synthetics used in winter layering. Cotton gets wet and clammy from sweat and doesn't wick it out like those new synthetics that you see with labels like Under Armor and others. Save the cotton t-shirts for after-snowmobiling.
Since we learned that lesson, we've found that a quality synthetic underlayment combined with a good quality mid-layer is easily more comfortable — and warmer! Klim introduced us to a lightweight modern micro fleece pullover and matching waterproof bibs and jacket. We've become believers in Klim's knowledge of what makes proper snowmobile wear. Back then, the Klim brand was primarily known in the western United States. Today, the brand has expanded and can be found at most dealerships. Or, you can visit the Klim product lineup at www.klimusa.com.
Currently, one of the company's newest products is its updated Tomahawk Parka, considered to be 'the do-all parka'. For this season Klim added what it calls Two Layer Technology — actually a bonding of a Gore-Tex® membrane to an outer material that is protected on the inside by a separate lining. The result is a product that has breathable comfort but also offers waterproof and windproof protection.
Klim's Tomahawk Parka is claimed to be more versatile than ever with a strong list of Klim features like: max flow ventilation; removable shoulder pads, covered back vent, two chest cargo pockets, dual inside pockets, YKK® zippers with glove-friendly zipper pulls, and double storm center flap. To match your sled, the parka comes in a variety of colors including green, orange, red and black.
Because Klim apparel line comes from folks who live the powersports lifestyle, they can appreciate having the 'extras' like high quality zippers, wind-defeating seals on those zippers, inside products, and a cut that allows freer movement when riding. All of these little things add up. Fortunately, our experience has shown that Klim apparel designers 'get it' when it comes to the real world of winter apparel.
The Klim Tomahawk Parka retails for $319.99.