Power Up Your Arctic Cat This Summer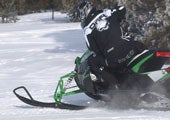 Now is the time to refresh your new or vintage Arctic Cat
If you're like us, you have plenty of projects to get around to, but somehow you never seem to have enough time. Why not start making time now? Make up a list of sled things you want to get done — kind of a "bucket list" of things you want to do before summer is over. But, be realistic so you can actually get those things done. And if you need professional help, relax, that's why there are snowmobile dealers and aftermarket shops.
You may find that one of your projects involves a certain vintage collectible that you always meant to salvage and get tuned just right. You can use this time to do that as well. In fact, one of the oldest names in snowmobile bolt-ons, Aaen Performance, has a heritage list of add-on exhaust parts dating back to the earliest days of snowmobile performance. The best part, though, is that while the piece has history, it's new and designed specifically to fit your vintage equipment.
Aaen Performance
While Aaen was better known in its earliest days as a Yamaha-oriented performance builder, the company helped racers of all brands. That's one reason Aaen Performance states:
"With 20/20 hindsight and 30 years of racing development, we can now pull more horsepower from your vintage racer than even the factory racers had in their time. New larger volume pipes, more efficient porting layouts, quicker responding flat slide carbs and stronger ignitions bring these engines to a new level of performance. Custom pipe work, cylinder porting, head machining and engine Dyno services are available for most Vintage sleds."
Check out the latest catalog at Aaen Performance online at http://www.aaenperformance.com/, or call for specifics at 262-552-8981.
You'll find that Aaen maintains a supply of vintage-era exhaust pipes that include units that will fit early Kawasaki-powered Arctic Cats. The prices for those pipes start around US$550. Aaen notes that an early Arctic EXT 340 fitted with newer Aaen custom pipes showed an 8 HP increase over the original factory pipes when dyno-tested.
Aaen Performance is based at 316 Sheridan Road, Racine, Wis. 53403 and carries performance parts for your current day Arctic Cat as well.
Hot Seat/Speedwerx
Forest Lake, Minn. performance outfitter Hot Seat Performance has developed a strong line of aftermarket bolt-ons for various sled makers, including Arctic Cat. One power-building product you might want to consider is the latest "Powder Advantage Lightweight Mufflers" that were specifically designed for deep snow and backcountry powder applications.
According to the manufacturer, its Powder Pro Lightweight Mufflers "…eliminate the bogging or cutting out of your snowmobile when riding in these conditions." The other advantage for the weight conscious snowmobiler is the drop 12 pounds versus stock exhaust. While you should expect to do some drilling and grinding during installation, the kit comes complete with all the necessary hardware, plus pertinent installation instructions for the do-it-yourselfer. If you ride where sound levels may be checked, don't worry, the manufacturer claims that the add-on mufflers produce stock like sound levels and work with stock or Speedwerx Fat Daddy Single Pipes. The pipes are priced from US$350 and up depending on specific model. You'll want to call to get specific pricing for your application.
In addition to adding engine performance via hopped up exhaust kits, the Minnesota speed shop works hard at developing clutch kits that help maximize getting your engine's power to the track. If you have one of Arctic Cat's nifty and fun-to-ride Sno Pro 500s, you might want to get a little more pop from it by adding a Speedwerx/Hot Seat 500cc Hypershift Clutch Kit.
Performance riders are well aware that titanium materials make the best spring weights and are frequently used by the factories in their no-holds-barred race sleds. But the average trail performance rider can't really justify that cost. To that end, Speedwerx has worked to address the cost issue associated with titanium.
The engineers at Speedwerx/Hot Seat note, "We have come up with a new spring material that we call H5 Alloy, which has a lot of the same characteristics as a titanium spring (with the exception of the weight loss) but at a fraction of the cost. We thought that would make it a little easier on our customers. These springs may be new to the consumer market, but we have been testing these parts for over 3 years now!"
The company states that not all of its kits come with the new H5 Alloy material at this time, but you can request it. Most of the company's performance clutch kits come with a new H5 Alloy drive spring, a set of machined weights that feature a black oxide coating to prevent corrosion, a compound secondary helix and a new H5 Alloy secondary spring. The kit is claimed to provide "…a smooth yet aggressive holeshot" with strong back shifting and great throttle response. The specific kit engineered for Arctic Cat's Sno Pro 500 lists at US$325.
For more specific information or to ask about other performance items, contact: Hot Seat Performance, Inc., 20195 Greystone Ave. N., Forest Lake, Minn. 55025. You can call (651) 982-0600 visit online at http://www.hotseatperformance.com/.
D&D Power Sports
Another familiar name for Arctic Cat performance buffs is D&D Power Sport of Lowville, NY. This east coast performance supplier offers a variety of equipment to make your Arctic Cat run smoother and faster. One item offered for the current high output 800cc Twin is a set of "Xtreme 50mm Throttle Bodies." This product is said to help the engine breathe better by adding more air to the motor. The result is a claimed five horsepower boost in power. D&D states that the larger throttle bodies add a stronger bottom end and enhance midrange power versus the stock 48mm throttle bodies. The set retails for US$449.95. If you opt for the larger volume throttle bodies, you might to ask about D&D's "HO 800 Air Intakes", which are said to shed weight while boosting airflow.
For specific information, contact: D&D Power Sports, 4527 ST RT 410, Lowville, NY 13367, (Order line: 315-376-8013) or online at http://www.ddracing.com/.
Goodwin Performance
Goodwin Performance specializes in high performance snowmobile aftermarket products. While clutch components and clutch systems are this Illinois-based company's main focus, the firm also provides a wide range of quality performance products and services. Backing up its services is a full service shop that offers shock rebuilding, chassis dyno, crank rebuilding, machining services and everything from suspension repair to complete motor rebuilds.
As you would suspect with its concentration on clutch products, Goodwin Performance offers a variety of clutch kits designed specifically for your Arctic Cat. The company claims performance gains over stock calibrations from all its Arctic Cat applications. You should expect increased acceleration and more responsive backshifting. Depending on your sled's model and year, each Goodwin kit includes: primary spring, secondary spring, helix, and balanced set of weights. The price will vary from US$259.95 for ACT Arctic Cat models to US$209.95 for non-ACT equipped models.
Goodwin offers primary springs made of the highest quality chrome silicone wire. They are powder coated and designed for long lasting durability.
In addition the company offers its "Arctic Cat ACT Drive Gear Set" which allows you to get the speed out of your ACT drive with their new gear sets, which are cut from billet steel and heat treated for strength and durability. The gear sets come with both gears with shafts and are ready to bolt right in. You should contact Goodwin directly to ask about your options and fit for this kit. Contact: Goodwin Performance Inc., 43455 N. Green Bay Rd. Zion, Ill. 60099 (Call: 847-872-4001 —Online: http://www.goodwinperformance.com/).