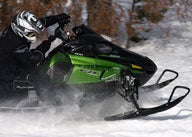 Some bolt-on pieces to upgrade your Arctic Cat
Regardless of your budget, you can add some gadgets — big and small — that will not only help you squeeze more performance from your Arctic Cat, but give you that smug sense of satisfaction you get from being a backyard mechanic.
The add-on pieces selected here can be installed by virtually any wrench monkey who can follow an instruction sheet or dial the manufacturer's tech line if the going gets too complicated. The general key to installation is simple: read the instructions and don't over think the project.
These few add-on pieces can give you a boost when the snow trails open. In the meantime, at least, these bolt-on projects should help get your mind off fishing and golf and extend your "snow" season just a bit longer.
Dynoport Ceramic Coating
Dynoport's Rich Daly, also known as the "Mad Scientist", invested heavily in ceramic coatings for his snowmobile exhaust systems. His upstate New York company has acquired state of the art Grieve ovens so that the company can control the quality of its end product as well as reduce any dependence on out sourcing.
"As the industry leader in snowmobile exhaust systems and ceramic coating," states Daly, "we are always looking for an extra performance edge on our race sleds and one of the things we found was the heat-retention properties of ceramic coated pipes. We've all seen the guys on the starting line running cycle after cycle through the engine to get the pipes as hot as possible. They do that because they know that a hot pipe is a happy pipe."
He notes that in winter, if you stop for a few minutes to wait for your buddies at an intersection, your pipe is cooling off and the result is a loss of optimum performance. While the advantages of ceramic-coated pipes are well known to serious mountain riders, most aggressive trail guys are just learning about the ceramic coating's superior heat retention, which helps your sled's engine maintain crisp throttle response with less bogging and better acceleration.
"In our quest to maintain the same high quality standards we hold our standard black painted products to," Daly explains, "We invested in our own ceramic oven and tumbler. By having all of the ceramic equipment in-house, we can turn around an order in less time, because we're not dependent on outsourcing."
Dynoport specifies Cermachrome from Techline coatings, which is used by the top ceramic coaters. You can order a Dynoport exhaust system with ceramic coatings, or have the company coat your own pipe. The charge for a ceramic coat varies but an application on a used or rusty pipe will run a minimum of US$115 while ceramic coatings for new Dynoport pipes like a Big Volume Can will run from US$59.95 to just under $100.
For more information about this coating and Dynoport's services, contact: Dynoport 1912 Townline Road Union Springs, NY 13160 Telephone: 315-255-3665 Web: http://www.dynoport.com/
D&D Powersports Power Breathers
One of the premier Arctic Cat aftermarket companies, D&D conducts its business in the quiet northeastern New York hamlet of Lowville. In business since 1985, brothers Dan and Dale (D&D) Roes have developed many go-fast Arctic Cat products over the years. Initially the brothers developed product because they wanted their sleds to be the winners on the local grass drag circuit. Of course, as the brothers developed winning sleds, they also developed a following of folks who wanted similar go-fast pieces for their own Cats. That winning formula continues as D&D offers a complete catalog of products designed to maximize the performance of virtually any Arctic Cat.
Getting your Arctic Cat to breathe better is a simple way to boost performance. That's why you'll find free flowing intakes in the D&D catalog of products. Check out the latest D&D Power Breather.
The company claims that this product is one of the best gains for your money. The theory is simple physics — give your sled more air and you will get more power. The D&D Power Breather comes with block off caps for running in ambient temperatures below 0 degrees. You'll install the caps for safe jetting. Available in either black or "Cat" purple, the product is designed for easy do-it-yourself installation. Regardless or color preference, the Power breather lists for US$99.00 but may be priced lower if you purchase online.
Although located close to sea level in New York, D&D tests its products at elevations up to 10,000 feet to better design and suit its new products for customers out west who ride Arctic Cat's popular M-series sleds.
For more information about D&D products, contact: D & D Powersports 4527 St Rt 410 Lowville, NY 13367 Telephone:  (315) 376-8013 Web: http://www.ddracing.com/
Hi-Performance Engineering, Inc
Like D&D, Hi-Performance Engineering, Inc. of Thief River Falls, Minn. has been a leading supplier of snowmobile parts and accessories since the early 1980s.
Owner Glen Follet stresses quality and service as HPE's top priorities. He believes that whatever your snowmobiling needs are, HPE can deliver the parts — fast! His commitment to being fast comes from his experience as one of Arctic Cat's top race engineers during the heydays of Team Arctic. His engineering expertise helped win championships for former Team Arctic racing legends Larry Coltom, Jim Dimmerman and Bob Elsner.
HPE has a large inventory with more than 10,000 items on hand to assure prompt service and minimal back orders. Follet's company was one of the first snowmobile aftermarket companies to offer an extensive online catalog backed up with a tech hotline.
While HPE can supply you with exhaust and clutch parts, the company also offers quick and easy add-on pieces like its Exhaust Snow Deflector, a universal snow deflector that actually creates a trench in the snow to allow free flow for the exhaust. Designed to fit most snowmobiles, the deflector requires a flat mounting area forward of the exhaust outlet. Once installed it should help you when boondocking in deep snow riding. This piece retails for US$11.95
Helping your deep powder M8 and M1000 Arctic Cats breath is the function of HPE's High Flow Intake Kit. Designed to replace the restrictive stock intake, the HPE kit increases the volume of the air intake in the nose of the hood where the intake tapers down and connects to the bellows. HPE's intake kit utilizes two additional vents that draw in cold dense air, even when the upper outside stock intake vents get partially plugged in deep powder. These vents are positioned low and forward. HPE claims that the kits increase midrange power for better throttle response and delivers an additional 2 horsepower peak. The kit retails for US$50.95.
For more information, contact: Hi-Performance Engineering PO Box 482-823 Lowell Drive Thief River Falls, MN 56701 Telephone: Order Department, (800) 451-5268 Technical or Product Information: (218) 681-2390 Web: http://www.hiperf.com/
Related Reading Add-On Pieces for Your Polaris Ad-Ons For Your Ski-Doo Get Your Yamaha Ready This Summer