Products from the 'Good Old Days'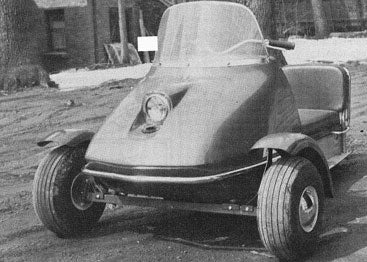 Not all ideas survived from the early days of the sport to now
There have to be advantages to experience, even if you spell that as O-L-D. And there should be some advantages to being a pack rat. My wife tends to spell that as J-U-N-K!
The years have given me a totally eclectic assortment of stuff that is stashed in too many nooks and crannies to keep straight. But we have saved various assortments of now defunct snowmobile magazines, outdated press kits from snowmobile manufacturers long gone, photos of products best forgotten and a myriad of other items.
Million Dollar Magazine
Someday, yes, indeed, someday that stuff will go on eBay. There must be some value to this collection of snowmobilia. Somewhere there is a stack of the only one-million dollar snowmobile magazine ever published. It was the September 1979 issue of SNOW GOER. Advertising revenue totaled more than a million dollars — for a sole issue! It was to be the high point of the snowmobile magazine publishing business.
The issue carried advertising inserts from virtually every major snowmobile manufacturer then in existence. Arctic Cat kicked off the issue with 24-pages of full color promotion of its 1980 snowmobile line-up. Yamaha owned a similar number with Kawasaki and John Deere running major advertising contributions of their own. Scorpion, Polaris and Ski-Doo ponied up as well.
Numbering more than 150-pages, the issue was long on advertising, establishing SNOW GOER as the top print publication as snowmobiling headed into the 1980s.
It was an incredible moment in snowmobile magazine history that is unlikely to be topped. Today's advertisers are too media savvy to drop that kind of effort into one printed publication ever again. There are just too many options, what with the internet, television, movie product placement, and ever-emerging technologies. Today's advertisers have many, many possibilities. While print advertising is unlikely to disappear, we all can see the shift away from print. It's not just new technology that makes print advertising less attractive than it was in the autumn of 1979 when that record million dollar snowmobile magazine was published. Costs for paper, postage, distribution, acquisition of snowmobiler names have all escalated many times in the past 30 years.
Savvy Media
Of course, there's the instant gratification provided by the instant-on web networks. Today's marketers use guerrilla marketing techniques to reach modern day snowmobilers. In addition to their own web sites, snowmobile manufacturers and aftermarket product makers establish themselves via YouTube and other segments to create awareness of their products. Creation of 'alternate' sites that don't appear to be a direct off-shoot of a marketer's site helped Toyota develop awareness of its youth-oriented Scion car brand. How about the Mountain Dew and Pepsi web sites? Snowmobile marketers closely watch the effectiveness of such campaigns and mimic those that might work best for their own products.
Of course, as that million dollar magazine underscores, this was not always the case. In the earliest days of snowmobiling very few advertising opportunities existed to promote snowmobile-oriented products to a potential snowmobile buyer. As one of the very first snowmobile magazine publishers, Ed and Susie Scholwin of Three Lakes, Wis. hit newsstands with a uniquely snowmobiling attitude. From offices listed in Eagle River, Wis. they launched SNOW GOER in December of 1966. It was a 50-page magazine timed to coincide with the goings on of the International Derby in Eagle River. It was the first true advertising opportunity for snowmobile-oriented companies to reach their target audience of snowmobilers across the snow belt. And it was popular.
There is a first copy of that original magazine listed in my personal stash. In fact those early issues survive to tell quite a bit about the sport in its infancy. From that first issue's publication in 1965 to the first energy crisis in the early 1970s, snowmobiling was on a real role. Many stock market analysts predicted annual snowmobile sales of a million units. Of course that didn't happen.
Old issues Recalled
What happened was interesting enough. Looking back at my stash of old snowmobilia shows me that our sport had some interesting things going on. It's entertaining to look at the type of products that were advertised in those early days. It gives us an insight into what snowmobiling was like and also tells us how our snowmobiling predecessors had great insights to lay the groundwork for today.
What was snowmobiling like before trails were established? You can gain an insight into the travails of non-trail snowmobiling when you check out the advertising copy used to describe the 'Wyrgard.'
Wyrgard
This product was to be mounted on your sled's cowl and was designed to give… "Snowmobilers protection against hidden rope or wire. Designed to hook and sever wire before it rides over windshields and injures driver." It was called a "Safety Must."
Incredible as may seem today, some property owners would string wire across snowmobile routes to keep riders out. We actually know firsthand of veteran snowmobilers who could have used a Wyrgard to prevent injury to their sleds and themselves.
So, if you find a "Wyrgard" at some obscure swap meet, you'll better appreciate its value.
Turbo-Visor
One of our personal favorite helmet accessories from the old says is the Turbo Visor. For just under US$12 you could spin off rain and snow to give clear vision at all times. The Turbo-Visor could apparently be strapped onto your head or your helmet. This gives us insight into innovative product develop. It also suggest that fogging goggles and shields have been problems since Day One. Since the product can only be found at the occasional swap meet, we would guess it wasn't a big hit.
Sled Stabilizer
So you think solving snowmobile handling is a new phenomenon? How about the Sno-Sled Stabilizer that you mounted to the tail of your sled, which  "…eliminates spin-outs and fish-tailing." Again, the inventor identified a problem, but other solutions – like traction bar and studs – proved to be better solutions for the future.
Disc Brake
Of course, not all ideas from back in the day were short-term. A good idea that proved to be a bit ahead of its time was the disc brake from H.H. Products. Most early snowmobiles had binders that gripped the inner edge of the drive or driven clutch. Some were scissor style while others were simplistic mechanical grippers. H.H. Products devised a simple caliper-type disc brake that was claimed to be exclusively for snowmobiles and would retro-fit most snowmobile brands. This product would live on and be the forerunner to today's high-performance brake systems from Brembo and Polaris.
Wheel Kits
Because snowmobile product manufacturers thought they could extend the utility of people's sleds, they devised unique products like this wheel kit from Quality Axle Manufacturing of Lansing, Mich. The manufacturer claimed it would take a mere 15-minutes to convert your snowmobile to an all-terrain vehicle. You could even opt for wider sand dune wheels.
Go Faster
So you think go-fast products are recent thing? In the 1960s and 1970s, G.E.M. Products offered performance-boosting bolt-on products for snowmobilers. Megaphone exhaust pipes definitely raised noise levels, but rarely boosted two-stroke power much at all. However, dual carburetor manifolds and raised compression heads most assuredly got you going quicker and faster. This company sold a good number of go-fast parts to early racers. If you look at swap meets we bet you'll find some older performance sleds equipped with G.E.M. Products pieces.
A Man's Junk
As we travel back through the pile of nostalgia – one man's treasure is another wife's junk! – we realize that we can't throw this stuff out. Snowmobilia can't be measured in mere clutter. Much is historic, like that million-dollar magazine and that first ever collector's issue. But, we suppose we could organize things. But when we do we have to stop and remember old times, old sleds, old products, old rides, and old friends. We'll get around to it eventually. And how does that eBay thing work anyway?